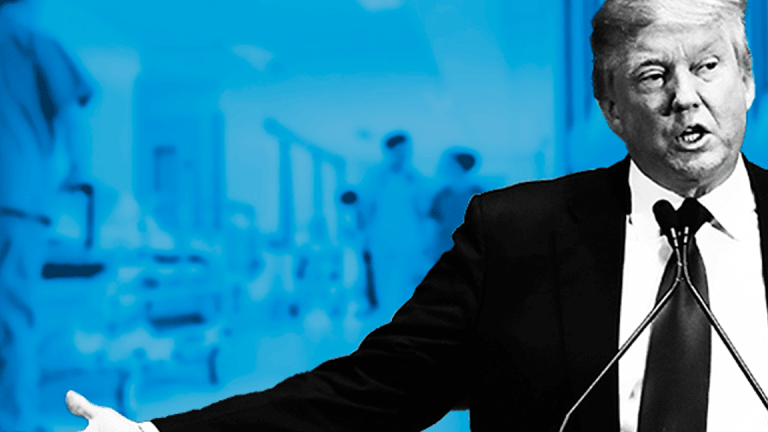 EPA's Axing of Obama-Era Clean Power Plan Has Limited Near-Term Market Effect
The Trump administration's move to take formal steps to unravel the Clean Power Plan will do little to move the needle for the energy and utilities companies it affects, at least in the near-term.
The Trump administration's move to take formal steps to unravel the Clean Power Plan will do little to move the needle for the energy and utilities companies it affects, at least in the near-term.
Environmental Protection Agency Administrator Scott Pruitt will sign a proposal to roll back the Clean Power Plan, former President Barack Obama's policy to curb greenhouse gas emissions from power plants, Pruitt said at an event in Kentucky on Monday. The maneuver has been widely anticipated for months and will do little to change an industry that is already evolving away from coal and toward natural gas and renewables.
"When Trump was elected, it was abundantly clear from the very first day that his administration would not defend the Clean Power Plan, and in fact it has been readily apparent that they would set it aside," Pavel Molchanov, energy analyst at Raymond James, told TheStreet. "There is absolutely zero surprise in today's announcement."
Investors largely shrugged at Pruitt's remarks.
Shares of CONSOL Energy (CNX) , one of the last large publicly-held pure-play coal companies, traded up 0.30% to $16.62 at market close on Monday. Shares of Arch Coal (ARCH) , the world's sixth-largest coal producer based on volume, traded down 1.10% to $70.36. The Market Vectors-Coal ETF (KOL) was flat, up 0.07% to $14.84.
The Clean Power Plan, which was finalized in 2015, sought to push states to move away from coal in favor of sources of electricity that producer fewer carbon emissions, such as natural gas, wind and solar. The plan was met with near-immediate resistance and last year was blocked by the Supreme Court from taking effect.
"The reality is, from a market perspective, what Administrator Pruitt put forth at this point just adds additional regulatory uncertainty to where this project will go," said Ali Zaidi, a senior adviser on energy at law firm Morrison & Foerster who served in the Obama administration on energy and environmental policy for eight years, in an interview.
The EPA has not yet determined whether it will aim to repeal the rule entirely or issue a replacement, according to a leaked draft of the proposal obtained by Politico. The draft also estimates the United States would save $33 billion by not complying with the regulation.
The Trump administration's maneuver is likely to be met with legal challenges as well. New York Attorney General Eric Schneiderman on Monday said he would sue to block the EPA from repealing the Clean Power Plan.
James Lucier, managing director at research firm Capital Alpha Partners, said the financial effects of the Trump administration's actions will be "less than zero" in the near-term in an interview.
Low-cost gas and increasingly affordable renewable energy are driving power plants and utilities to change, regardless of federal laws. Moreover, state regulations are in place in many parts of the country. Twenty-nine states and the District of Columbia have renewable portfolio standards in place, and eight states have renewable energy goals.
"It's both economics and state policy that is driving the transition to renewable energy and gas at this point, and simply repealing something that's become irrelevant anyway doesn't change anything," Lucier said.
NextEra Energy (NEE) , the largest utility company in the world, has been quickly moving toward wind, solar and natural gas. Its Florida Power & Light Company in May announced plans to shutter its third coal-fired power plant in an effort to modernize its fleet.
"That's purely an economic comment, nothing to do with regulations," said Molchanov.
"The techno-economics have not changed, and the techno-economics actually continue to tilt in favor of low-carbon power, whether it's continued declines in the price of solar and wind or the gradual emergence of storage that will increase the value of solar and wind, and natural gas has remained very stable at the low-price level," Zaidi said.
To be sure, while the immediate implications of the Trump administration's decision on the Clean Power Plan may be limited, it could have more significant long-term effects. It will make it more difficult for the United States to meet the emissions reductions standards laid out on the Paris Climate Accord, from which the president has announced plans to withdraw. And any future incremental steps will be stunted.
"By itself, the Clean Power Plan wasn't enough to ensure climate stability, but it was certainly a step in the right direction," said Wenonah Haunter, executive director at Food & Water Watch, in an emailed statement.
In the near-term, the Energy Department's proposal to change electricity pricing to boost coal and nuclear plants, announced in September, and potential tariffs on solar panel manufacturers are bigger risks for business and investments.
"[Those measures] are far more significant for clean energy investors than the Clean Power Plan's latest announcement is," Zaidi said. "The next and intermediate steps on the Clean Power Plan, while probably significant in the long arc of what is available to address climate change in a serious way, probably don't have immediate market implications because of how ambiguous the approach is at this point."