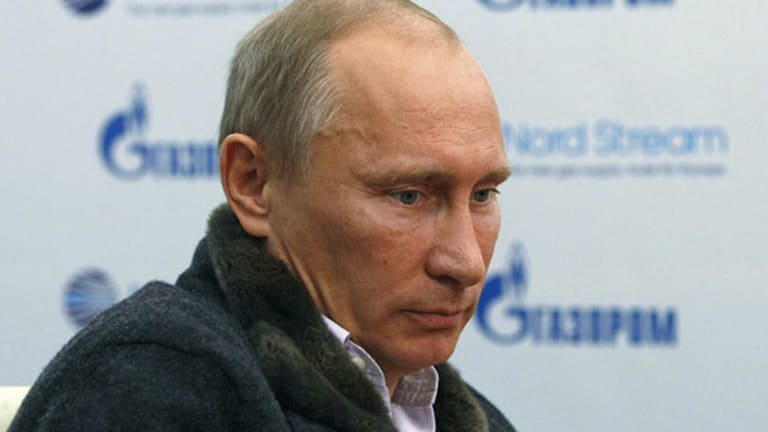 Energy, Politics and Putin: Russia's Gas Power Play Traps Europe
A growing network of influence has let Russia's president build Gazprom into a powerful tool of foreign policy.
Correction: This story was changed from an earlier version to indicate Gazprom owns 56% of energy company NIS in Serbia.
KIEV, Ukraine (TheStreet) -- Over the past two decades, as Russia grew to provide more than one-third of the European Union's natural gas, state-controlled OAO Gazprom has assembled a network of holding companies, ownership stakes in energy and finance firms, and the support of friendly politicians across both continents that has allowed President Vladimir Putin to use the mammoth energy company's web of influence as a tool of Russian statecraft.
With tentacles in 20 European states, Gazprom's hold over the economies of several European countries has helped Putin bolster a buffer zone of Russian-leaning, former communist states on the eastern edge of the EU that have outsized influence over policies affecting his homeland.
"Energy exports and energy policy have been a key tool of Russian geopolitical strategy for a very long time," says Charles Hecker, global research director at Control Risks, a consulting firm in London. "It's enshrined in the country's national security approach."
Russia and Ukraine gas talks deadlocked; watch the video below for details:
This long-standing strategy has become more evident over the last six months as Russia has sought to counter tough sanctions from Europe and the U.S. over its invasion of Ukraine, punctuated by the annexation of Crimea and its continuing military aid to separatist groups.
Most recently, Putin was quoted by Tass, the Russian news agency, as saying he expects talks with the Ukraine this week to resolve an ongoing dispute over its debt to Gazprom, restarting the much-needed flow of Russian gas to the country in time for the winter months. However, he added that should an agreement not be reached, "a crisis is possible."
Gazprom not only supplies gas to Eastern Europe and 18 European Union countries including Germany, France and the U.K., it also owns a significant part of the hundreds of miles of pipelines as well as exploration and trading infrastructure in nearly every European country that uses natural gas.
"Gas is Russia's big chip in the game, and they will keep playing it until somebody else replaces them, and replacing them is more easily said than done," says Joseph Gatdula, a senior analyst at GlobalData, an energy consulting firm in London.
That's made for some tricky dance steps by the EU as it slapped sanctions on Russia for invading Ukraine while leaving untouched the Gazprom operations that supply the EU with so much energy. It's little wonder then that the Europeans have been more tentative than the U.S. in moving to punish Putin.
In Germany, Europe's largest economy, public opinion is largely neutral or mildly pro-Russian, hampering efforts by Chancellor Angela Merkel to impose sanctions on Russia for invading Ukraine. The EU's sanctions notably leave Europe's supply of gas and oil untouched, said Robert McNally, president of Rapidan Group, an energy strategy consulting firm in Washington.
While Gazprom's presence in Europe gives it a "stranglehold" on Europe's energy supply, "it's kind of a mutual stranglehold -- they have to sell the gas to those EU countries because that's where the pipes go," says McNally.
Germans also have a political softspot for Russia, says Berthold Kohler, political editor and co-publisher of the leading German daily Frankfurter AllgemeineZeitung. "We have a problem with Russophilia in Germany, layered with anti-Americanism," and a "lingering guilt" over the 20 million Soviets who died when Germany invaded the Soviet Union in World War II.
The Ties That Bind
At the heart of Russia's gas diplomacy are a pair of massive gas pipelines: the $7 billion, 760-mile Nord Stream, completed in 2012, and the 1,500-mile South Stream, set to be completed by 2019, but whose construction was halted by the EU on anti-trust grounds. Both bypass Ukraine as well as gas-rich former Soviet republics to bring Gazprom's exports to Europe.
Nord Stream, which crosses the Baltic Sea to Germany is normally used at only two-thirds of its 55 billion cubic meter a year capacity, but already supplies about 45% of the gas used by Germany, Europe's largest economy and Gazprom's largest single customer. Feeder pipes from Nord Stream also carry gas to the Czech Republic, England and into Europe's existing natural gas grid.
The pipeline's closely held owner, Nord Stream AG, is 50.1% owned by Gazprom. Its managing director is Matthias Warnig, a former East German Stasi secret police officer, who, according to German press reports, worked alongside Putin during the Russian president's term as a KGB officer in East Germany. (Warnig says he only met Putin many years later). And Nord Stream's chairman is former German Chancellor Gerhard Schroeder.
Before he left office, Schroeder backed Nord Stream's construction, putting his political weight behind a 1 billion-euro construction guarantee and an exemption from European Union competition rules. Those rules would have required the pipeline to be open to other gas sellers and producers. Instead, Gazprom enjoys a monopoly on the use of Nord Stream and some branch pipelines.
Gazprom has also taken over WINGAS, the gas trading and storage subsidiary of Wintershall, a unit of German chemical giant BASF, and took a 50% stake in Winstershall's North Sea gas exploration unit WintershallNoordzee, giving it control over about 20% of Germany's gas market. The activities sold to Gazprom, in exchange for a stake in Siberian gas field, generated 10 billion euros in revenue for BASF in 2012, the company said in a statement.
German 'Dialogue'
While Merkel has led Europe to impose sanctions on Russia, German executives have been keeping lines open to Moscow. In March, Siemens CEO Joe Kaeser visited Putin outside Moscow just after Russia seized Crimea from Ukraine. Kaeser said Siemens wants to "maintain the conversation," with Russia because "dialogue is a crucial part of a long-term relationship." The dialogue is also crucial to protect some 800 million euros Siemens has invested in Russia over the past two years, the Wall Street Journal reported.
Gazprom's holdings extend across western Europe. In Finland, Gazprom owns 25% of GasumOy, the operator of Finland's gas grid and an importer and seller of natural gas. In France, Gazprom has contracts to supply natural gas through 2031, and French electrical utility EDF owns 15% of South Stream. Italian petrochemical giant ENI also owns 15%, and BASF's Wintershall unit owns another 20% of the pipeline project. Gazprom owns the other 50%.
Even in Britain, Gazprom has a grip on energy. It delivered 16% of the UK's gas supply last year, and owns 33% of WINGAS Storage UK, a gas storage firm, and 10% of the Interconnector, a gas transfer station that links the UK and its North Sea reserves to mainland Europe's gas distribution network and Gazprom's own supplies.
Russia not only controls gas supply and distribution in Europe. It also plays in nuclear power. Bulgaria, the Czech Republic, Finland, Hungary and Slovakia -- all have nuclear reactors that are entirely dependent on Russia for their fuel. The Russian government, for instance, is backing a $10 billion loan to Hungary to let Russia's state-owned nuclear reactor builder Rosatom expand Hungary's nuclear power plant at Paks, in central Hungary, and the Finnish government last month gave conditional approval to a Rosatom-built 1200-megawatt nuclear power plant at in Pyhajoki on the Baltic Sea. Rosatom has a 34% stake in the project.
South Stream
Russia's next big play is South Stream, which would carry up to 63 billion cubic meters of gas a year south through Russia, across the Black Sea to Bulgaria, then up through the Balkans to Austria. It's meant to compete with the Southern Gas Corridor, scheduled for completion by 2019, that will bring gas to Europe from Azerbaijan's Caspian Sea fields. And if completed, South Stream would allow Gazprom to completely bypass Ukraine, whose pipelines it now relies on to deliver about two-thirds of the gas it sells to Europe.
"South Stream is Mr. Putin's political project with three goals," says Margarita Assenova, an analyst at the Jamestown Foundation in Washington. "The first is to bypass Ukraine and make it submit to his will, the second is to kill the pipeline bringing Azeri gas to Europe, and the third is to divide the European Union."
The tactic has been working. Balkan and East European countries with high unemployment and stagnant economies have signed on to the South Stream project seeking cheap energy, while Russian business deepens its ties in these countries. The easterners back South Stream, even as the EU has warned it will block the pipeline's construction and U.S.-led sanctions on Gazprom's financing arm mean the project won't have access to international capital markets.
High unemployment and slow economic growth in the former communist states have helped Gazprom sell the South Stream project, with promises of lucrative construction contracts for local firms and generous Russian loans and transit fees.
"These countries are so hung up on South Stream because it's going to create jobs -- a lot of jobs -- at a time when unemployment in these countries is historically high," says Jamestown's Assenova.
Money in the Pipeline
In Serbia, Gazprom owns 56% of NIS, the country's largest oil and gas company.
In Bulgaria,where the economy in Bulgaria grew 0.5% in the second quarter, all the country's gas is supplied by Gazprom. Bulgaria would be the landing point for a South Stream pipeline across the Black Sea. The country has actively opposed EU sanctions on Russia, and says it will begin construction on a gas hub there. Gazprom owns 100% of Topenergo, which controls Bulgaria's gas pieplines, and 50% of Overgas AD, the country's main gas importer. Bulgaria's only oil refinery belongs to Russia's state-controlled LUKOil.
In April, Austria's OMV AG energy company signed an agreement with Gazprom to build its portion of the pipeline. That was followed in June by a visit by Putin to Austria where he met President Heinz Fischer to talk about Ukraine and South Stream. Days later, market rumors said Gazprom was seeking to buy a 24.9% stake in OMV from Abu Dhabi's International Petroleum Investment Co.
Hungary, which Russian-led Soviet troops invaded in 1956 to put down an anti-Communist rebellion, awarded a medal in March to Gazprom's supervisory board chairman, Viktor Zubkov, and a month earlier, nationalist Prime Minister Viktor Orban was in St. Petersburg effusively praising Putin. Russian firms have agreed to finance the expansion of Hungary's nuclear power plant at Paks.
Gazprom has a 25% stake in Hungary's largest chemical firm, Borsodchem, and a 40% stake in gas trader Panrusgaz, which supplies about 65% of Hungary's natural gas, according to Gazprom.
Gazprom's choice of a Hungarian firm to do engineering work on the South Stream pipeline has reaped benefits for Russian foreign policy. Orban met last month in Budapest with Gazprom Chairman Alexey Miller to discuss further terms for Hungary's part of the pipeline, due to be completed in 2017. In July, Orban warned that South Stream's opponents should come up with an alternative for "how we could live without energy." A curious statement considering that if South Stream is built, Russian gas will have to travel from Siberia to the Black Sea, then up through the Balkans to heat Budapest.
Economics of Spite
Hungary's ties to Russia have hampered Ukraine's attempts to diversify its gas imports away from Russia. A pipeline connecting Hungary and Slovakia that Ukraine also hoped to use lies unbuilt on the Hungarian side of the border. And when Ukraine's natural gas company Naftogaz asked to lease capacity in Hungarian pipelines to bring gas bought on the open market at Austria's Baumgarten gas hub, it found the pipes had suddenly been booked to capacity by Hungary's state-owned energy firm MVM Group, which said it was using the pipes to pump gas back into storage in Hungary, Yuriy Vitrenko, the senior adviser Naftogaz CEO Andriy Kobolyev, said in an interview.
"It sounds reasonable, but if you look back, they never did it in the past, and there's a question of who finances it," says Vitrenko.
In the Czech Republic, one of the first post-Communist countries to join both Nato and the EU, but which still gets 90% of its gas from Gazprom, Russian commercial interests run deep in the economy and support for Russia is high among the country's political elite. Czech President Milos Zeman openly hesitated to back sanctions on Russia and asked for proof at an August Nato summit that Russian troops were fighting in Ukraine. Swedish Foreign Minister Karl Bildt was captured on a microphone telling Zeman to ask the Czech intelligence service.
Zeman's predecessor, Vaclav Klaus, a one-time free-market follower of Margaret Thatcher, who blamed the U.S. and Europe for destablilizing Ukraine, is a long-time admirer of Putin and was awarded a medal by the Russian leader. Recently he told a Czech television interviewer that Ukraine country should be allowed to stay in Russia's sphere of influence. 
In Slovakia, where the Russian pipeline through Ukraine enters the EU, Russian gas deliveries have been dropping in the past month, Reuters reported, while more gas was pumped through Nord Stream directly to Germany. Slovakia agreed last summer to resell Russian gas to Ukraine, building a short pipeline to help reverse the flow.
While the trade-off of gas and money for influence may seem obvious to close observers, it's not always easy to connect the dots, says Keith C. Smith, a former U.S. ambassador to Lithuania and a long-time observer of Russian energy politics.
"It's hard to prove a lot of this stuff," Smith said in an interview. "You know it's going on -- suddenly people are supporting positions that are against their countries' interests and in support of Gazprom, and you wonder why; why did Bulgaria sign up for South Stream when the EU told them not to?"
Price and Power
Gazprom also serves Russia's political interests by setting lower prices for countries that cooperate with Russia, with some countries paying less than half the price paid by the most outspoken political opponents. Prices range from under $200 per thousand cubic meters for staunch allies including Belarus and Armenia, to $526 for Poland, the loudest EU opponent of Russia's invasion of Ukraine, according to 2013 gas price data compiled by Radio Free Europe/Radio Liberty, the U.S.-funded broadcaster. (See this extraordinary graphic from RFE/RL.)
"Price differentiation has nothing to do with distance from Russia, it's very clear political interference," says Naftogaz'sVitrenko, "Germans get the lowest price because they are politically influential and control the market; Serbia and Slovakia get cheap gas in return for political favors; Lithuania and Poland pay a very high price even though they are on the border with Russia."
Countries that balk at Russia's control feel the sting of its lash. Poland's state-owned gas importer PGNiG said last month that Gazprom had cut deliveries by 45%, even as Gazprom said flows to Poland were unchanged, and Slovakia's prime minister, Robert Fico, said he'd asked officials to determine why Russian gas supplies there had decreased 10% at one point last month, Reuters reported.
"For Russia, gas is a political weapon, says the FAZ's Kohler. "If you get your gas below market price, you have to pay for it another way."
Poland's deputy prime minister said the cuts were an attempt by Russia to "test Poland's reaction."
Romania, which also backed the EU sanctions, said Gazprom gave no explanation for cutting gas deliveries by 10% last month, Romanian news site ActMedia reported. "We have tried to discuss with the Russian ambassador to Bucharest and I was told that he was not in Bucharest," said Energy Minister Razvan Nicolescu.
Still, warns GlobalData'sGatdula, despite Europe's dependence on Russian gas, Gazprom has to be careful not to over play its hand. Cutting off supplies or raising prices too quickly would certainly accelerate European plans to reduce the need for Russian gas.
"Even drug dealers have bills to pay," says Gatdula.
Peter S. Green is a New York-based writer who spent more than a decade covering the former Soviet Bloc.