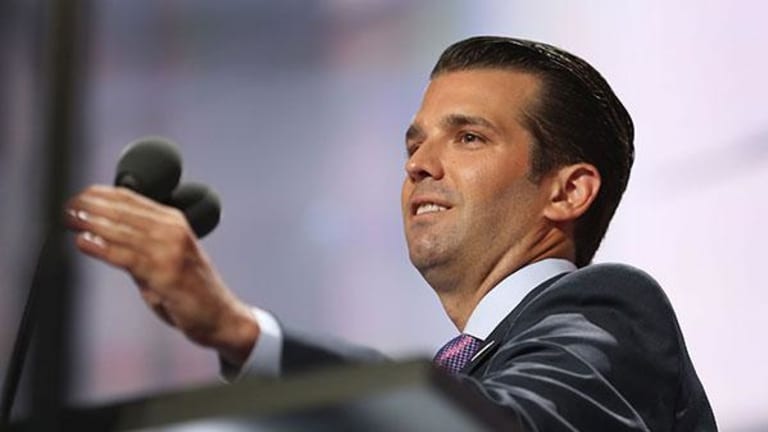 Emails Show Donald Trump Jr. Was Happy to Receive Clinton Info From Russia
The New York Times and Donald Trump Jr. himself released the emails promising damaging information on Clinton from Russia.
President Donald Trump's eldest son, Donald Trump Jr., was happy to accept what he thought would be incriminating information on Hillary Clinton, even if it came from the Russian government, according to emails obtained and published by The New York Times and released by Trump himself on Tuesday. 
Trump Jr. was promised documents that "would incriminate Hillary and her dealings with Russia and would be very useful to your father" in an email from Rob Goldstone, a British-born music promoter and close intermediary, dated June 3, 2016. He was warned that the information was "very high level and sensitive" but "is part of Russia and its government's support for Mr. Trump."
Trump's son responded, "If it's what you say I love it especially later in the summer."
He proposed a call the following week and proceeded to set up a meeting between himself, Trump campaign chairman Paul Manafort, Trump son-in-law Jared Kushner at Trump Tower and Russian lawyer Natalia Veselnitskaya, who has ties to the Kremlin.
The emails, which Trump Jr. published on his own Twitter feed as the Times piece was released, are the most damaging evidence yet of possible collusion between the Trump campaign and the Russian government in Russia's meddling in the 2016 election.
In a statement also posted on Twitter, Trump Jr. tried to put the meeting in context, explaining he was seeking political opposition research and that Veselnitskaya had no meaningful information but instead wanted to discuss adoption policy. "To put this in context, this occurred before the current Russian fever was in vogue," he said.
The Times on Saturday first reported the occurrence of the meeting, which took place on June 9, 2016. The Trump camp initially said it was only about adoption, but further reporting by the Times on Sunday revealed that it was predicated on the promise of damaging information on Clinton. Trump Jr. has held that in taking the meeting he did nothing wrong. He has hired attorney Alan Futerfas to represent him in the ongoing Russia probe, Reuters reported on Monday.
Special Counsel Robert Mueller is leading the investigation into Russian election meddling and possible collusion between those in Trump's orbit and Russia and will likely be taking a look at Trump Jr.'s communications. 
President Trump has yet to weigh in on his son's emails and meeting on Twitter or elsewhere.
Markets turned sour as the email chain was released, with the Dow Jones Industrial Average, S&P 500 and Nasdaq all entering into negative territory. 
"There's a real question about the political ability of the Trump administration to push through any of its policy priorities," said Brad McMillan, chief investment officer at Commonwealth Financial Network. "When you look at a lot of the market reaction to the election and since then, it's been based on the hope and expectation that with a unified Republican administration and Congress they were going to be able to push through a lot of business-friendly policies -- tax reform, obviously, health care reform, a lot of regulatory changes. We've already seen Congress not be as functional as had been hoped and the White House really, despite some challenges, has been more organized and now the Trump Jr. news really calls that into question. If that really takes out the White House's ability to move the ball forward economically, that's a bad thing from a market perspective."