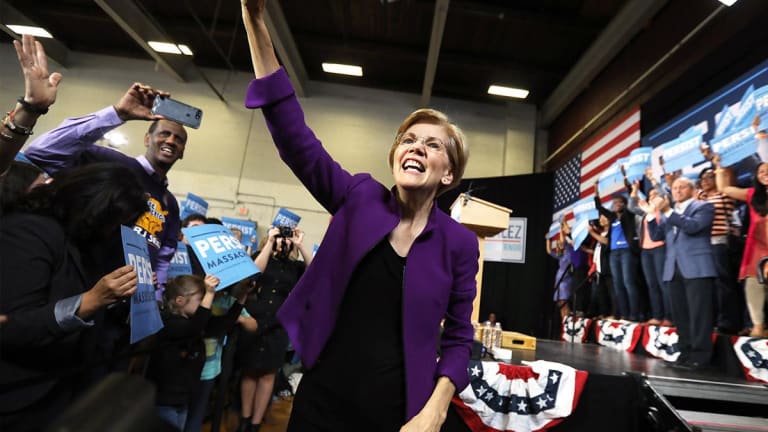 Elizabeth Warren Forms Presidential Exploratory Committee, Hints at 2020 Run
The Democratic field is expected to be crowded in 2020.
Sen. Elizabeth Warren appeared Monday to be gearing up for a presidential run in 2020 after creating an exploratory presidential committee.
The video announcing her exploratory committee focuses on income inequality and takes direct aim at Wall Street fat cats who she said have rigged the system to keep a bigger pie for themselves at the expense of Main Street. 
"Our government is supposed to work for all of us, but instead it has become a tool for the wealthy and well-connected," Warren said in her video. 
While the 69-year old Massachusetts Democrat hasn't officially thrown her hat into the ring, the move made her the first potential Democratic challenger to do so in what is expected to be a crowded field.
President Donald Trump's victory in 2016 has energized the Democratic base over the past two years, but there is no clear-cut candidate to take him on in 2020. 
Warren, who was elected to office in November 2012, considers her strength to be "bankruptcy and the financial pressures facing middle class families," according to her website. TIME Magazine dubbed her one of the "New Sheriffs of Wall Street" in a cover story in 2010. 
Warren's team sent an email to supporters saying that she would formally announce a campaign plan in early 2019, according to the Associated Press.