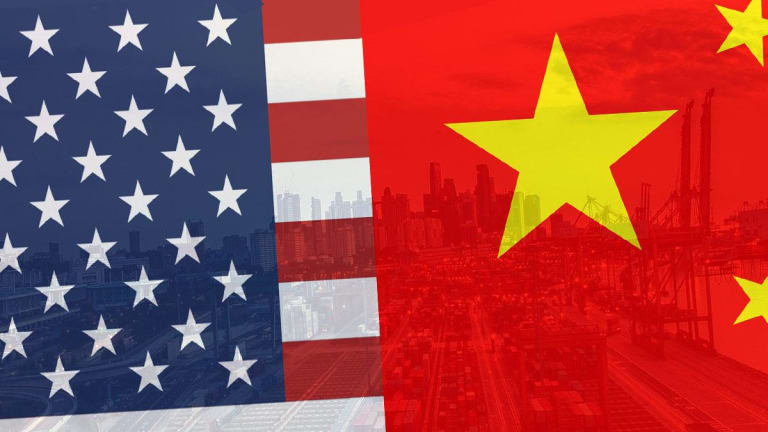 'Driving America Forward Act' Could Give China $2 Trillion in U.S. Subsidies
There's nothing to stop 487 Chinese electric-car makers from each claiming some $4.3 billion in American tax breaks.
You've probably heard about the Driving America Forward Act, a proposal a bipartisan group of lawmakers unveiled this week to extend expiring federal tax credits for people who buy electric vehicles to cover perhaps millions of more cars. Are the electric-vehicle startups that could take advantage of this located in Texas? Kentucky? No -- many are in China.
This is an interesting angle to the bill that might shock many people, probably President Donald Trump as much as anybody.
Now, under an existing subsidy law, consumers can get as much as $7,500 federal tax credits on the first 200,000 vehicles that a company sells. After that, the credit begins to phase out for that car company's models.
With Tesla (TSLA) and General Motors (GM) close to or already at the 200,000-vehicle limit for full credits, a group of lawmakers proposed offering up to $7,000 credits on the next 400,000 units that each EV maker sells.
However, even tiny little electric-car makers qualify for the credit. They can enter the market and sell their first 200,000 cars with up to a $7,500 tax credit (i.e., government subsidy) under the current law. The proposed new law would also let them sell another 400,000 vehicles with up to $7,000 tax credits per vehicle.
Do the math and that's as much as $1.5 billion in U.S. government subsidies on 200,000 cars under current law, plus another $2.8 billion on 400,000 vehicles under the proposed extension. That's $4.3 billion in tax breaks in total -- not including the phase-out volumes, which could add another huge amount of subsidies. But for the sake of being conservative, let's use the $4.3 billion-per-company number for now.
In other words, all you need to do is to create a new automaker out of thin air and poof, you make your customers eligible for $4.3 billion (or more) in federal tax subsidies. That vastly and disproportionately incentivizes new entrants into the market at the expense of large incumbents like GM, Ford (F) and Fiat-Chrysler (FCAU) -- and many of those start-ups are in China.
How many? Well, The Wall Street Journal counted them up last July and arrived at 487.
I checked with the office of Sen. Debbie Stabenow (D-Mich.), one of the subsidy bill's sponsors, and her spokeswoman confirmed that "all automakers are eligible for the tax credit." So let's do some math based on the WSJ's number.
There are 487 Chinese electric-car makers, all of whom would surely love to export their vehicles to the United States to milk the U.S. Treasury for tax credits. We've already established that they can get $4.3 billion per automaker not counting the phase-out period, which would of course make the amount of available subsidies even larger.
That's 487 Chinese electric-car companies multiplied by $4.3 billion, which equals more than $2 trillion in total available U.S. government subsidies for Chinese firms. Trillion, not billion.
Trump likes to talk about the U.S. "losing on trade" with China to the tune of several hundred-billion-dollars per year, but this program alone would represent more than double any number that he's ever mentioned in this context. And this isn't purchasing something -- it's a subsidy, a gift, from the U.S. taxpayer to China. It's a way to make Chinese automaker start-ups more competitive -- artificially -- at the expense of established U.S. automakers.
Forget those expensive hammers or toilet seats that the Pentagon buys. This is roughly three times the size of the entire annual U.S. defense budget. I can't wait to watch Trump comment on this, or hear senators or House members defending this plan.
On Wednesday, I said that lawmakers should change the Driving America Forward Act's name to the "Muscle Cars for Billionaires Law." But it seems that this subsidy bill is so poorly constructed that I now think they should rename it the "$2 Trillion in U.S. Taxpayer Support for Chinese Automakers Act."
At the time publication, Wahlman was short TSLA and long FCAU and GM. However, positions can change at any time. The author also regularly attends press conferences, new vehicle launches and the equivalent hosted by most major automakers.