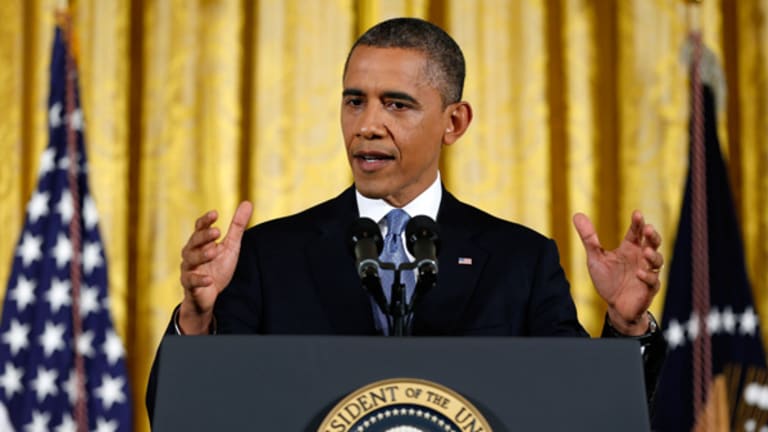 Don't Get Carried Away With Fiscal Cliff Optimism
Though President Obama and leaders in Congress are being positive about first steps on the budget, investors may want to avoid getting too excited just yet.
NEW YORK (
) --
and the
major U.S. stock averages soared
Monday on preliminary feedback that the so-called fiscal cliff negations were constructive.
But it's difficult to parse any detailed information that would suggest Congress will reach a meaningful budget deal.
"The markets are encouraged that we're on the cusp of a 'Kumbaya' moment in Washington, and that we'll get some kind of an agreement that will stave off the big tax increases and the spending cuts," said Alan Gayle, senior strategist at RidgeWorth Investments.
When asked by reporters over the weekend about rumors of a working fiscal-cliff framework, White House Press Secretary Jay Carney said congressional leaders and the president hoped to achieve a balanced approach to deficit reduction.
"
Both the President and his team and congressional leaders from both parties felt that yesterday's meeting was very constructive. And everyone expressed a desire to reach an agreement that reflected the shared goal of achieving a balanced approach to deficit reduction and an approach that enabled the economy to continue to grow and create jobs," Carney said.
Reporters pressed for further details, but Carney said he didn't want to get ahead of the process.
"We're getting way ahead of the process to talk about -- to speculate about how we would achieve the goals that all the leaders in the room yesterday expressed," Carney said. "There are a number of steps that I'm sure the President and leaders will consider, but I don't want to characterize what the process will look like because we're not near the finish line by any means."
The president appeared with House Speaker John Boehner and Senate Majority Leader Harry Reid to tell reporters that he was confident they would come to a "fruitful" agreement to reduce the deficit in a balanced way.
The rhetoric is more optimistic than the negative campaigning that characterized the 2012 presidential election and battle for Congress, but it remains to be seen whether this is signaling real deal-making.
"There's kind of a feel-good factor," said Brian Gendreau, a market strategist at Cetera Financial Group. "I'm suspicious about the extent to which it changes the calculus of the negotiations, because my reading of the situation is that there are members of both parties who still have very hardened positions."
The market's jump on Monday may seem a bit overdone when one considers that all the rhetorical optimism has yet to be backed up by meaningful negotiations. But market analysts have suggested the swooning sentiment could be warranted.
"I think that it's probably a bit of a knee-jerk reaction after a sustained period of bad news regarding the conversations," said Gayle.
"I think the positive reaction in the market is warranted to some extent in that a lot of its selling was, first of all, surprise selling on the part of those individuals -- could be close to half the population, could be close to half the investing population -- who actually thought as late as 10 p.m. election night that
Mitt Romney was going to win," said Gendreau.
Gendreau also noted that there likely had been a lot of selling based on tax-related issues, such as the possible increase of capital gains taxes and others that would rise automatically in the event of a full or partial fiscal cliff.
So while the market has given investors some excitement for Monday, ongoing negotiations in Washington D.C. are likely to offer some rocky trading sessions as politicians jockey for the gritty details of a budget resolution.
In other words, expect politics as usual on the horizon.
-- Written by Joe Deaux in New York.
>Contact by
.