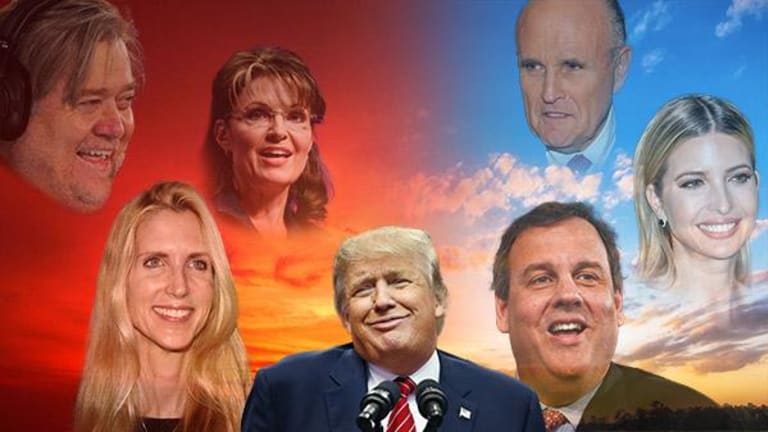 Donald Trump Week in Review: Immigration Shift, the Alt-Right, Bannon's Baggage and More
Remember that whole anti-immigration thing that's been at the center of Trump's campaign since day one? Well, he might not be so into it anymore.
Welcome back from vacation! You've taken that August week off that you've been looking forward to all summer, and now it's time to catch up on emails that you probably don't need to reply to and TPS reports. Unlike you, Republican candidate Donald Trump has been busy. And before you hit the ol' office water cooler, you're going to need to know about what everyone is talking about: all the wild stuff Trump did last week.
Remember that whole anti-immigration thing that's been at the center of Trump's campaign since day one? Well, he might not be so into it anymore (sorry about your new book, Ann). And turns out the new guy Trump brought in might be just unsavory of a character as the last one ... and the one before that.
ICYMI, here's all the stuff that happened this week in Trump. As for Hillary Clinton, she opened a pickle jar on Kimmel.
1. Trump Starts to Waffle on Immigration
Immigration has been a central theme of Trump's presidential campaign since he announced his bid last summer. His plan -- build a wall, make Mexico pay for it, deport anyone here illegally -- is clear. Or is it?
Trump began to raise eyebrows over the weekend when BuzzFeedreported he indicated at a meeting that he might be softening his stance on what to do about illegal immigrants already in the country. His campaign manager, Kellyanne Conway, the following day in an interview said the creation of a "deportation force" under the Trump administration was "to be determined." (In November 2015, he claimed he would build a "deportation force.")
Trump's wavering set off a swirl of speculation throughout the week. He delayed a major speech on immigration and canceled other events as well. He told reporters he still planned to deport the "bad ones" but "as far as everybody else, we're going to go through a process," though he did not outline what that process was. He even cited President Obama's practices on deportation.
Many of Trump's supporters weren't bothered by his shifted policy. Others were. Conservative pundit Ann Coulter, who recently released a new book, In Trump We Trust, didn't take well to the news, which makes sense, given this is an exact line from her book: "Until the bleeding has stopped, there's nothing Trump can do that won't be forgiven. Except change his immigration policies."
Anti-immigration leader Mark Korkorian didn't either.
2. As Clinton Delivers Alt-Right Speech, Trump Calls Her a "Bigot"
This week, Clinton and Trump engaged in a bit of an I-know-you-are-but-what-am-I game on racism.
Clinton delivered a speech in Reno, Nev. slamming the "radical fringe" that she says is taking over the Republican Party with the help of Trump and hitting her rival over the racist undertones of his presidential campaign, political ties and business careers. Her camp also released an ad tying Trump to the KKK and white supremacists, and her running mate, Tim Kaine, accused Trump of "pushing" KKK values.
Trump, not to be outdone, launched his own attacks contending Clinton is the real one with a race problem. "Hillary Clinton is a bigot," he declared at campaign rally Wednesday. He doubled down on the remarks in an interview with Anderson Cooper. "She is a bigot," he said. "She is selling them down the tubes because she's not doing anything for those communities. She talks a good game. But she doesn't do anything."
Ben Carson wasn't a fan of Trump's name-calling. Neither was this lady:
Meanwhile, on Saturday, Trump caused another racial uproar when he tweeted about the shooting death in Chicago of Nykea Aldridge, NBA star Dwyane Wade's cousin: 
He took fire for immediately politicizing the shooting but also because in the original tweet, he spelled Wade's first name incorrectly (Dwayne). A few hours later, he tweeted a condolence tweet: 
3. Bannon's Got Baggage
Last week, Trump campaign manager Paul Manafort resigned from his post under a cloud of accusations over ties to Russia and Ukraine. The new player Trump brought in to help run the show, Stephen Bannon, hasn't been a big improvement, scandal-wise.
The oppo research on the Breitbart News head and now Trump campaign CEO began to flow this week, and the picture it painted isn't pretty. Politicouncovered domestic violence charges against Bannon during the 1990s following a dispute with his then-wife. The Guardiandiscovered Bannon is registered to vote in a Florida home where he does not live -- potential voter fraud.
Reports surfaced Bannon's ex-wife said in divorce proceedings may be anti-Semitic as well, claiming he didn't want their daughters attending a school with where Jewish children also attended.
4. Trump's Doctor Speaks
Dr. Harold Bornstein, Trump's doctor, sat down withNBC News in an interview aired Friday evening. He explained how his letter, drafted last year, declaring Trump the "healthiest individual ever elected to the presidency," came to be.
"I thought about it all day and at the end, I get rushed, and I get anxious when I get rushed," Bornstein said. "So I try to get four or five lines down as fast as possible so that they would be happy."
He said it took him five minutes to write it.
5. Trump Questions Hotness of Clinton Celebs
At a Florida rally Wednesday, Trump knocked Clinton's A-list backers -- and, more specifically, their looks.
"The only enthusiastic supporters of her campaign are Hollywood celebrities, and in many cases celebrities that aren't very hot anymore," he said.
The day before, Justin Timberlake and Jessica Biel hosted a fundraiser for Clinton.
Need more? Here's other Trump news:
-- Trump questions Clinton's 'pre-medication' in creating email server
-- Sarah Palin warns that Trump will lose core support if he wavers on immigration
-- Eric Trump says it would be 'foolish' for father to release tax returns. But would it be?
-- Trump campaign hires ex-Christie aide fired amid Bridgegate scandal
-- Trump's offensive against "Morning Joe," Mika Brzezinski continues
Even more? Catch up on some reading:
-- Donald Trump Broke the Conservative Media
-- Trump and Advisers Remain Split on How Far to Move Toward the Middle
-- A Conflicted Donald Trump Tries a New Tactic: Sticking to the Script
-- 'Racialists' are Cheered by Trump's Latest Strategy