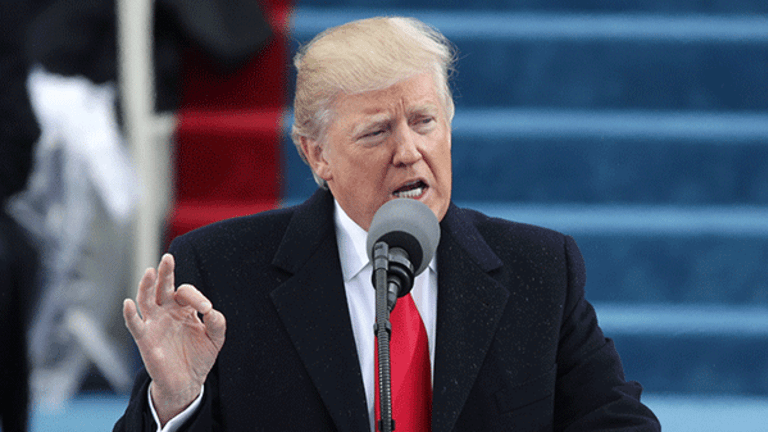 Top Democrat: Trump's Inauguration Speech was 'Dark'
Riots have broken out in D.C. after Donald Trump became President of the United States.
On Friday morning, Donald Trump was sworn in as the 45th President on the United States. Modest crowds gathered to hear the real estate businessman and former reality TV star take the oath of office. But while Trump's supporters lined up to hear his speech, some opponents chose not to attend.
Trump is arguably one of the most controversial presidents in recent history and his election was met with anger and sadness from those supporting his rival Hillary Clinton. Even today, there are protests going on in D.C. Rioters have broken windows and clashed with police in objection to Trump.
This afternoon on Bloomberg's "Bloomberg Markets," reporter Kevin Cirilli was joined on Capitol Hill by Rep. Joaquin Castro, a Texas Democrat, who did not attend the inauguration. Castro gave his thoughts as to the day's events.
Castro began by noting that inaugurations are typically beautiful ceremonies with a lot of pomp and circumstance. He reiterated a view by many, that no matter what party you gravitate towards it is in everyone's best interest to wish the new president success in keeping the nation together.
"That said, I don't think that [Trump] made a transition today from candidate to president," Castro noted. "I thought that the speech was a bit dark, and of course focused on America. His slogan of 'America First' I think was a sign that he wants to turn in, so to speak. He also seemed to indict all the people standing on that dais by saying that essentially everybody, all the politicians have failed the American people."
To Castro it appeared that Trump was saying he was the only person there that has the ability to do right by the American people.
Moving on to policy, Cirilli asked Castro, who has been an outspoken critic of Trump, if there are any policies on which the new president and elected officials could work together.
"Sure, absolutely," Castro responded. "I think if he is serious about rebuilding America's infrastructure, that's something that perhaps we could work on. Criminal justice reform is hopefully something that we can work on as Republicans and Democrats and, of course, with the president. So there are different issues, but there is a window of opportunity for us to come together and get things done for the American people."
When Trump was campaigning he spoke about rolling back regulation in the banking sector, focusing specifically on the Dodd-Frank Act. President Obama signed that law in 2010 in response to the financial crisis of 2008.
Cirilli questioned Castro as to his thoughts on Trump's plans for deregulation.
"I'm anxious to see how exactly they want to roll it back," Castro said. "We don't want to go back to a situation where you allow really a small group of insiders on Wall Street, and it wasn't even all of Wall Street or all of the financial services community. But a small group of people, really, to almost bring down a nation's economy."