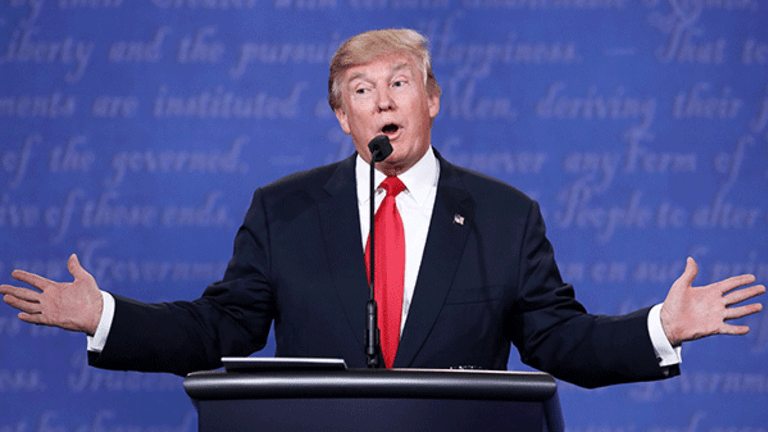 Donald Trump Stock Portfolio Climbs as Odds of Victory Appear to Improve
Donald Trump-friendly stocks enjoyed a surge as the candidate's chances at winning the White House appeared to improve last week.
Donald Trump-friendly stocks enjoyed a surge as the candidate's chances of winning the White House appeared to improve last week.
The Republican presidential nominee has seen the tides of his candidacy turn slightly in recent days thanks to an October surprise delivered by the FBI. Bureau director James Comey told Congress in a letter on Friday that investigators will again look into Hillary Clinton's email use as secretary of state, heartening the Trump campaign and putting the Clinton campaign on the defensive.
The real estate magnate at a rally on Friday said that the cloud surrounding Clinton's emails is "bigger" than Watergate (it's not) and over the weekend hit his opponent consistently on the issue. He also repeated erroneous claims Clinton wants to let 650 million new immigrants into the country.
There isn't yet enough polling to tell whether the FBI's decisions to reopen its investigation has led to a significant tightening of the race. A new Washington Post-ABC News Tracking Poll shows her with a two-point lead over Republican Donald Trump in a two-way match-up. A Politico/Morning Consult poll gives her a three-point edge.
TheStreet's Donald Trump Stock Portfolio, a set of 15 stocks that could benefit from Trump's policies, climbed last week as the candidate's prospects at the White House at least improved slightly. From market close Friday, Oct. 21 to market close Friday, Oct. 28, the portfolio gained 1.76%. TheStreet's Hillary Clinton Stock Portfolio, on the other hand, fell 1.12%.
Bitcoin Investment Trust (GBTC) - Get Grayscale Bitcoin Trust Report was the best performer in the Trump portfolio last week. Its price rallied 17.42% to $104.50. The Bitcoin-focused investment vehicle could gain steam if investors look for alternative investments in light of increased market volatility under a Trump presidency. Bitcoin prices have been climbing recently, approaching their 2016 high.
data by
Shares of Lockheed Martin (LMT) - Get Lockheed Martin Corporation Report rallied 7.58% to $248.00 last week. The Bethesda, Md.-based company, the U.S. government's biggest single contractor in 2015, would benefit from Trump's pledge to build up U.S. and military defense spending. During the company's third-quarter earnings call Tuesday, chairwoman and CEO Marillyn Hewson said that she sees an upbeat outlook abroad for the firm amid rising global threats and a need to replace aging equipment.
data by
Cemex (CX) - Get CEMEX SAB de CV Report , the Mexican cement maker that could be enlisted to make Trump's border wall project a reality, was the worst performer in the Trump portfolio last week. Shares declined 4.81% to $8.70 by market close Friday. On Thursday the company reported third quarter results, in which it posted its highest profit for any quarter since 2008.
data by
The Geo Group (GEO) - Get GEO Group Inc Report fell 3.21% to $23.50. Shares of the private prison operator have struggled since the Justice Department announced it will phase out the use of private prisons. Trump hasn't commented on the decision, but the Geo Group would likely play an important role in his mass deportation plan should the DOJ continue to use its services.
data by
Here's how the entire Trump portfolio did last week, leading with the top gainers:
Bitcoin Investment Trust 17.42%
Lockheed Martin 7.58%
Northrop Grumman (NOC) - Get Northrop Grumman Corporation Report 5.80%
Boeing (BA) - Get Boeing Company Report 5.44%
Steel Dynamics (STLD) - Get Steel Dynamics, Inc. Report 1.82%
Elbit Systems (ESLT) - Get Elbit Systems Ltd Report 1.43%
Oracle (ORCL) - Get Oracle Corporation Report 0.63%
Microsoft (MSFT) - Get Microsoft Corporation Report 0.35%
Tetra Tech (TTEK) - Get Tetra Tech, Inc. Report 0.00%
Capital One Financial (COF) - Get Capital One Financial Corporation Report -0.35%
Randgold Resources (GOLD) - Get Barrick Gold Corporation Report -1.25%
ExxonMobil (XOM) - Get Exxon Mobil Corporation Report -2.12%
U.S. Steel (X) - Get United States Steel Corporation Report -2.38%
The Geo Group -3.21%
Cemex -4.81%