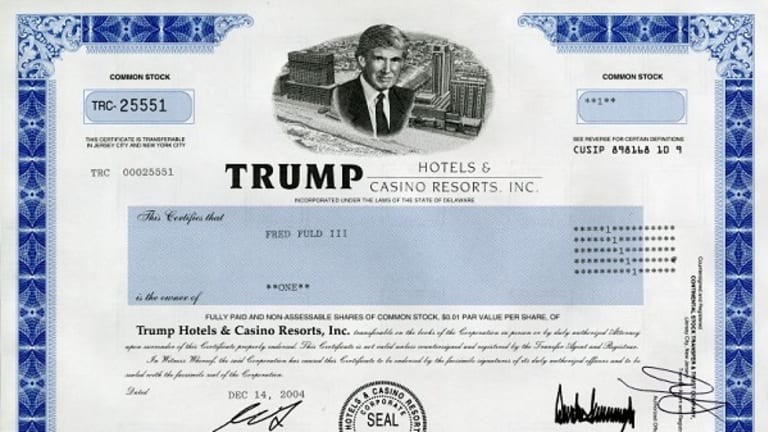 Publish date:
Donald Trump's Stock Is Rising, but Not in the Way You Think
Donald Trump's stock is going up, even though it's no longer on the market.
Donald Trump's stock is going up, even though it's no longer on the market.
Donald Trump's stock is rising, and not just among the electorate.
Original stock certificates from Trump Entertainment Resorts, Trump's thrice-bankrupt holding company for his Atlantic City hotel and casino properties the Trump Taj Mahal and Trump Plaza, have seen a significant jump in interest and value since the billionaire businessman became a politician -- even though the stock itself hasn't been trading for quite some time. 
While the paper no longer holds the original value intended, it's developing its own kind of collector's value now that Trump is the most talked about man on the planet. 
"It's unfortunate, because they lost so much money on that thing, the company went belly-up," said Bob Kerstein, owner of stock and bond dealer Scripophily. "But at the same time, these certificates have much more money or value as a collectible than they ever did as a redeemable security."

A signed certificate. 
Trump Entertainment originally went public as Trump Hotel & Casino Resorts in 1995, raising $130.5 million through an offering of 10 million shares. The ticker symbol was DJT, Trump's initials. Nearly a decade later, the entity's finances went south, forcing it into bankruptcy in 2004. The firm reemerged as Trump Entertainment Resorts in 2005 but filed again in 2009. That year, Trump and his daughter, Ivanka, resigned from the company's board and distanced themselves from operations. Trump Entertainment Resorts was delisted from the NASDAQ in February 2009, and though operations sans Trump continued, they didn't get much better. The firm filed for bankruptcy again in 2014, emerged again in 2015, and is now under the control of Icahn Enterprises.
Kerstein has watched prices on stock certificates for the company quadruple since the GOP frontrunner announced his presidential candidacy last summer. Before the real estate magnate took his infamous July escalator ride to reveal his White House intentions, certificates were listed for sale at about $25 a pop, and most of the time, they weren't even selling. Now, Kerstein says, they're being sold at $100 each, and one has fetched six times that.
"There's a lot of interest in them," Kerstein said.
Scripophily is currently selling three Trump stock certificates on its platform. Two date back to 2005 -- one a common stock certificate and the other a warrant for Trump Entertainment. The other, for one common share of Trump Hotels & Casino Resorts, is from 2004. It is the platform's biggest Trump-themed seller, Kerstein explained, because it has Trump's picture on it. He's sold 20 or so of the certificate in recent months and now has just a few left.
"I don't know how many of them are out there," he said. "Once the companies went bankrupt, it's hard to determine what people did with them."
Kerstein's most noteworthy sale has been a Trump-faced certificate with a signature from Trump himself (pictured above). Acquired from a German dealer who sent the document to Trump about a decade ago for his autograph, he signed it, "Best -- Donald Trump."
The certificate sold for $625, but due to confidentiality, Kerstein can't reveal the identity of the buyer. "I will say their last name wasn't Clinton, Rubio, Cruz, Sanders or Putin," he joked.
He wishes he could repeat such a sale, too. "If I could get [Trump] to sign more of these, that would be great," he said.
As Trump's march toward the Republican nomination and perhaps even the White House continues, Kerstein expects the certificates could become even hotter items. But even if things turn sour for the GOP frontrunner, business will still be good.
"Win, draw or lose, it's going to be a good collectible," he said. "This is something people will always remember, regardless of what happens in the elections. It's a great piece of history."
Trump isn't the only presidential contender this election season with stock ties. Certificates from Buckeye Steel signed by dropout candidate Jeb Bush's great grandfather Samuel Prescott Bush are also being marketed. But just like Trump beat Bush in the GOP primaries (and as he often liked to remind him on the campaign trail, the polls), he's also beating him in stock sales.
While Kerstein said he saw an increase in stock sales when Presidents George H.W. Bush and George W. Bush were in the White House, Jeb the candidate inspired no such thing.
"I thought I'd sell more Buckeye Steel certificates because of the Bush name, but nothing, nada," he said. "I guess nice guys don't sell stock certificates."