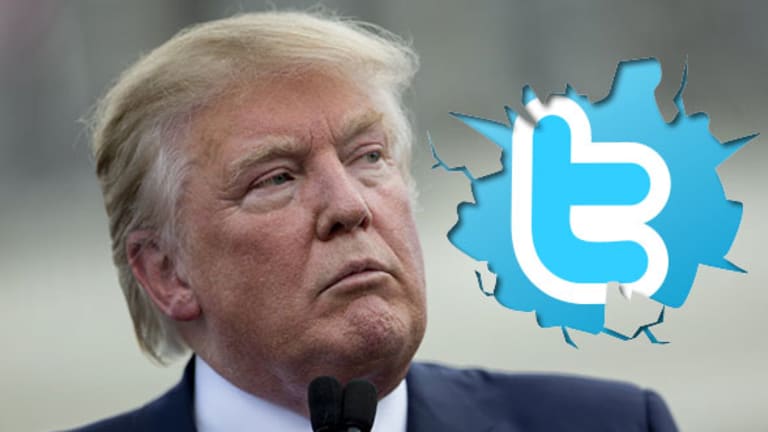 Donald Trump Rode $5 Billion in Free Media to the White House
Donald Trump didn't spend nearly as much on advertising as typical presidential candidates, and he didn't have to -- he relied on billions of dollars in free earned media instead.
Editors' pick: Originally published Nov. 17.
Donald Trump didn't spend nearly as much on advertising as typical presidential candidates, and he didn't have to -- he relied on billions of dollars of free mentions in media ranging from major TV news networks to Buzzfeed and Twitter instead.
The real estate magnate got $4.96 billion in free earned media in the year leading up to the presidential election, according to data from tracking firm mediaQuant. He received $5.6 billion throughout the entirety of his campaign, more than Hillary Clinton, Bernie Sanders, Ted Cruz, Paul Ryan and Marco Rubio combined.
"You have Donald Trump coming along and getting all this coverage without spending a dime," said Paul Senatori, chief analytics officer at Portland-based mediaQuant.
Over the past 12 months, the president-elect received more than $800 million in free earned broadcast media, compared to $666 million for Clinton, and $2.6 billion in free earned online news attention, compared to $1.6 billion for his rival. He edged out her and other major political names in American and worldwide newspapers as well.
To arrive at its estimates, mediaQuant tracks the coverage of each candidate and calculates dollar values based on advertising rates of the media in which the article or news broadcast appears. It weights mentions by the reach of the source (meaning how many people are likely to see it) and includes various mediums, including print, broadcast, online news, blogs and social. It makes adjustments based on sentiment, segment and search metrics.
To be sure, not all buzz is good buzz, and that was certainly the case with Trump. According to mediaQuant's estimates, as much as 23% of free earned media attention given to Trump during the election was negative, compared to about 12% for Clinton.
Twitter (TWTR) - Get Free Report played an integral role. Trump regularly utilized the 140-character social network to deliver his message directly to voters, circumventing traditional channels and driving the broader conversation.
"He definitely throughout the election did show, in order of magnitude, better use of Twitter and better traction on Twitter than Hillary Clinton was able to captivate," said Senatori.
Election 2016 was an enormous one for Twitter: according to data from the company, over 75 million election-related tweets were sent on Election Day alone, compared to 31 million tweets during the entire 2012 election. There are questions as to whether Trump will be able to continue his unvarnished use of the platform once in the White House, but thus far, his behavior has been relatively unchanged: Trump has used the platform regularly as president-elect, largely to bat back at media reports from The New York Times.
During the election, Trump got about 50% more coverage than Clinton across all media but outdid her by 150% on Twitter. The platform delivered $402 million in free attention for Trump and $166 million for Clinton.
The self-described billionaire generated the most Twitter buzz in May, generating nearly $195 million in free attention compared to $23 million for Clinton. The explanation: the taco bowl tweet. Trump's now infamous Cinco de Mayo message fueled an enormous amount of chatter.
"It was amazing how much the taco story in May drove a lot of the Twitter volume," said Senatori.
Trump's free media gain was broadcasters' loss this election cycle, and many companies that expected a bump in political ad dollars were left holding the bag.
His camp's decision to eschew big television ad budgets hurt profits for television station owners like Gray Television (GTN) - Get Free Report and E.W. Scripps (SSP) - Get Free Report . Scripps CFO Tim Wesolowski in the company's third-quarter earnings call noted Trump spent "a fraction of what Republican presidential candidates have spent on television ads." The company's political sales for the period were about half what they expected. "You can't get blood from a Trump," Gray CEO Hilton Howell said during his company's earnings call.
Trump did up his ad spending in the last stretch of the campaign, which could be reflected on fourth-quarter balance sheets.
What remains uncertain moving forward is whether Trump's free earned media ride can be replicated by other candidates, or if we'll see 2018 and 2020 return to business as usual in terms of advertising and media.
"It is going to cause some pause in the campaigns and the parties to assess the extent to which the celebrity element, the entertainment element, the shock and awe element for the candidate can have an impact on pulling audience and building awareness," said Senatori.