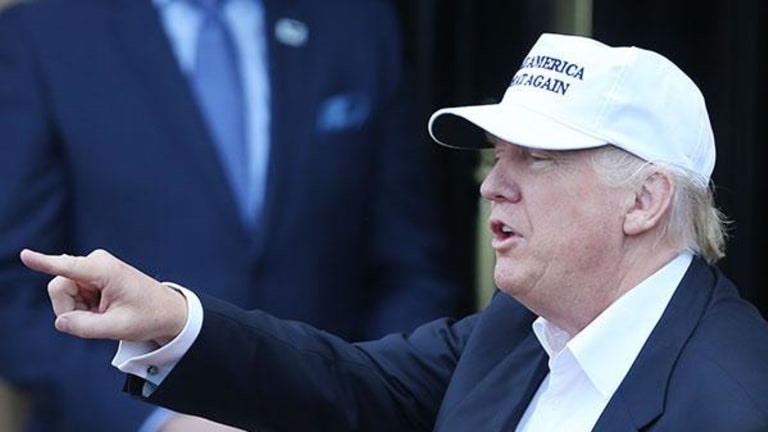 Donald Trump Presidency Could Drive Price of Bitcoin High
Donald Trump is one more reason investors might want to take a look at Bitcoin.
Donald Trump is one more reason investors might want to take a look at Bitcoin.
Donald Trump is one more reason investors might want to take another look at Bitcoin.
A recent report from Juniper Research predicts that the transaction volume for Bitcoin will more than triple in 2016, due in part to the prospect of a turmoil-inducing Trump presidency. The U.K.-based market intelligence and analysis firm believes transactions of the cryptocurrency will reach $92 billion in 2016, up from less than $27 billion in 2015.
The price of Bitcoin has climbed more than 50% already this year, opening Friday priced at $659.64, according to the Coindesk price index. The price of the Bitcoin Investment Trust (GBTC) - Get Report , which tracks Bitcoin, has soared by nearly 150% to $118.25.
The presumptive Republican nominee has pledged to get tough on trade with China and Mexico, renegotiating agreements, imposing tariffs and taking other aggressive actions towards the country. He has also said he would clamp down on remittances in an effort to force Mexico to pay for his wall at the border. Such a maneuver could push those needing to transfer money away from companies like Western Union (WU) - Get Report and Moneygram (MGI) - Get Report and instead toward Bitcoin.
Global events, including the U.K's Brexit vote and the continued weakness of the Chinese economy, and the recent "halving" of Bitcoin resulting in a reduction in supply, are the factors largely contributing to an increase in Bitcoin transactions thus far this year. Trump in the White House, or the prospect of it, could drive up trading as well.
"If a Trump presidency becomes more likely, then in the run-up towards that occurring, we would see the value of Bitcoin against the dollar increasing significantly, and we would imagine that there would be a significant amount of action on the exchanges that would be directly attributable to that," said Windsor Holden, head of forecasting and consultancy at Juniper Research, in a phone interview.
Bitcoin exchanges often see spikes in activity during periods of uncertainty and instability. For example, the day of the Brexit vote, when it appeared as though the U.K. would vote to stay in the European Union, its price dropped to about $550. The day after the vote, as the British pound tanked, it soared to over $650.
"Bitcoin acts more and more as a safe haven asset," said Tuur Demeester, Bitcoin commentator and editor-in-chief of Adamant Research, a firm that focuses on global macro investment opportunities in Bitcoin and blockchain. "In a way, they're a put option on downward volatility."
In this way, Bitcoin acts like gold, a solid asset that can hedge against economic havoc. Many believe that Trump's election to the presidency could spur turmoil.
A report from Moody's Analytics concludes his policies would result in a two-year recession and a sharp increase in unemployment, and a separate study from Oxford Economics calculates a President Trump would cause the U.S. economy to contract. The Economist Intelligence Unit earlier this year listed a Trump presidency as a top-10 global risk.
If a Trump presidency becomes a likelier scenario in the months and weeks leading up to Election Day (some recent polls indicate that could be the case), Bitcoin analysts and investors expect an uptick in activity on exchanges and potentially a price increase in reaction. And if Trump is sworn in, it might continue.
"If Trump reaches the White House, his volatile policies and trade deals may impact not only the U.S. dollar, but currencies worldwide. Any restriction on the free movement of money between nations will drive mass demand toward Bitcoin, which allows the transfer of value globally, cheaply, quickly, and quasi-anonymously," said Petar Zivkovski, director of operations at Hong Kong-based Bitcoin trading platform Whaleclub.