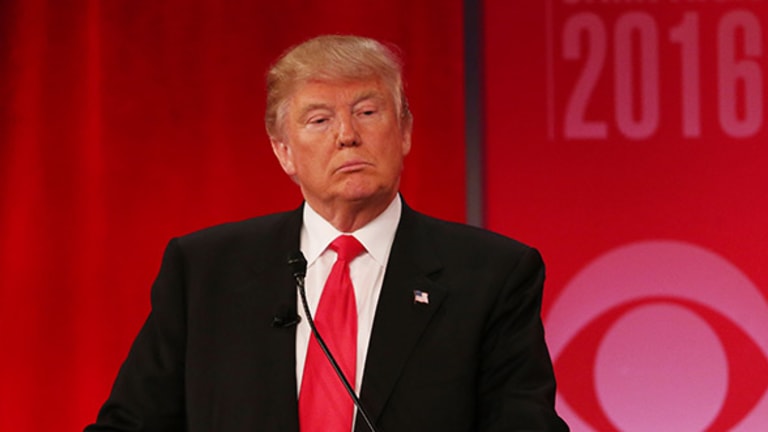 Publish date:
Donald Trump Nomination Would Forever Change the Republican Party
Republicans are coming to terms with what to many is a scary but realistic possibility: Donald Trump taking center stage at the RNC convention in Cleveland in July.
Republicans are coming to terms with what to many is a scary but realistic possibility: Donald Trump taking center stage at the RNC convention in Cleveland in July.
Editor's note: This story was originally published on February 23. Considering Donald Trump's win in the Republican Nevada caucus and his march to the nomination, it's worth looking at how his selection would change the GOP. 
Funny or Die recently released "The Trumpening," a mashup video of Donald Trump's campaign with horror film "The Conjuring." The parody will take on new meaning if the real estate magnate lands the Republican Party's presidential nomination -- for many in the GOP establishment an inconceivable outcome and one not too welcome.
Since Trump threw his hat into the ring last summer, the prevailing wisdom has been that an unknown something would derail his campaign, clearing the way for a more conventional candidate to ultimately land the Republican nod. But as the days wear on and the boisterous billionaire continues to defy the odds, Republicans are having to come to terms with what to many is a sobering possibility: the Donald taking center stage at the RNC convention in Cleveland in July.
If and when that happens, the Republican Party will face a rough road ahead.
"It will be a huge mess," said Jonah Goldberg, National Review senior editor and fellow at the American Enterprise Institute. "It will fundamentally and permanently change the brand of, at least, the Republican Party."
Trump as the GOP's standard bearer would give the party a much more nativist, populist gloss. It would also call into question some of the ideological pillars -- stances on issues like free trade and entitlements -- that have sustained its platform for decades.
"The party has been pretty steadfastly against protectionism, against big government interventions, and Donald Trump is completely out of sync with the ideological roots of the GOP going back at least 30 years. It's going to cause a huge shaking out," Goldberg said.
Of course, many Republicans would be able to make peace with a Trump nomination.
The vast majority of Republicans will vote for the party's nominee, said Jon Seaton, a Republican political strategist who has worked on George W. Bush, John McCain and Lindsey Graham presidential campaigns. Some establishment Republicans are already coming around (see: John Huntsman). And the Republican National Committee will back Trump as well -- something chairman Reince Priebus has reiterated on numerousoccasions.
"To the extent that he wants to use it, the Republican Party apparatus will be available to him, the infrastructure both nationally and in the states," he said.
The K Street crowd (Washington lobbyists, think tanks and advocacy groups) and many Republicans on Capitol Hill would support Trump, Goldberg predicted. Others, however, might not.
"There will be other people who are going to be ideologically homeless either within the GOP or they'll leave the GOP," he said.
A number of the party's most prominent figures, including Peter Wehner and Erick Erickson, have already drawn the line and said under no circumstance will they cast a vote for Trump.
A Trump nomination would perhaps be most problematic for down-ballot Republicans -- those competing for Congressional seats, governorships, etc. -- running with Trump at the top of the ticket. The party would find itself having to engaging in a political balancing act of sorts.
"Certain candidates will really embrace Trump, others will advocate for themselves as a balance against Trump," said Ben Domenech, publisher of The Federalist. "It depends on which state you're in, and whether it's blue or red."
Those distancing themselves from Trump might not be able to stray too far, however -- at least if they want to draw the support of his enthusiastic base.
"It's going to put a lot of people in Congress in a tough spot, because they are going to have to answer whether they agree with the positions that they have held for their entire professional lives or whether they agree with the standard bearer of the party," said Goldberg, adding that Speaker of the House Paul Ryan may emerge as the party's rallying point, positioned as the authentic head of the GOP.
Conservative grassroots groups that depend on voter donations would find themselves in a predicament as well -- namely, those with ideologies that conflict with Trump.
"It's very difficult to raise millions of dollars from the grassroots and small donations for free trade, let's say, if the masses are now listening to Donald Trump, who's against free trade," he said.
While a Trump nomination may not fracture the Republican Party entirely, it may transform the nature of America's two-party system.
The United States has been unique in having a tradition of a classically liberal, fiscally conservative, free market wing in politics, Domenech explained. In much of Europe and the West, systems are dominated by a centrist, technocratic majority and a populist party represented in a way as xenophobic, anti-immigrant and anti-free trade.
"That's kind of what Trump does by taking over the Republican Party," said Domenech. "If you have a Republican Party that is taken over by Trump and Trumpism, then it kind of moves the conversation from being one between a group of people who want to reform entitlements and a group of people who don't, between an argument about which entitlements need to be rescued and saved, and it really gets rid of a voice for free trade, free markets and things of that nature."
It would mark entirely new territory for the Republican Party and force it to tackle issues most of its members would rather not face -- including contemplating mounting a conservative third-party run.
Pundits have floated the idea in the past, and former New York Mayor Michael Bloomberg is exploring a potential bid in the event that Trump or lead rival Texas Senator Ted Cruz becomes the GOP nominee and Bernie Sanders lands the Democratic nomination (an unlikely scenario). While many conservatives acknowledge a third-party bid is a challenging scenario, it is not an impossibility if Trump lands the GOP nomination.
"I do think that it opens the door wider than it usually is," said Seaton.
"Talk about a third party, I think, is kind of overblown, but you can only exaggerate the truth," said Goldberg.
Ultimately, the principal concern among many Republicans is that a Trump nomination might give Democrats an easier path to the White House.
"What I do think would happen if Donald Trump won the Republican nomination is Hillary Clinton would beat him. He is vulnerable on so many fronts," said Henry Barbour, a Mississippi-based Republican strategist. He believes swing-state voters in places like Iowa, Florida, Colorado and Iowa would reject Trump outright and that Republicans would almost certainly lose their majority in the Senate. "It would be a disaster," he said.
Goldberg was a bit more cautious in his assessment. "I wouldn't want to bet on Donald Trump to win, I just don't think it's obvious that he wouldn't," he said.
Republicans Still Hoping for a Trump Trip-Up
Those we spoke to for this piece agreed on one theme: They're still not sure Trump will get the nomination. This, despite the overwhelming indications to the contrary.
Domenech acknowledged that Trump has momentum and "it is his race to lose" but believes Cruz or Rubio can still beat him -- as long as they do so within the next month. If Trump comes out ahead in winner-take-all states like Florida and Ohio, which vote on March 15, it could be over.
"If we wake up on March 16 and he has won Ohio and Florida, which are both winner-take-all, then I think he's probably the nominee. And if that happens, then conservatives have to come to grips with the fact that the Republican Party is no longer a conservative party," he said.
Seaton has hopes that go beyond next month.
"There will probably be a huge amount of focus on delegate counts and on seeing if he's shy of 50% going into Cleveland, what kinds of deals and coalitions can be pulled together to settle on a different nominee," Seaton said. "You'll see that right up until he clinches 50% plus one of the delegates in the primaries and caucuses. As long as he's shy of that, as long as there seems to be a reasonable chance that he'll fall short, even if he has a massive delegate lead, I expect that there will be some maneuvering to find another candidate who can on second, third or fourth ballot get a majority."
The overarching consensus among those hoping for Trump's defeat appears to be that the Republican field needs to be whittled down to two. But with five contenders still left in the race, that may not be happening anytime soon.
"The hope is that the rest of the field gets out, leaving [Marco] Rubio to face Trump one-on-one, because the polling is pretty clear that Rubio would beat Trump one-on-one," said Goldberg. "The problem is that we're in a situation that all of these guys are still fighting to be the last candidate standing to take on Trump, and there isn't much time left to do that."
"Candidates who are underperforming have to get out of the race," said Barbour, later adding, "The longer it takes, the better it is for Donald Trump."