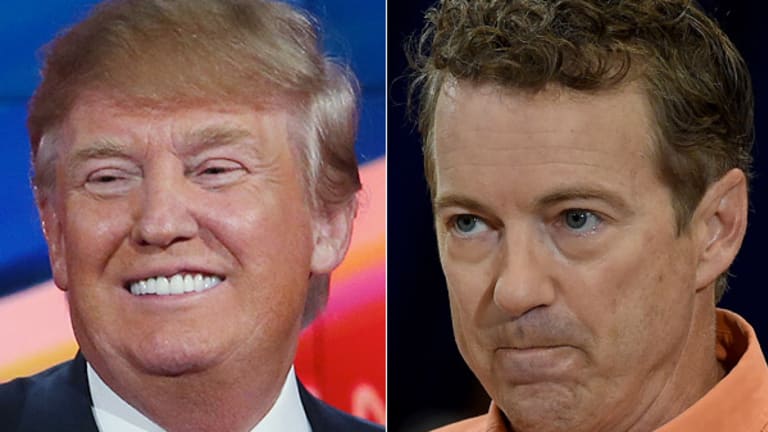 Donald Trump Is Using Rand Paul's Playbook to Spank Fox
For Republican presidential candidates, it appears that not only is debate attendance optional, but skipping scheduled showdowns may actually help their campaigns.
For Republican presidential candidates, it appears that debate attendance is optional and that it might actually help their campaigns.
Rand Paul proved as much earlier this month when he opted out of the last Republican debate on Fox Business Network. Now, Donald Trump is giving the tactic a try. The GOP frontrunner announced this week that he would not be attending the party's next presidential debate after engaging in a political game of chicken with host network Fox News.
If Paul is any indicator, Trump's bet will work out. After failing to make the cut for the January 14 main stage event held in South Carolina, the libertarian senator went on a week-long media blitz. He stopped by "The Dr. Oz Show," sipped on bourbon with Trevor Noah during a singles night debate on "The Daily Show," and made multiple appearances on cable news networks.
Ratings-wise, the appearances paid off. Based on the show's averages, CNN Politics estimates the Paul interviews were likely watched by at least seven million people. The undercard debate to which the senator had been assigned averaged just two million viewers (the primetime debate had 11 million).
Paul also held a competing event with the debate, hosting his own #RandRally, an interactive town hall live from Twitter's New York City office. "Turn the TV off. Choose liberty, unfiltered and direct from the source," he wrote in a campaign email.
Again, it worked. Paul's event hashtag was the third-most popular hashtag in the U.S. on Twitter, and he gained the fourth-most Twitter followers after the debate of all the GOP candidates.
"I think we've taken not a perfect situation -- because it isn't good to be excluded, and it is unfair -- and turned it into a positive," Paul told Business Insider.
Aside from the ratings and additional attention, the "positive" may be that the Kentucky senator will again be on the main debate stage this Thursday. 
Trump's plans appear, to a certain extent, to mirror Paul's. While he is currently out on the campaign trail, with events scheduled today in South Carolina and Friday in New Hampshire, his parallel media blitz, fueled by his controversial decision, has begun.
His campaign manager, Corey Lewandowski, spoke withABC News' George Stephanopoulos on "Good Morning America" Wednesday to defend Trump's decision. "The issue is an issue of fairness," he said, claiming that Fox News anchor and debate moderator Megyn Kelly, who is largely the source of the billionaire's debate gripe, is "obsessed" with the GOP frontrunner.
Like Paul, he has also set up an alternative event: a fundraiser for veterans and wounded warriors. While the rally is not yet listed on his campaign agenda, his camp has said it will take place in Iowa Thursday starting at 9:00 p.m. ET -- the same time the primetime GOP debate begins. No word on whether it will be broadcast or not, but chances are, someone will put it on.
"Donald Trump's decision is a gamble and a test of his thus-far flawless decision-making during his seven-month campaign," said Robert Schmuhl, professor of American studies and journalism the University of Notre Dame.
The Tug-Of-War With Fox
Trump's involvement in the presidential campaign has brought networks record ratings for debates this election cycle, and his absence Thursday could sting. The August 6 showdown, the first GOP debate, also hosted by Fox News, saw a record 24 million viewers -- a fact not lost on Trump.
"FOX News is making tens of millions of dollars on debates, and setting ratings records (the highest in history), where as in previous years they were low-rated afterthoughts," Trump's camp said in a statement.
Though the network still isn't blinking, it is likely aware of the ratings factor -- the last debate, hosted by sister channel Fox Business Network, had the smallest total audience of any GOP debate this season.
Moreover, the network's reputation could be altered as well. This week's tug-of-war with Trump marks a curious point in the evolution of Fox News from an upstart cable-TV network many years ago to one that now has an outsized role in helping to elect Republican candidates.
"There's definitely a power shift," said Mark Feldstein, a former ABC and CNN correspondent and broadcast professor at the University of Maryland's Philip Merrill College of Journalism. "This is Fox News after all, which in some ways became the tail wagging the dog of the Republican presidential process."
Trump's ability to use his status as the celebrity frontrunner has made for one of the most unlikely political campaigns in U.S. history, and he appears to defy the odds of political norms ateverycorner. And though it's not unusual for frontrunners to dodge debates close to a vote, Trump initially said he would participate in the debate. Then he changed his mind.
Rather than simply charging that he didn't believe Fox to be fair and balanced, he made it personal, Feldstein said, explaining that he would only participate if Fox removed Kelly as a moderator.
"Normally, that would destroy a candidate, but with Trump, the usual rules of political gravity don't seem to apply," Feldstein said.
If debate rebellion didn't backfire on Paul, it's unlikely it will do anything to ding the political unicorn that is Trump. But there are risks.
"If the media narrative becomes that he's avoiding a debate with Megyn Kelly, that would jeopardize the perception of strength that he's emphasized since he announced last June," said Schmuhl. "If the public comes to think that it's a business feud between Trump and Fox News, then his candidacy probably won't suffer. If the ratings tank without him, that, too, becomes an advantage for Trump."
It is also worth noting that Trump, who is polling much higher than Paul, perhaps has more to lose. That may especially be the case if he lands the party's nomination, Schmuhl explained.
"The larger question is whether there might be a prolonged conflict between Trump and Fox News," he said. "A Republican candidate, should he win the nomination, would pay a high price in the fall if that happened."