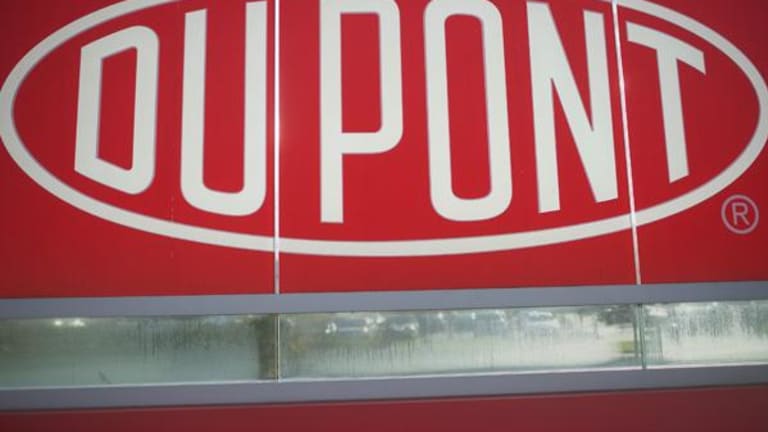 DOJ OK's Dow Dupont Merger As An Activist Seeks More Breakups
The two companies plan to break up into three business within 18 months of closing their deal, but insurgent Dan Loeb eyes further divestitures.
The U.S. Justice Department on Thursday June 15 approved a $130 billion blockbuster merger of Dow Chemical Co.   (DOW) - Get Dow, Inc. Report  and DuPont Co. (DD) - Get DuPont de Nemours, Inc. Report   after a lengthy review, requiring some divestitures but not the extreme split-up a high-profile activist investor is seeking.
Specifically, the DOJ required that DuPont to divest some of its crop protection portfolio. It also required Dow to sell its global ethylene acrylic acid copolymers and ionomers business, which supplies products used in food and specialty packaging, adhesives, thermoplastic powder coatings, metal pipe coatings, wood plastic composites and molded durable and sporting goods. 
Buyers for all the divested products must be approved by the DOJ.
The crop protection products that must be sold are DuPont's market-leading Finesse and Rynaxypyr, which the DOJ said are two of only a few significant competitors in the markets for broadleaf herbicides for winter wheat and insecticides for chewing pests.
Dow recently introduced a new broadleaf herbicide called Quelex to compete with Finesse.
DuPont's Rynaxypyr line of products marketed in then U.S. under the brand names Altacor, Coragen, and Prevathon, are the top selling insecticides for chewing pests, and compete with Dow's methoxyfenozide products, sold in the United States under the Intrepid brand, and Dow's spinetoram products, sold under the Delegate and Radiant brands.
As for the acid copolymers and ionomers divestiture, the DOJ said Dow and DuPont are the only two U.S. suppliers of the high-pressure ethylene derivative products, which are important inputs for food packaging and other plastics applications. According to the complaint, customers for each of these products would have no choice but to accept higher prices from the merged company following the transaction.
The approval was the last major hurdle the two companies needed to overcome before they could move on to consummate their blockbuster deal, which was announced in 2015. Once the deal closes, which is expected in August, DuPont and Dow intend to split into three separate companies focused on agriculture, material science, and specialty products.
The post-merger split wasn't required by antitrust regulators - the move was one intended to create specifically focused companies after the deal was consummated. The two companies have already received approval from various jurisdictions, including the European Union.
The divestitures required by regulators Thursday weren't a surprise. The European Union in February had postponed its deadline for reviewing the merger so that it could consider an offer by the companies to divest a portion of DuPont's crop protection business and associated research and development, as well as Dow's acid copolymers and ionomers business.
DuPont shares were down slightly Thursday, dropping 65 cents to $82.17 and were unchanged in after-hours trading. Dow shares were up a penny to $64.10. After the DOJ settlement was announced Dow rose in after-hours trading by 67 cents $64.77.
"We are very pleased that the DOJ has approved this transaction," said Dow CEO Andrew Liveris in a statement. 
However, more divestitures, beyond what the companies are seeking, may be on the horizon. The approval comes less than a month after activist investor Dan Loeb of Third Point LLC launched an insurgency campaign in May arguing that the post-closing plan to split into three businesses may not be enough.
In a 19-page presentation issued by Third Point, Loeb suggested that the company should evaluate whether "three spin-off companies is appropriate or if the creation of additional businesses or divestitures would further enhance shareholder value." The fund suggested that the specialty products business, post-closing, could be split into as many as four public companies to ensure that each unit has a "clear and compelling investment case."
Loeb also suggests that several businesses should be shifted from the material science unit to the specialty products company, post-closing. In other words, Loeb is seeking to have the combined companies shift divisions and break up into even more than three companies to drive share-price improvement value.
In a statement, both Dow and DuPont reaffirmed their expectation that the deal will close in August, with their three-way split to occur 18 months later. 
It's unclear if Third Point would escalate its campaign at Dow and DuPont with a director election fight. Third Point owns about a 1.3% Dow Chemical stake, according to FactSet Research Systems Inc. Another activist fund, Jana Partners owns a 0.29% stake. Nevertheless, it is possible that if Loeb garners significant support from large investors in behind-the-scenes negotiations, he could push the companies to consider the changes his is seeking.
Loeb first acquired a Dow Chemical stake in 2014 and pressed for the company to break up.