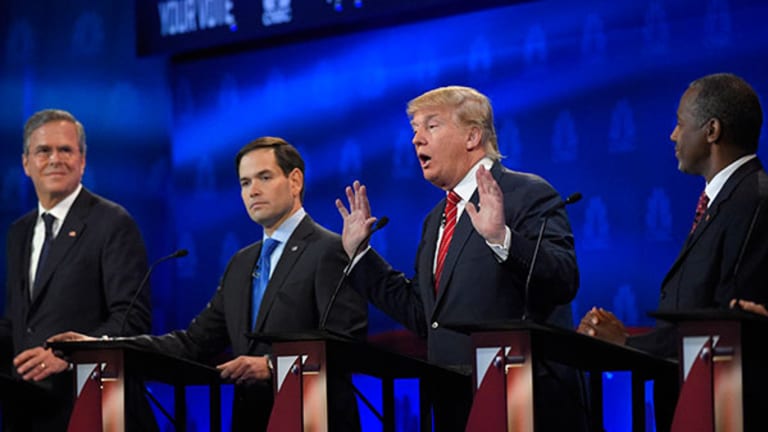 Does America's Next President Really Hate Wall Street?
The 2016 presidential candidates seem to want it both ways: Many favor deregulation of Wall Street and are happy to accept banks' donations but talk about "reining in" the industry.
What are the odds that America's next president will really dislike Wall Street?
Based on sound bites from the Republican and Democratic debates so far, they seem pretty high: 
Wall Street "has too much greed," Ohio Gov. John Kasich said in the most recent GOP debate, on Nov. 10. "They need a good ethics lesson on Wall Street on a regular basis to keep them in check so we, the people, do not lose."
Ben Carson, one of the leading GOP candidates, has said he'd bring back Glass-Steagall, a Depression-era law that split commercial and investment banks. And both Ted Cruz, the darling of the Tea Party, and Hillary Clinton, the leading Democratic candidate, have said they wouldn't bail out banks during another financial crisis like the one in 2008.
"I've laid out a very aggressive plan to reign in Wall Street, not just the big banks," Clinton said in a Democratic debate last weekend.  "And I am going right at them. We have to go after what's called the shadow banking industry, those hedge funds."
Lest anyone get confused about why Wall Street has been supportive of her campaign -- contributing at least $3.2 million so far, according to the Center for Responsive Politics -- Clinton took care to point out her efforts to help rebuild the neighborhood after the 9/11 attacks.
The careful positioning isn't surprising. Too much sympathy for Wall Street doesn't play particularly well on Main Street, especially in the aftermath of 2008. Many voters are still angered by a $700 billion bailout under President Bush that propped up finance companies like Bank of America (BAC) - Get Bank of America Corp Report and Citigroup (C) - Get Citigroup Inc. Report but didn't restore liquidity or prevent massive layoffs. They're not big fans of the $787 billion stimulus package passed under his successor, President Obama, either.
But if you listen closely, you'll find reason to question just how much antipathy the presidential candidates really have toward big banks and the finance industry.  When the candidates mention Wall Street by name, they use phrases like "rein in" and "crack down." Or like Kasich, they discuss ethics.
"Many of the Republican presidential candidates say they want to rein in Wall Street," but their proposals involve getting rid of agencies and laws with exactly those goals, said Michael Barr, University of Michigan law professor and a former Treasury official. "That's not real reform, that's rollback."
The apparent position of many GOP contenders, in fact, is that the biggest banks became too large because of rules designed to prevent another financial crisis and that repealing those rules would solve the problem.
Specifically, many want to abolish the Dodd-Frank Act, which forces banks to keep higher cash reserves -- providing a buffer in a financial panic -- and establishes the Consumer Financial Protection bureau, an agency charged with protecting customers from financial exploitation. 
"Do you know why these banks are so big?" U.S. Sen. Marco Rubio, a Florida Republican, asked during the Nov. 10 debate. "The government made them big. The government made them big by adding thousands and thousands of pages of regulations."
Carson, the neurosurgeon and conservative writer who has received about $381,000 from Wall Street, voiced similar concerns about a rule-heavy government: "What we've done now is let the creep of regulation turn into a stampede of regulations, which is involved in every aspect of our lives," he said. "If we can get that out, it makes a big difference." 
So is deregulation, in fact, in keeping with a skeptical attitude toward bankers? Not really. In fact, it's regularly cited as one of the causes of the financial crisis.
For example, a portion of the Glass-Steagall Act that was repealed in 1999 under President Bill Clinton required that banks with FDIC-insured deposits only invest in government bonds and other low-risk securities. Banks like Citigroup and JPMorgan Chase (JPM) - Get JPMorgan Chase & Co. Report benefited from the change, combining banking and trading activities to increase profits.
But in the event of a financial panic, the change means that banks facing ruin because of trading activities may be holding substantial deposits from average Americans, heightening risk.
The only presidential candidates to support a reinstatement of the deleted provision, however, are Sen. Bernie Sanders and former Maryland Gov. Martin O'Malley, both Democrats, and Carson, the Republican.
And Carson has hinted that he's not necessarily in favor of splitting up existing banks. "I don't want to go in and tear anybody down," he said in the November debate, when asked about breaking up large finance companies.
Cruz, a Republican U.S. Senator from Texas whose wife is on leave from investment bank Goldman Sachs (GS) - Get Goldman Sachs Group, Inc. Report, has been comparatively low-key on the topic. Still, he has implied that the Federal Reserve, a favorite conservative target, has helped Wall Street by keeping interest rates at nearly zero for the past seven years and has proposed legislation to audit the central bank.
"You know, it's interesting, you look at Wall Street, the Fed is doing great," Cruz said. "It's driving up stock prices. Wall Street is doing great."
The implication, of course, is that the rest of America isn't. 
But Cruz -- who has raised about $1.35 million from the finance industry for his presidential race, including contributions of nearly $44,000 from Goldman Sachs employees and executives -- has also attempted to help Wall Street. He introduced a proposed law to abolish the Consumer Financial Protection Bureau, which has ordered nearly $5 billion in relief to customers of companies like Bank of America, JPMorgan Chase and Discover (DFS) - Get Discover Financial Services Report.
In Cruz's version of events, the Dodd-Frank law that created the bureau is to blame for the banks getting bigger, and the Federal Reserve is the cause of the financial crisis. He says it occurred because real estate and commodity prices surged during a period of loose money in the 2000s, "and then in the third quarter of 2008, the Fed tightened the money and crashed those asset prices, which caused a cascading collapse."
In fact, the Fed had tightened the money supply steadily from 2003 to 2006 by raising interest rates, records show. The last increase occurred in June 2006, and the central bank began cutting rates afterward as the U.S. housing market slowed.
It was the eventual collapse of the housing market, which had been in a bubble because of sales to buyers with poor credit, that imperiled banks holding securities based on those mortgages.
Once the market fell apart, buyers could neither refinance nor meet their monthly payments, and the securities were rendered worthless, eventually leading to the bankruptcy of Lehman Brothers investment bank and the global financial crisis in September 2008.
The Fed, which by that time had reduced rates to 2% from their 2006 high of 5%, cut them further in October and slashed them to nearly zero in December. They've been at that level for the entire six years since.
Republican candidates Rubio and Jeb Bush, the brother of President George W. Bush, have both said they were in favor of repealing the Dodd-Frank legislation. Rubio has received $919,000 in finance industry contributions, while Jeb Bush has garnered $2.92 million. 
Carly Fiorina, the former Hewlett-Packard CEO who's also seeking the Republican nomination, says she would have voted against Bush's 2008 bailout of the banking system.
On the other hand, she wants to reverse the Dodd-Frank reform law. She says it's ruining the economy and has forced many small community banks to close, in part because unlike their larger rivals, they can't afford the staff needed to comply with it.
The decline in community banks with less than $10 billion in assets actually began before the Dodd-Frank legislation was enacted, however. According to a Harvard University study, between 2006 and mid-2010, community banks lost 6% of their market share. The decline accelerated to 12% after Dodd-Frank. 
"Big government favors the big, the powerful, the wealthy and the well-connected, and crushes the small and the powerless," said Fiorina, who has received about $328,000 from banks and finance companies.  "What's interesting about Dodd-Frank is it's a great example of how socialism starts. Socialism starts when government creates a problem, and then government steps in to solve the problem."
Overall, until all of the presidential candidates offer more concrete proposals, it's difficult to compare their policy prescriptions for Wall Street.
But with several of them, more deregulation and the repeal of laws intended to cushion banks from a financial panic and protect their customers appears more than a little likely.