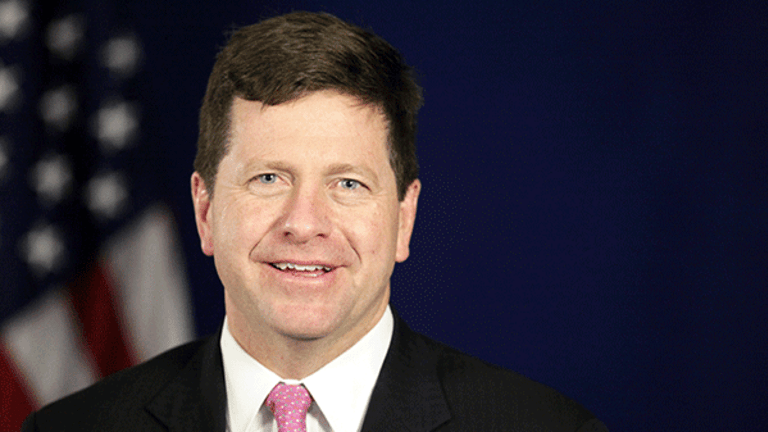 Publish date:
Democrats Target Trump SEC Pick Clayton Over Conflicts
The Wall Street lawyer told lawmakers on Capitol Hill that he sees "meaningful" room to bolster the current lackluster IPO markets.
The Wall Street lawyer told lawmakers on Capitol Hill that he sees "meaningful" room to bolster the current lackluster IPO markets.
Jay Clayton, the Wall Street lawyer and a Goldman Sachs (GS) - Get Report adviser who is Donald Trump's pick to head the Securities and Exchange Commission, won't be an effective enforcer due to a long list of corporate and big bank clients that would require him to recuse himself on key issues over the next two years, Democrats said on Thursday at his confirmation hearing.
"You said you intend to enforce the law strictly. I am concerned you won't be able to achieve it," said Sen. Elizabeth Warren, D-Mass. "The SEC Chair will play an critical role, with Republican commissioners pushing for weaker enforcement and Democrats seeking more enforcement. If the chair can't vote then major enforcement actions don't go forward and serious wrongdoing will go unpublished."
Warren and other Democrats on the committee sought to bolster an ongoing campaign against Clayton, arguing that his background as an adviser to Wall Street institutions, including Goldman, have imbued him with "massive and unavoidable" conflicts of interest. At the same time, Democrats argued that Clayton, whose background as a long-time M&A lawyer at Sullivan & Cromwell in New York, lacked enough knowledge on enforcement matters to effectively oversee the largest financial companies.
In response, Clayton suggested he hoped to build consensus on both sides of the aisle at the SEC, which has both Democratic and Republican commissioners, when it comes to enforcement and other matters, adding that as a transaction lawyer he has been able to bring that consensus to major deals. "I want to continue to do that if confirmed," Clayton said.
Republicans, on the other hand, took a completely different view of Clayton's background and experience. Senate Banking Committee chairman Mike Crapo, R-Idaho, and Bob Corker, R-Tenn., said his experience would help him with the challenges of overseeing the SEC.
If confirmed on Capitol Hill, the nation's securities agency would be led by a seasoned attorney with experience providing legal advice around a wide variety of blockbuster mergers, including critical deals that were struck during the 2008 financial crisis that helped alleviate a more extensive market meltdown.
Nevertheless, Clayton also faces a two-year ethics office ban on ruling on matters involving his former clients, which include high-profile companies such as Deutsche Bank, Barclay's (BCS) - Get Report , Alibaba (BABA) - Get Report , embattled Valeant Pharmaceuticals (VRX) and troubled activist fund Pershing Square Capital Management as well as many other large companies. The sheer number of clients Clayton advised while at Sullivan & Cromwell has many Democrats concerned that he will be unable to be an effective regulator.
In addition, Warren suggested that big financial institutions will want to hire Sullivan & Cromwell to advise them because Clayton would need to recuse himself from vote on issues coming before the law firm as a client for two years.
Raising speculation that he is responding to pressure over his conflicts and wants to hide accomplishments that now appear to be conflicts, the vast majority of Clayton's biography and list of major deals he worked on was deleted recently from the Sullivan & Cromwell website. 
GOP lawmakers on the committee focused much of their attention on pushing Clayton to ease SEC costs for Initial Public Offerings, with a number of Republicans saying they supported comments he has made suggesting that he sees "meaningful room for improvement" at the agency when it comes to bolstering the U.S. market for offerings. Clayton suggested that in recent years, the U.S. markets have faced growing competition from abroad. "U.S. - listed IPOs by non-U.S. companies have slowed dramatically," Clayton said. "Investment opportunities for Main Street investors are more limited. Here, I see meaningful room for improvement."
The SEC chairman candidate said he supported a key aspect of the JOBS Act, a statute approved in 2012 that sets up a class of so-called "emerging growth companies," or EGCs, that have extra benefits when it comes to IPOs, including extra time to complete their offerings.
"I'm looking at it from outside but I will note that easing the on-ramp to public capital market process, making it less costly up front to become a public company has had an effect on the markets," Clayton said. "When I go to meetings one of the first questions I am asked is whether the company is an emerging growth company, because that has made it easier to go public."
Democrats and Republicans also squabbled over Clayton's role as an advisor to Goldman Sachs while he was an attorney at Sullivan & Cromwell. The White House has put at least four former ex-Goldman Sachs employees in top government positions despite some vitriol from Trump about the firm on the campaign trail.
Democrats including, Sen. Chris Van Hollen, D-MD., also raised concerns that the agency hasn't proposed a political spending disclosure rule, suggesting that shareholders deserve to know if the company they are invested in is "spending $5 million" in seeking to elect presidential candidates. 
"Do you think that a stock holder would have an interest in knowing if the company they are invested in is spending $5 million in electing Hillary Clinton or Donald Trump and all the potential conflicts of interest associated with that? Do you believe that is something that stock holders should have information about?," asked Van Hollen.
Warren, Van Hollen and other Democrats and a number of academics, including Harvard Law School Professor Lucian Bebchuk, and activist public pension funds have been pushing the SEC to adopt rules that would require publicly-traded corporations to disclose their political contributions.
However, Clayton in response didn't endorse a political disclosure rule, pointing out that a number of companies have voluntarily made the disclosures and that shareholders have the option to submit non-binding shareholder proposals to urge companies to become more transparent around their disclosures. "The question of whether it should be mandated is one I'm happy to think about," Clayton said.