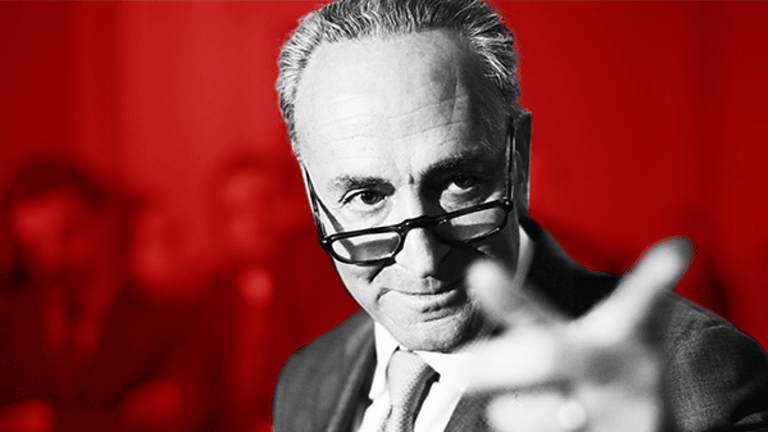 Democrats Target Megamergers in Populist Political Play
The Democrats want to force consolidating companies to justify the benefits of their mergers, not just ensure that the merger doesn't diminish competition in order to receive approval from antitrust regulators.
Democrats are targeting megamergers in their attempt to reorient the party post-2016. The maneuver may prove a savvy one politically, but in terms of policy, it would mark a major shift in antitrust policy in the United States.
Dems have laid out a plan to crack down on corporate monopolies and large mergers as part of their "A Better Deal" initiative unveiled by Senate Minority Leader Chuck Schumer (D-NY) and House Minority Leader Nancy Pelosi (D-CA) this summer. The proposal would establish broader, longer-term review standards and presume all big mergers are anticompetitive unless the companies proposing them can prove otherwise.
"This is, I think, explicitly a campaign document," said Tom Campbell, professor of economics and law at Chapman University and former director of the Federal Trade Commission's Bureau of Competition under Reagan. "I don't fault a political party for putting it forth, it's perfectly appropriate. It is not, however, a serious policy proposal."
The Dems' proposal would force consolidating companies to justify the benefits of their mergers, not just ensure that the merger doesn't diminish competition in order to receive approval from antitrust regulators.
"This would recognize that a whole lot of huge mergers of competitors are getting through and they may be anticompetitive, or they may hurt workers, they may lay off workers, they may be getting more efficient and lay off workers," said New York University antitrust and policy professor Eleanor Fox.
It would also allow for deals to continually be reviewed after their completion in order to verify that their purported public benefits were achieved. Under existing law, regulators review deals to make sure certain conditions, such as planned spin-offs, are met. But Democrats would go beyond that.
"This is just [a warning] to watch your conduct, so we'll keep you on our radar screens in perpetuity," Campbell said.
Democrats highlight five industries they have identified as particularly susceptible to monopolistic concentration: airlines, cable/telecom, beer, food and eyeglasses.
They note that mergers have reduced 10 major U.S. airlines to four mega-carriers over the last two decades and cite United Airlines Inc.'s overbooking policy that led to "the brutal assault of an airline passenger" as an example of the negative consequences.
They also highlight AT&T Inc.'s (T) - Get Free Report bid to buy Time Warner Inc. (TWX) , warning that it could result in the combined companies having more power to restrict content access. "This will only enable the resulting behemoths to promote their own programming, unfairly discriminate against other distributors and their ability to offer highly desired content, and further restrict small businesses from successfully competing in the market," the plan says.
Democrats cite mergers that are pending as well as those that have already closed. They mention Anheuser-Busch Inbev SA/NV's (BUD) - Get Free Report  deal to acquire SABMiller Ltd., which closed last year to combine the two largest beer companies in the world. "The companies have already announced that jobs will be cut as a result of the merger, and the resulting conglomerate will make it even harder for small, local breweries to compete," the plan says.
They warn that now-complete Dow Chemical Co.-DuPont combination into DowDupont Inc. undefined  and proposed Monsanto Company (MON) -Bayer AG and Syngenta AG (SYT) -ChemChina mergers are "set to threaten the safety of food and agriculture in America" and the pending deal between Ray-Ban maker Luxottica and Essilor would "control the entire supply chain of eyeglasses."
"In addition to these specific industries, there are many more that have seen rising concentration that deserves careful scrutiny, and enforcement, in the 21st century economy," the plan says.
In a New York Times op-ed rolling out the "Better Deal" platform in late July, Schumer said American antitrust laws are "are designed to allow huge corporations to merge, padding the pockets of investors but sending costs skyrocketing for everything from cable bills and airline tickets to food and health care." He said Democrats would "fight to allow regulators to break up big companies if they're hurting consumers and to make it harder for companies to merge if it reduces competition."
The spirit of "A Better Deal" is "absolutely spot on," said American Antitrust Institute president Diana Moss. "We need competition to be on the front page of everything," she said.
Dealmakers should not fret just yet. Senator Amy Klobuchar (D-MN) on Thursday introduced legislation to modernize antitrust enforcement that does not seek to fundamentally change the standard or create a trustbuster. Moreover, the Democrats' Better Deal antitrust plan is largely more a political play for left-of-center voters than a likely policy proposal that would be enacted should Democrats win Congress and the White House.
The Democrats' proposal is a marked shift to the left in the direction of ascendant progressive figures such as Senators Bernie Sanders (D-VT) and Elizabeth Warren (D-MA). Warren has reportedly put a hold on confirmation of President Donald Trump's nominee to head the antitrust division of the Department of Justice, Makan Delrahim. She subsequently met with Delrahim and pressed him on political interference in antitrust and lobbying.
Democrats have engaged in an ongoing debate in the wake of the 2016 election regarding the direction of the party in a push-and-pull between more progressive factions and moderates. The antitrust plank of the platform is a win for progressives.
"It has some very good ideas, some very good thoughts in it. It also is very populist and has aspirations that it wants to achieve both a better deal for workers and a better deal for small businesses and a better deal for consumers, and those are in tension with each other," said Fox. "It's the populist mode of throwing it all in and saying it will do everything for everybody. It can't."
The Democrats' proposal may certainly be appealing in the current political environment. It speaks to the economic fears and anti-corporatist sentiment percolating among a number of different communities across the country.
"Monopolies are a smart thing to take on. Among people in the lower-income, working and middle-class on both sides of the aisle, there's a very deep feeling that economically the deck is stacked, and it's stacked for the insiders, the powerful, the elite, the rich," said New York-based Democratic strategist Jon Reinish. "It certainly shows that Schumer and the Democrats who put this together are tuned into the lack of trust and into those fears."
"I do think it is a way for Democrats to connect with a sort of populist base," Moss said. "The Democrats are looking in 2018 and 2020 to gain some ground, and in the last election, they learned a very serious lesson that they had not connected with a broader base of voters on the issues of economics and policies, and they're trying to do that."
To be sure, anti-corporatism and populism are not proprietary to the left. They are forces on the right as well, having helped propel Trump to the White House.
"You see this kind of 'the system is rigged' rhetoric from both parties," said Republican strategist Jon Seaton. "[The Democrats' antitrust plan] is a play to try to win back a lot of blue-collar whites who were attracted to Trump."
The president has at times expressed interest in antitrust matters, though his motivations appear less tied to anticompetitive concerns and are instead aimed at settling scores with what he says as political opponents. He has accused Amazon.com Inc. (AMZN) - Get Free Report of having antitrust problems, but largely in the context of his ongoing battle with CEO Jeff Bezos, who also owns The Washington Post. He has also criticized the AT&T-Time Warner deal. Time Warner owns CNN, another news outlet that has raised the president's ire for what he sees as unfair coverage of his election campaign and administration.
"Trump either directs his base's anger or expresses his own. I don't think that for him this an area of principles that he is for or against certain corporate ownership," Reinish said. "When he tweets about Amazon, it's simply because it shares an owner with The Washington Post."
The antitrust revamp Democrats are proposing now is not a new one. It has roots in the 1968 Neal Report commissioned by President Lyndon Johnson on the state of competition in America and the 1972 Industrial Reorganization Act put forth by former Senator Philip Hart (D-MI). "This is a very old set of suggestions in the antitrust side," Campbell said.
Both initiatives failed to make it into law, and antitrust practice has shifted markedly to the right. Under current practice, the government is deemed to have no right to stop mergers between private parties unless antitrust enforcers can convince federal judges that the transaction will diminish competition and hurt consumers.
The future prospects of the Democrats' latest antitrust proposal are unclear.
"They're announcing to the public as a largely political matter that they are on the side of the little guy," Campbell said. "[If it were enacted], it would be over the strong opposition of every antitrust division chief and every FTC Bureau of Competition chief since 1980."
More of What's Trending on TheStreet:
The iPhone 8 Might Already Be Completely Irrelevant in Apple's Worst Market