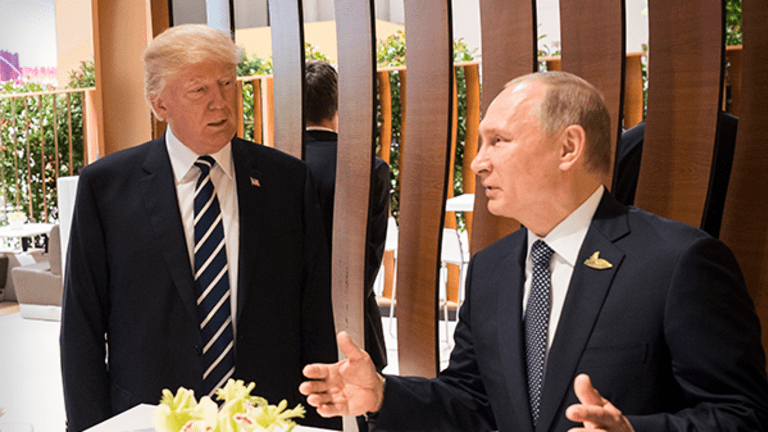 Democrats Push Probe Into Trump, Deutsche Bank and Russia
House Democrats are using a new tactic.
House Democrats are using a new tactic to gather information on Deutsche Bank (DB) - Get Deutsche Bank AG Report as part of a broader party effort to push action on inquiries into President Donald Trump's ties to Russia.
Democrats will offer measures known as resolutions of inquiry, an investigative procedure that House of Representatives members can employ to make a direct request for information to the executive branch. The resolutions automatically trigger floor votes if they don't get action in committee within 14 legislative days. Congresswoman Maxine Waters (D-CA) on Friday will file a resolution to push for information on Trump, those in his orbit and Deutsche Bank.
The resolution, introduced by Waters and Representatives Daniel Kildee (R-MI), Gwen Moore (D-WI), Al Green (D-TX) and Ed Perlmutter (D-CO), asks Treasury Secretary Steven Mnuchin to provide records from his department's Financial Crimes Enforcement Network that detail Trump's ties to Russia as well as those of his family members and associates.
House Democrats have sent four letters requesting information on Trump and Deutsche Bank since March -- two to Deutche Bank directly, one to House Financial Services Committee Chairman Jeb Hensarling (R-TX) and one to Mnuchin.
"We have to get all the information we can find about [President Trump] and his business relationships," Waters said in a recent interview with TheStreet. "It is extremely important, and I don't care where it comes from."
Specifically, Democrats are seeking details on the bank's conduct in the Russian mirror trading scandal, through which it helped wealthy Russians move $10 billion out of the country from 2011 to 2014, and its relationship with Trump.
The German banks is one of the few banks that still lends money to the president after his bankruptcies and financial woes. His financial disclosure, released by the U.s. Office of Government Ethics last month, shows liabilities for Trump of at least $130 million to Deutsche Bank Trust Company Americas, including at least $50 million for the Old Post Office that houses Trump's Washington, D.C. hotel.
Waters, ranking member on the Financial Services Committee, and fellow committee Democrats will request through resolution of inquiry from the Treasury Department information on credit extended by Russian banks and Russian government officials to Trump and those in his orbit and information on the Russian mirror trading scandal. They are seeking information on money laundering and sanctions violations by those in the president's orbit as well.
The ROI lists off Trump's properties, past and present, including the Trump Taj Mahal in Atlantic City, Trump National Doral in Miami and the Trump International Hotel in Washington, D.C. It also targets properties owned by Trump's son-in-law, Jared Kushner.
Democrats also specify several figures of interest. Trump's family members are listed, as well as figures such as campaign chairman Paul Manafort, activist investor Carl Icahn, Russian-born associate Felix Sater, operative Roger Stone and attorney Michael Cohen. They also list members of the administration, including Gary Cohn, Wilbur Ross, Rex Tillerson and Jeff Sessions.
The resolution also requests information on the president's long-time assistant, Rhona Graff, and publicist Rob Goldstone, two figures tied into the brewing scandal surrounding Donald Trump Jr.'s meeting with a Russian lawyer last summer. Emails released by Trump Jr. earlier this week just minutes before The New York Times was set to break a story on them revealed he accepted a meeting last year with a Russian lawyer on the promise that she could offer damaging information about Hillary Clinton. The emails also said the Russian government was supporting his father's presidential bid.