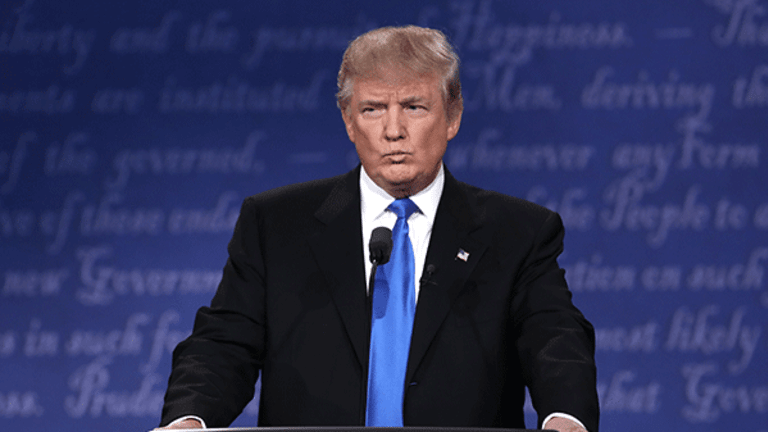 Defiant Trump Means GOP Leaders Must Jump Ship or Prepare for War
Donald Trump has left Republican leaders with an ultimatum: jump ship, or prepare to get down in the gutter.
Donald Trump has left Republican leaders with an ultimatum: jump ship, or prepare to get down in the gutter.
The GOP presidential nominee, under fire for a tape released by The Washington Post on Friday revealing lewd comments about women, Saturday afternoon took to Twitter to ensure onlookers he won't be dropping out of the White House race under any conditions, reaffirming comments made to The Wall Street Journal earlier in the day. Trump's defiance, despite repudiation from much of his party, has left the GOP at a crossroads.
Republicans appalled by Trump's 2005 comments should not so easily be excused, said Evan Siegfried, a New York-based Republican strategist and author of GOP GPS: How to Find the Millennials and Urban Voters the Republican Party Needs to Survive. While the Post tape dates back 11 years, just last week Trump tweeted insults at former Miss Universe Alicia Machado in the middle of the night.
"This was part of a larger pattern that Republicans need to and must strongly condemn, because it's a behavior that is not only inappropriate but immoral," he said.
Numerous Republican leaders have condemned Trump over his remarks, including Ohio Gov. John Kasich and New Hampshire Sen. Kelly Ayotte, both of whom made clear they would not be casting a vote for the real estate magnate in November. Senate Majority Leader Mitch McConnell and Speaker of the House Paul Ryan rebuked Trump but have not rescinded their endorsements of him.
There is conjecture the GOP could somehow convince Trump to drop out of the race or orchestrate his ouster. Some argue vice presidential candidate Mike Pence could take his place, while others hope -- albeit with the understanding their aspirations are a bit divorced from reality -- that 2012 nominee Mitt Romney could step in, viewing Pence's choice to join Trump as unforgivable. (Pence has repudiated Trump but according to Politico will not leave the GOP ticket.)
The Republican National Committee has reportedly halted its "Victory" program dedicated to electing Trump, which could cause major complications for the nominee, given his camp has consistently argued that its lack of ground game compared to Hillary Clinton can be made up for by efforts from the RNC.
For those who do stick by Trump, it may soon be getting uglier, according to former Trump adviser Michael Caputo.
"I think that Trump has to go on the attack, big time," said Caputo, who headed communications efforts for the Trump campaign before being ousted over a tweet mocking former campaign manager Corey Lewandowski. "He's really only got one path left."
That path, he said, is highlighting past allegations of sexual misconduct by President Bill Clinton. Caputo, who worked on the Bush-Quayle campaign in 1992, when Clinton was first elected, said at the time the ticket decided against utilizing such stories, believing they were not an appropriate path to victory. But for Trump, he thinks it may be the only way to have a chance.
"He can't go through the race without parity on this issue," he said.
The Trump campaign signaled earlier this week that it would not make mention of President Clinton's alleged misconduct or infidelities at Sunday's debate, but his response to the Post's revelations indicates he may have a change of heart. Both his written and video statements made mention of President Clinton.
To be sure, it is not clear how an attack on Bill Clinton will play with voters. Talk of his infidelities has historically garnered sympathy from voters for Hillary Clinton, and his past activities don't necessarily reflect on her.
Republicans who choose to stick by Trump through this latest storm will likely be faced with more turmoil moving forward, especially if the self-described billionaire chooses the Clinton-focused line of attack.