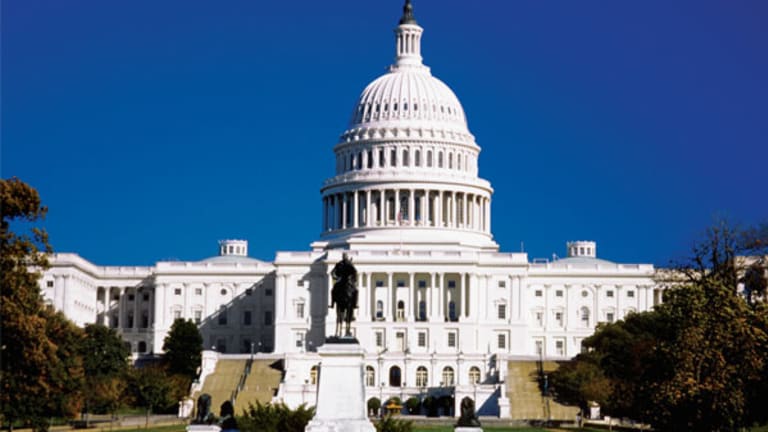 Defense Firms Await Cuts but Offer Premium Yields
As defense companies likely await large budget cuts, investors may find solace in their dividend yields.
NEW YORK (
) -- The massive defense sector is awaiting November's elections for massive budget cuts that could reshape its business for the next decade. For investors, however, it may not all be terrible news.
Since the beginning of June, the largest market cap defense contractors have seen their share prices jump more than 6%, in spite of amplified chatter about sequestration that would cut the defense budget by some $500 billion.
"Many of the programs that the large defense contractors are working on every day are programs that were contracted and paid for by prior year budgets," said Yair Reiner, a defense analyst at Oppenheimer & Co. "In any given year, the large defense primes are getting two-thirds of their revenue from contracts that were signed in prior years."
Lockheed Martin
(LMT) - Get Free Report
,
Boeing
(BA) - Get Free Report
and
Northrop Grumman
(NOC) - Get Free Report
have seen shares climb 6.9%, 7.9% and 12.7%, respectively, since June 1, while
General Dynamics
(GD) - Get Free Report
has seen a slight dip of 0.56% in the same period.
Large-cap defense contractors may be on better footing than the doom and gloom of cuts would suggest.
Most traders who want to invest in companies like Lockheed, Northrop Grumman and others are looking at yields instead of equity appreciation.
"In context of where yields on treasuries are at historic lows, the relatively healthy yields of the defense primes are being valued at a premium," said Reiner.
If the state of the global economy continues to be jittery, defense could be a safe-haven investment. Reiner said continued poor yields on Treasuries have caused investors to value dividends at a premium.
The Sequestration Transparency Act could force the Department of Defense to rework those contracts signed in prior years if it triggers on Jan. 1, 2013.
There's little consensus inside Washington and among analysts as to what exactly will happen, but few people seem to think the extreme scenarios -- full sequestration or no cuts whatsoever -- will ensue.
"We think that the most likely outcome will be cuts to the plan in the $100 billion to $400 billion range over the next 10 years, with a vast majority of the reduction coming after year five," Robert Stallard, an analyst at RBC Capital Markets, wrote in a research note.
Stallard's research predicted that in the worst-case scenario defense primes could see earnings per share drop on average about 10%.
A lot of this would hinge on bipartisan action on Capitol Hill shortly before the end of the year.
Analysts have argued that the Department of Defense may need more time to hash out a reasonable plan to cut its budget. The range of time necessary to reach a better budget cut agreement could be as little as a month or two or as long as a year, said Oppenheimer's Reiner.
Partisanship has characterized much of the past two years in Washington, and politics grew especially heated last summer when Democrats and Republicans -- along with a split of consensus between Tea Party members and establishment GOP members -- extended a debt-ceiling debate that roiled markets and concluded with a Standard & Poor's downgrade of the U.S. credit rating.
A single party sweep of the House and Senate could provide more concrete expectations for defense cuts, but that scenario appears increasingly unlikely. Divided chamber leadership would make bipartisan agreements critical to avoid one of the aforementioned extreme scenarios.
"At the end of the day it still takes compromise," said one person familiar with the defense sector. "I'm not sure that there is a big solution out there, i.e. massive entitlement spending reform that opens up the door to the structural deficit going away."
Near-term effects from cuts for the defense companies would be felt in their services like equipment repairs and maintenance.
Though it's almost certain defense cuts loom -- whether from sequestration or specific action by Congress in some agreement with the Department of Defense -- investors may find more solace with a gradual decline in defense business dictated by specific spending cuts than they would trust in the volatile global economy.
William Loomis, a managing director at Stifel Nicolaus, said the longer-term risks for defense would likely be a lack of growth. He added that the dividends wouldn't be cut for at least three or four years, if at all.
"Another key difference between this period and what we saw in the downturn in the 1970s and the downturn in the late 80s is that the defense companies I mention are executing quite well -- a key part of that reason is that they're not trying to diversify into completely unrelated businesses," said Loomis.
Loomis said those disaster stories witnessed companies like Lockheed and Northrop Grumman back then get into appliances and construction.
That won't be the case this time around.
-- Written by Joe Deaux in New York.
>Contact by
.