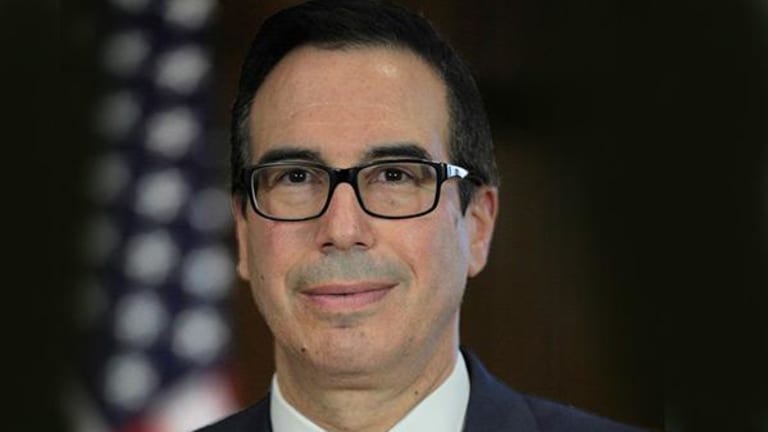 Debt Ceiling Chatter Might Soon Spook Markets
Renewed chatter over the debt ceiling could rattle markets in the days and months to come.
Renewed chatter over the debt ceiling could rattle markets in the days and months to come.
Treasury Secretary Steve Mnuchin revived the debate about the United States debt limit with a letter to Congress this week. The latest suspension of the debt ceiling, a legislative limit on the amount of national debt the Treasury Department can issue, expires on March 16. While most agree that Congress and the Trump administration will strike some sort of deal on the matter, it won't happen right away, and it could make markets nervous in the meantime.
"Whenever the debt ceiling is in the headlines, people tend to get a little itchy," said Peter Cohn, senior analyst at Washington, D.C.-based investment firm Height Securities.
Lawmakers last struck a deal to suspend the debt limit in 2015, when Barack Obama was in the White House and John Boehner was Speaker of the House. The timeline on that will be up next Thursday, when it will be reinstated at the amount it is that day -- the Bipartisan Policy Center projects $20.1 trillion.
"$20 trillion is a big, round, juicy number that makes members of Congress very nervous, particularly the fiscal conservatives who talk a lot about reducing the debt," said Cohn. "There will be a round of rhetoric associated with this next week. That's going to make a lot of investors have nightmares about 2011."
That year, the showdown over the debt ceiling spurred serious anxieties on Wall Street. Banks and companies withdrew billions of dollars from money market funds that invest in U.S. Treasury debt over worries an agreement wouldn't be reached, and credit rating agency Standard & Poor's downgraded the United States' credit rating. It culminated in the Budget Control Act of 2011.
The budget ceiling was subject to fierce debate under the Obama administration, with Congressional Republicans, including members of the ultra-conservative House Freedom Caucus, putting up tough fights to resist suspending or raising it on more than one occasion. Republican Senator Ted Cruz in 2013 famously led the way in forcing a 16-day partial federal government shutdown over a debt and spending battle.
Mnuchin recommended in his letter addressed to Speaker of the House Paul Ryan this week that Congress increase the debt limit "at the first opportunity," warning that "honoring the full faith and credit of our outstanding debt is a critical commitment." A spokesman for Office of Management and Budget Director Mick Mulvaney, a budget hawk who fought against raising the debt ceiling under Obama, said there is "no daylight" between the pair.
"There's a lot of potential for the Republican coalition to sort of blow itself up, but I'm having a hard time seeing why they would do it over that issue," said Philip Wallach, senior fellow at Washington, D.C. think tank the Brookings Institution.
"At the end of the day, after the posturing is done, they'll increase the debt limit," said Dan Mitchell, economist and senior fellow at libertarian think tank the Cato Institute.
Tackling the debt ceiling isn't something that has to happen on Capitol Hill right away.
White House Press Secretary Sean Spicer told reporters at a press briefing on Thursday that the government has a "few months" to handle it.
The Congressional Budget Office on Tuesday estimated Treasury won't run out of cash until the fall of 2017. In an interview with Fox News in February, Mulvaney said the administration would "deal with" the debt ceiling "certainly" before Congress' August recess.
Mnuchin said in his letter that the Treasury Department plans to take "extraordinary measures" to ensure the U.S. does not default on its obligations in the near term. And thanks to tax season, April is a surplus month, meaning there will be cash to go around. The government posted a $106 billion budget surplus in April 2016.
"People should just understand that next week is going to be about headlines and noise, and there's really no imminent danger," said Cohn.
"The markets care about this because they, in some sense, don't like uncertainty. And to the extent that they actually believe it when federal government officials start fanning the flames of the fire about default, yes, this gets them nervous, even though they should realize that's just all bluff," said Mitchell.
Mulvaney, a co-founder of the House Freedom Caucus and fierce debt hawk under Obama, will be able to use his Congressional ties to broker a deal when the time comes. So will Vice President Mike Pence.
"The combination of the timing, and the availability of these [extraordinary] measures, and the fact that while we're running large deficits, they're not as large as a few years ago, there's probably a substantial amount of time," said Marc Goldwin, senior vice president and senior policy director at the Committee for a Responsible Federal Budget and former budget analyst on the Joint Select Committee on Deficit Reduction.
Rhetoric on the debt next week could be ratcheted up even more if the Trump administration submits a budget blueprint to Congress, as is expected. Still, action on the debt ceiling won't come until a later date.
"It is possible that as we get closer to the debt ceiling, there is a lot of drama, and if there's drama, that's going to have some market effect. The market just needs to think there's a 1% chance or a 0.5% chance that we'll default, and that could cause a slight increase in interest rates or a slight reduction in the stock market," said Goldwein. "Never overestimate Congress, because you'll always be disappointed."