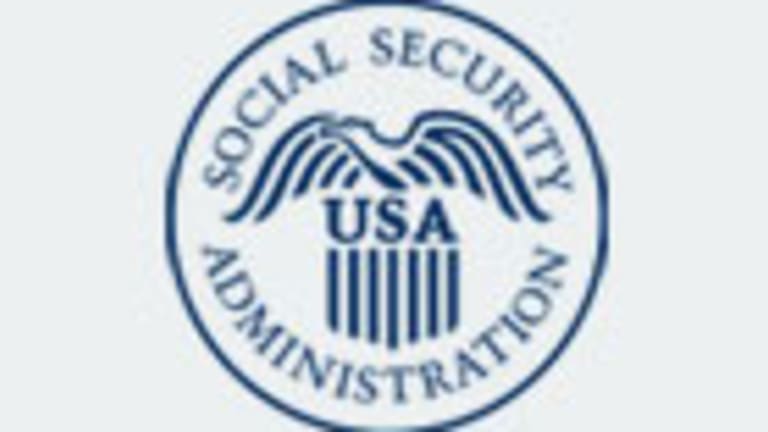 D.C. Stalemate Imperils Social Security Payments
The federal debt ceiling debate won't be resolved while the government is shut down, and the U.S. Treasury could run out of money in two weeks.
NEW YORK (
) -- The reduction in spending caused by the federal government shutdown may not have a major effect on the U.S. gross domestic product, but the unresolved federal debt ceiling debate could make it impossible for the U.S. Treasury to make Social Security payments for November.
The shutdown on Tuesday caused the furlough of 800,000 federal workers. Credit Suisse economist Andrew Garthwaite in client note on Wednesday estimated that "even a 22 day shutdown (as under Clinton) would take only around 0.2% off GDP." That is, of course good news, as is the timing of the shutdown at the beginning of the fourth quarter. There's still plenty of time for federal agencies to make up for delayed spending before the end of the year.
There's also hope that the shutdown may not last very long, as "polls show that the Republicans are getting a disproportionate amount of the blame for the shutdown," according to Garthwaite.
The shutdown will cause great inconvenience to many businesses, some of which may not have been anticipated by investors. For example,
Jet Blue
(JBLU) - Get JetBlue Airways Corporation Report
spokespeople say the government shutdown will cause a delay in the delivery of the airline's first Airbus A321 jet. The carrier had expected to take delivery in Hamburg, Germany this week. However, the aircraft must first be registered with the Federal Aviation Authority. The federal employees in charge of processing the delivery have been furloughed.
The shutdown can even threaten consumer safety, according to Cars.com, as the National Highway Traffic Safety Administration said on Tuesday that because of a lack of funding, the agency "is unable to post any new recalls after close of business September 30, 2013." Consumers can still search for auto recall information on the agency's
, but new safety complaints cannot be processed until he government shutdown ends.
The Debt Ceiling Looms
While the shutdown dominates headlines, the upcoming showdown in Congress over the debt ceiling is far more dangerous and could delay Social Security payments scheduled for Nov. 1.
Last Wednesday, as lawmakers sought a last-minute deal to keep the entire federal government operating, Treasury Secretary Jack Lew in a letter to Speaker of the House John Boehner (R., Ohio) said the "extraordinary measures" the Treasury was taking to maintain its borrowing power will "be exhausted no later than Oct. 17," unless the $16.7 trillion federal debt limit is raised.
Republicans in the House of Representatives may quickly change their minds about how much political damage they are taking from the shutdown and stop attempting to delay the implementation of the Affordable Care Act -- lovingly termed Obamacare -- for one year.
But Republicans have long hung their hats on extracting concessions from Democrats and President Obama every time the U.S. hits its statutory debt limit.
Economists and Washington researchers have said the impact of the shutdown is likely to be minimal, but there is quite a variance of opinion over the debit ceiling. In his
Washington Update
on Tuesday, KBW analyst Brian Gardner wrote that "we think chances are increasing that Washington fails to reach a debt ceiling agreement by October 17."
"It seems that investors think that Treasury can prioritize payments so that no bond payment would be missed," Gardener wrote, adding "Administration officials continue to push back against this view but for now, we think it restrains volatility."
The stock market's reaction to the shutdown on Tuesday was
quite positive
, but that may change over the next two weeks. And if we move to the "brave new world" of the Treasury flailing after the federal debt limit is exceeded, things could get ugly in a hurry.
If Congress were unable to raise the federal debt limit, "In all likelihood, the Treasury would not have enough cash on hand to make a scheduled Social Security payment of nearly $25bn on 1st November," according to Paul Ashworth, the chief U.S. economist for Capital Economics. In a note on Tuesday, Ashworth wrote that the government "would also be unable to meet a debt interest payment of roughly $30bn that will fall due on 15th November, potentially triggering a technical default."
Without an agreement in Congress to raise the federal debt limit, the U.S. economic recovery could face a serious threat from a sharp rise in long-term interest rates. This of course seems very unlikely at the moment, and the market sent the
yield on 10-year U.S. Treasury bonds
up only two basis points to 2.66%.
But if the shutdown drags on, as we get closer to Oct. 17, investors can expect much more volatility as faith wanes in the U.S. government's ability to pay its bills.
RELATED STORIES:
Government Shutdown Could Hit Housing Market
Tea Party Benefits From Broken Government
-- Written by Philip van Doorn in Jupiter, Fla.
>Contact by
.
Philip W. van Doorn is a member of TheStreet's banking and finance team, commenting on industry and regulatory trends. He previously served as the senior analyst for TheStreet.com Ratings, responsible for assigning financial strength ratings to banks and savings and loan institutions. Mr. van Doorn previously served as a loan operations officer at Riverside National Bank in Fort Pierce, Fla., and as a credit analyst at the Federal Home Loan Bank of New York, where he monitored banks in New York, New Jersey and Puerto Rico. Mr. van Doorn has additional experience in the mutual fund and computer software industries. He holds a bachelor of science in business administration from Long Island University.