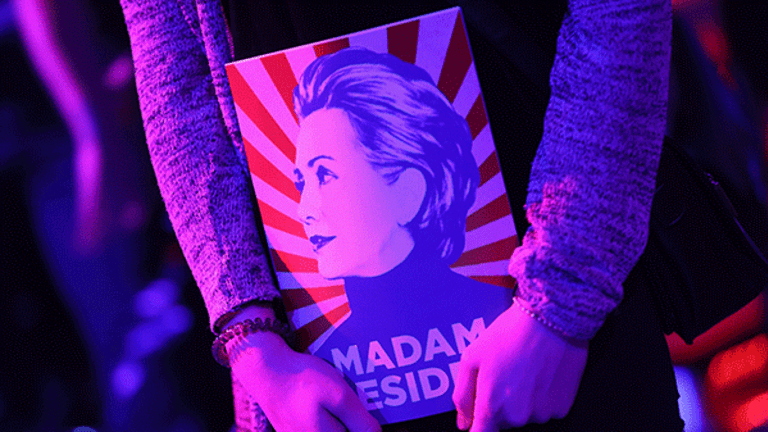 Coty Says It Will Add First Woman Board Member by July
Fragrance and cosmetics company Coty will soon be adding a woman to its board of directors, reducing the number of S&P 500 companies without women in the boardroom to four.
Fragrance and cosmetics company Coty (COTY) - Get Free Report  said it will add a woman to its board of directors by July, reducing the number of S&P 500 companies without women in the boardroom to four.
Coty will bring on its first female board member in the second quarter of 2017, a spokeswoman for the company told TheStreet on Monday. The New York-based company, which merged with Procter & Gamble's specialty beauty business in October 2016, currently has no women on its eight-member board of directors, and it's not the only one lacking on the gender diversity front.
The Coty spokeswoman who declined to have her name used, said in an emailed statement that a board composed of directors who have "diverse personal backgrounds and experiences" is a priority for the company. She declined to say who they plan to name.
According to data from TheStreet's BoardEx, there are five companies in the S&P 500 that have no women on their boards of directors: Dentsply Sirona (XRAY) - Get Free Report , Linear Technology (LLTC) , Concho Resources (CXO) - Get Free Report , Transdigm Group (TDG) - Get Free Report and Coty.
There are many arguments for why diversity at the board level is important -- a diverse board can foster a more diverse workforce, bring more backgrounds and opinions into the executive-level decision-making process and, perhaps most importantly to investors, boost company performance and profits. And yet, many firms still fall short.
"The most compelling argument for a diverse board is there's power in diversity," said Kristy Wallace, president of Ellevate Network, a global network for women. "Particularly for companies where women are buying your product, whether a consumer or user, from employee through investor, you want that diverse mindset at the board level that's really going to help direct the company in the right way."
A February 2016 study from the Peterson Institute for International Economics found that the presence of women in corporate leadership is positively correlated with firm performance. Research from McKinsey suggests gender-diverse companies are 15% more likely to financially outperform industry medians, and companies that are racially and ethnically diverse are 35% more likely to do better than their less-diverse peers.
"It's not just diversity in gender, but it's diversity in experience and background that can really help drive the company forward," said Wallace.
Despite evidence suggesting diversity is a valuable component of the boardroom and C-suite, many companies still have a long way to go.
According to data from nonprofit women in business advocacy group Catalyst, women occupy fewer than 20% of board seats at S&P 500 companies, and they account for fewer than 30% of new directorships. A 2015 Government Accountability Office study estimated that it could take another 40 years for women to reach parity on corporate boards even if female directors filled seats at twice the current rate.
BoardEx data indicates the United States trails a dozen developed countries in the percentage of women on corporate boards, including Norway, France, Finland, the U.K., Canada and Germany.
There are various ways to accelerate achieving diversity in the boardroom.
Companies might have to broaden their searches beyond the normal channels, looking beyond the C-suite and their own industries for candidates.
Some European countries have implemented quotas requiring companies to meet a minimum proportion of women on boards, which would probably not be politically viable in the United States. However, Representatives Carolyn Maloney and Don Beyer have introduced legislation that would boost gender diversity in corporate leadership.
Much of the work also lies with women themselves networking and doing a bit of self-promotion.
"If you want to get on a board, say it again and again and again," said Wallace.
Sometimes, it may be as simple as picking up the phone -- women tend to be slower to return calls to recruiters than their male counterparts.
"Men are definitely better at saying, 'I can do the job,' even if I don't have all the skills," said Janice Ellig, co-CEO at New York executive search firm Chadick Ellig.
The issue of women in positions of leadership in corporate America may be especially pertinent at a time when women in political leadership has come front and center in the public dialogue.
Many women believed they would see Hillary Clinton become the first woman president, and hundreds of thousands of women marched around the country and the world following President Donald Trump's inauguration.
Respondents to an Ellevate Network post-election survey of nearly 1,000 professional women said they felt shock, sadness and anger after the presidential election. Most also said they planned to take action -- 70% said they planned to help women advance, and 40% said they planned to donate to political candidates and advocacy groups and reach out to their representatives.
Organizations that support women in politics -- Emerge America, Run for Something, VoteRunLead and Emily's List -- have all notedan uptick in women planning to run for office.
"Women even in their own organizations should look for more empowerment as opposed to backing down and saying, 'We've lost,'" said Ellig. "We need to keep in mind that we are 51% of the population."
As for the five S&P 500 companies without any women on their boards, representatives of Dentsply Sirona, Concho Resources and Transdigm did not return request for comment.
A representative for Linear Technology declined to comment on the matter, citing the company's pending merger with Analog Devices (ADI) - Get Free Report .
Last year, TheStreet highlighted seven S&P 500 companies with no women on their boards of directors, dubbing them "The Misogynist 7." Of those companies, three -- Garmin (GRMN) - Get Free Report , Discovery Communications (DISCA) - Get Free Report and Qorvo (QRVO) - Get Free Report -- have since added a woman to their boards. Diamond Offshore Drilling (DO) - Get Free Report , Dentsply Sirona, Linear Technology and Concho Resources have not.