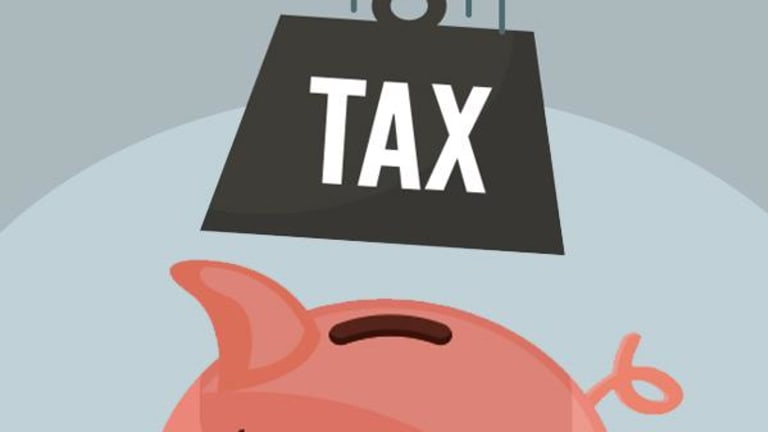 Corporate Tax Cuts Promote CEO Pay Raises and Stock Buybacks, Not Jobs
Corporate tax cuts would be a major windfall for American corporations. For American workers, perhaps not so much.
Corporate tax cuts would be a major windfall for American corporations. For American workers, perhaps not so much.
President Donald Trump and Republican lawmakers will focus their efforts on crafting tax legislation when Congress heads back to work next week. They have promised a yet-to-be-detailed plan that will slash corporate tax rates among other measures in an effort to boost investment and create jobs, but it is unclear that will actually be the result.
A new study from the Institute for Policy Studies, a left-leaning think tank in Washington, D.C., analyzes data from the Institute on Taxation and Economic Policy to determine what companies that pay lower tax rates do with their extra earnings. Researchers looked at 92 publicly-held companies that reported a U.S. profit from 2008 to 2015 and paid a federal income tax of less than 20%, the rate proposed by House Republicans, by exploiting loopholes in the current tax code.
The 92 companies examined saw median job growth of negative 1% over an eight-year period, compared to 6% across the entire U.S. private sector. Moreover, half of those firms eliminated jobs during that time, downsizing by a combined total of 483,000 jobs.
At the same time, average CEO pay among the 92 firms rose by 18%, compared to a 13% increase across the entire S&P 500. Private sector worker pay during that time increased by just 4%. CEOs at the 48 companies that cut jobs did especially well, bringing in $14.9 million on average in 2016 compared to $13.1 million across the S&P.
"We...need a tax reform debate that dispenses with the fantastical notion that corporate tax cuts will automatically create good jobs for American workers," co-authors Sarah Anderson and Sam Pizzigati wrote.
ExxonMobil (XOM) , which paid an effective tax rate of 13.6% from 2008 to 2015, cut more than a third of its global workforce during that time. In 2016, then-CEO Rex Tillerson took home $27.4 million in total compensation, 22% more than he got in 2008.
Telecommunications giant AT&T (T) paid an 8.1% effective tax rate during the period. After accounting for acquisitions and spinoffs, the company had nearly 80,000 fewer employees in 2016 than in 2008. Meanwhile, CEO Randall Stephenson's pay doubled.
General Electric (GE) actually achieved a negative effective tax rate from 2008 to 2015, according to the institute report. During that time, it spent $42 billion on stock buybacks and boosted former CEO Jeff Immelt's pay to nearly $18 million. It also shed about 14,700 jobs, many of which moved to different employers through the sales of its massive lending unit, GE Capital, its iconic appliances business and the NBC broadcast division.
The trio of companies have lawmakers' ears as well. Tillerson is now Secretary of State. Immelt sat on a now-disbanded CEO advisory council to Trump. AT&T hosted House Ways & Means Committee Chairman Kevin Brady at a tax reform event last week.
"This report recycles misinformation from other similar flawed reports," said GE spokesperson Tara DiJulio in an e-mail. "GE is one of the largest payers of corporate income taxes. Over the last decade, GE paid $32.9 billion in cash income taxes worldwide, including in the U.S., and pays more than $1 billion annually in other U.S. state, local and federal taxes. The tax code is complex and outdated, which is exactly why tax reform must happen this year. GE has long been advocating to simplify and modernize the tax system-even if it means we pay more in taxes." 
AT&T also disputed the study, saying that its negative 6.4% tax rate in 2010 was an anomaly because it settled a tax dispute with the IRS that year resulting in $8 billion in tax savings.
"Contrary to this report, we incur, collect and remit billions of dollars in taxes every year," AT&T spokesperson Fletcher Cook wrote in an e-mail. "Unlike many other companies, we didn't require government support during the economic downturn. And we invest more in the United States than any other public company - more than $135 billion in the past 5 years alone, including capital investment and acquisitions of wireless spectrum and operations."
This isn't the first piece of research to suggest tax cuts don't translate to jobs. A 2016 study from the Board of Governors of the Federal Reserve System found that while increases in corporate tax rates are harmful for workers, corporate tax cuts have no significant effect on employment or income unless implemented during a recession.
"The whole approach of cutting taxes for the wealthy and for corporations on the assumption that it's going to trickle down is wrong, and we know that it doesn't work," said Kelly Ross, deputy director of policy at the AFL-CIO. "We know that the people who benefit from corporate tax cuts are people at the top."
A common theme of tax reform talking points is the repatriation of the roughly $2 trillion in profits U.S. companies currently have stashed abroad through a one-time repatriation tax holiday. But is unclear whether that would spur investments and job growth or instead lead to stock buybacks, CEO pay increases and acquisitions.
Overall job losses outweighed job gains among the companies that repatriated cash during the last tax holiday enacted under President George W. Bush in 2004, according to a 2011 Senate report. The top 15 repatriating corporations reduced their overall workforce by 20,931 jobs, and broad-based studies of all 840 repatriating corporations found no evidence that the holiday stimulated U.S. job growth.
"If it comes to something like a discount tax on offshore profits, which I don't support, it would be really silly to do that without having some kind of assurance that the money would go into job creation instead of just winding up in the pockets of top executives," Anderson told TheStreet.
To be sure, the "Big Six" negotiating tax reform have indicated they have more than corporate tax cuts in mind. They have proposed a shift to a territorial system for taxation and a simplification of the tax code that would reduce a number of loopholes and deductions corporations take advantage of now. After shelving the border adjustment tax, they are considering a number of ideas for revenue raisers as well.
However, Republicans are also in need of a legislative win, and temporary tax cuts might wind up being the lowest common denominator for the GOP to come to an agreement. House Speaker Paul Ryan (R-WI) in a CNN town hall last week twice corrected himself on referring to tax cuts instead of tax reform. Treasury Secretary Steven Mnuchin at an event in Kentucky last week said permanent reform is preferable but "temporary is better than nothing."
"That's where we have a lot of concerns," Ross said. "We've seen the Trump budget, we've seen the House Republican budget, and they assume trillions of dollars of budget cuts over the next 10 years, and at the same time, they're proposing trillions of dollars in tax cuts for the wealthy and corporations."