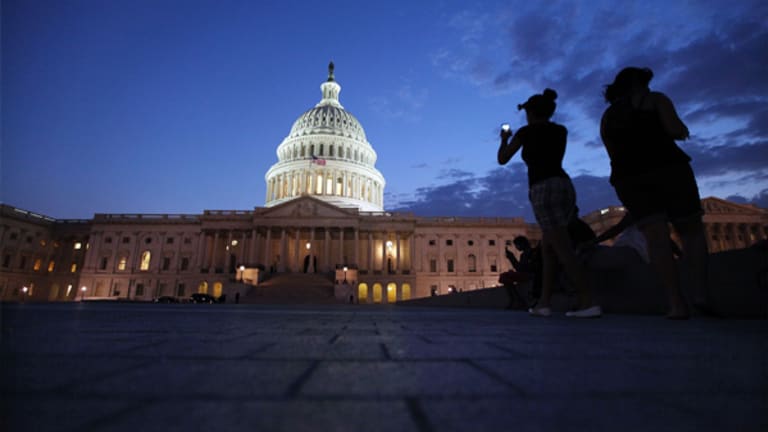 Corporate Sponsors Litter Republican National Convention
Corporate sponsors are visible throughout the convention grounds in Tampa this week.
TAMPA, Fla. (
) -- While Democrats have been eager to scrub corporate evidence from their upcoming convention, Republicans have embraced the culture.
A simple peak around the Tampa Convention Center reveals a subtle smattering of corporate sponsors.
Google
(GOOG) - Get Alphabet Inc. Class C Report
has an entire media lounge next to the press filing center. The location offers coffee, colorful seating and various hubs that cast the search giant in a positive fashion. One television screen in the lounge offers up facts about how many jobs the company supports in the United States.
Google also blasts up a huge advertisement on the convention stage in between speeches by Republican officials -- the ad flashes its various brands like Google+, and YouTube.
Many other recognizable companies have joined Google as official sponsors of the convention.
The official guide lists
Microsoft
(MSFT) - Get Microsoft Corporation Report
,
AT&T
,
Cisco
(CSCO) - Get Cisco Systems, Inc. Report
,
Hewlett-Packard
, and
Adobe Systems
(ADBE) - Get Adobe Inc. Report
, among others.
The Tampa Bay host committee also notes various official providers, including
Xerox
(XRX) - Get Xerox Holdings Corporation Report
and
Coca-Cola
(KO) - Get Coca-Cola Company Report
.
At a first glance, Coca-Cola may elude obvious recognition. But convention goers who must dispose of recyclable products will notice that every recycling bin is shaped in the form of a massive 20-ounce Coca-Cola bottle wrapped in a red label. A tiny Coca-Cola Company logo appears at the bottom of the bin.
Observers will discover Xerox's presence at the print shop -- a large room that holds numerous Xerox copying machines and stacks of printer paper.
AT&T is probably the first corporate sponsor that Republican National Convention attendees come across. Every lanyard worn at the convention is a red, white and blue rope with the classic telecommunications logo emblazoned on its sides.
-- Written by Joe Deaux in Tampa, Fla.
>Contact by
.