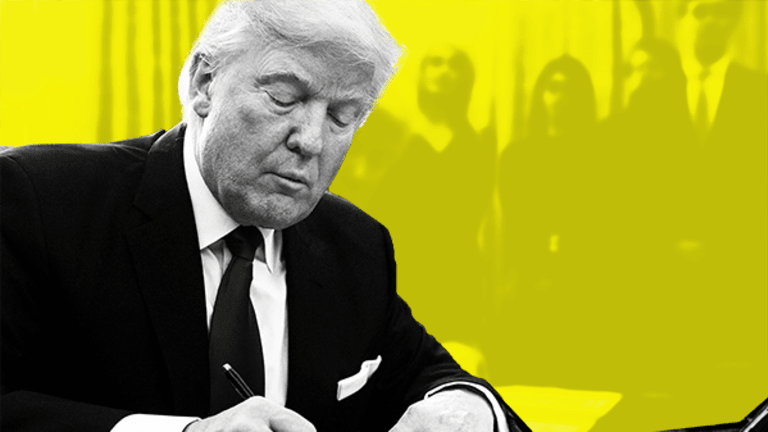 Trump Tweets He Will Announce Decision on Paris Climate Agreement on Thursday Afternoon
Donald Trump's wavering on the Paris climate agreement has corporate America on edge.
Donald Trump's wavering on the Paris climate agreement has American companies uneasy.
Multiple news organizations reported on Wednesday that the president is planning to pull out of the agreement, citing White House officials. Trump tweeted late Wednesday that he would announce "my decision on Paris Accord, Thursday at 3:00 P.M. The White House Rose Garden."
If he does indeed decide to withdraw from the pact, it would be much to the chagrin not only of progressives and environmentalists but also a number of corporations that have pushed the president to stay in.
Hundreds of companies have come out in support of the Paris climate agreement, sealed in December 2015. More than 300 businesses in November signed an open letter calling on Trump and Congress to stay in the pact, including Nike (NKE) - Get NIKE, Inc. Class B Report , General Mills (GIS) - Get General Mills, Inc. Report , Tiffany & Co. (TIF) - Get Tiffany & Co. Report , eBay (EBAY) - Get eBay Inc. Report  , Gap (GPS) - Get Gap, Inc. ReportApple (AAPL) - Get Apple Inc. Report , Microsoft (MSFT) - Get Microsoft Corporation Report and Facebook (FB) - Get Meta Platforms Inc. Class A Report were among those signing onto an ad sponsored by sustainability advocate Ceres backing the agreement. The group has also gotten the support of over 280 investors representing more than $17 trillion of assets.
A number of oil and gas companies have backed the accord as well, including Chevron (CVX) - Get Chevron Corporation Report , Royal Dutch Shell (RDS.A) and BP (BP) - Get BP Plc Report . Exxon (XOM) - Get Exxon Mobil Corporation Report in March sent a letter to the White House urging it to stay in the Paris agreement, and CEO Darren Woods penned a personal letter to the president addressing the matter, the Financial Times reported last week.
"These companies see the United States' participation in the post-Paris implementation as an opportunity for the United States to assert its leadership in setting the direction of how the world will tackle this incredible challenge," said Ali Zaidi, senior adviser on energy at law firm Morrison & Foerster who served in the Obama administration on energy and environmental policy for eight years. "By having a seat at the table, the U.S. is able to marshal forward the innovative solutions that U.S. businesses have pioneered domestically and advocate for their scale-up overseas."
There's also a consistency element to the U.S. staying in the accord, which has been ratified by almost 150 countries.
"A lot of multinationals were pushing for the U.S. to remain part of the agreement as a way of having a consistent regulatory floor or foundation in all of the many different places in which they do businesses," said Height Securities analyst Katie Bays.
For similar reasons, some multinational oil and gas companies and producers have advocated for a carbon tax or some sort of a global framework for recognizing carbon.
Of course, there is a public relations element to it, too. "A lot of multinationals view something like Paris as a way to obtain a little bit of a political cover from a PR perspective," Bays said.
There has also been a chorus of voices opposing the Paris agreement as well. Twenty-two Republican Senators last week signed a letter calling for the U.S. to withdraw. On the corporate front, Harold Hamm, the CEO of Continental Resources (CLR) - Get Continental Resources, Inc. Report and adviser to the Trump campaign, in a letter to Trump ahead of his inauguration reported by the New York Times called on the president to "cancel" the Paris treaty.
"U.S.-only producers have been a lot less active in the discussion because from their perspective climate regulations are maybe not very beneficial or at least they can be very complicated, so it's a much dicier issue when you get into U.S.-only companies," said Bays.
"The oil and gas sector is not a monolith," said Zaidi.
The American Petroleum Institute, the trade association representing the oil and gas industry, has not taken a position on the Paris accord, said API spokesman Michael Tadeo. "Instead of government mandates that could increase energy costs, the world should embrace our nation's energy renaissance that has lowered costs for consumers, benefitted American workers and improved the environment," he said.
To be sure, Trump pulling out of the Paris agreement is not yet a done deal. The president made a last-minute decision to stay in NAFTA after initially deciding to scrap it, and Axios' Jonathan Swan has reported that the president's daughter, Ivanka, has put "intense" pressure on her father to stay in. Trump on Thursday will meet with Secretary of State Rex Tillerson, who has said publicly he supports the agreement.
Withdrawing from the Paris agreement -- and teasing the announcement on Twitter -- could be a negotiating tactic for Trump. It might also be a ploy to shift the news cycle away from the Russia investigation.
"The rationale behind decisions like this...are often a recognition of Trump's desire to control the news cycle and remain in control of the message around his administration," Bays said.
If the president does pull the plug on Paris, the U.S. would not be able to officially withdraw until November 2019. Trump could also pursue a burn-the-whole-house-down option of attempting to quit the United Nations Framework Convention on Climate Change, which negotiated Paris and other climate deals.
The other countries in the accord will remain in whether or not the U.S. stays, Zaidi said, and in America, state and local officials as well as businesses have indicated a willingness to step in.
"The biggest loss here would be transparency around the U.S. emissions trajectory and policy in terms of achieving that emission trajectory," Zaidi said. "People are ready to come in and fill the gap as much as possible."
A number of executives that have advocated staying in the Paris agreement and fighting climate change have also taken part in meetings and business councils with Trump. Tesla (TSLA) - Get Tesla Inc Report CEO Elon Musk said on Twitter on Wednesday that he will "have no choice but to depart" any Trump advisory councils if the president scraps the Paris agreement. He had previously defended his decision to meet with Trump as a chance to argue in favor of immigration and climate change policy but acknowledged "maybe nothing will happen."
"[Meeting with Trump] is a strategic decision that each company has to weigh on its own," Zaidi said. "Washington is still responsive to input from stake holders, both public and private. Whether that manifests in every decision should not be the arbiter of whether people continue to engage."
Exxon shareholders on Wednesday voted in favor of a proposal asking it to publish an annual assessment of how the goals set out in the Paris agreement could affect its business. Management had urged shareholders to vote against it. Zaidi noted the irony of the timing.
"On the day that the Trump administration was expected to make a decision on Paris, Exxon shareholders stole the stage," he said. "The American people are voting with their feet, with their capital, to act on climate."
Appleand Facebook areholdings in Jim Cramer'sAction Alerts PLUS Charitable Trust Portfolio.Want to be alerted before Cramer buys or sells AAPL and FB? Learn more now.
Updated with information on Exxon shareholder vote and Musk tweets.
Read More Trending Articles:
Apple Is Now a Prodigious Chipmaker, Giving It Some Major Competitive Advantages