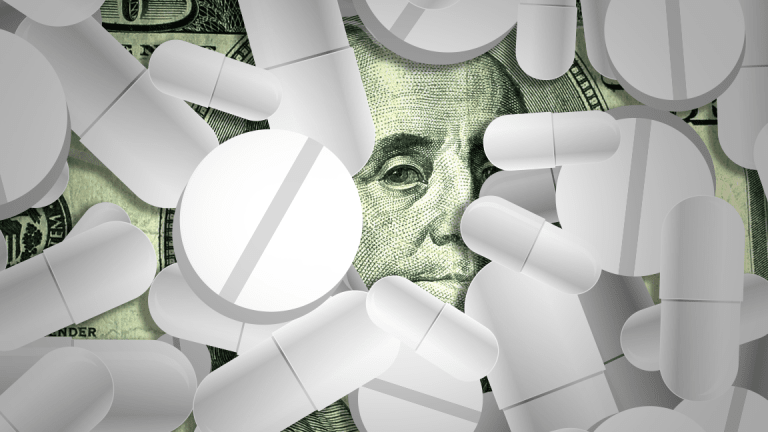 Congressional Committee Grills Drug Distributors on Opioid Crisis Roles
One drug distribution executive appearing before a House Committee to answer for shipping millions of doses of opioids into West Virginia apologized and another said his company had a hand in the crisis.
Executives from Cardinal Health Inc. (CAH) , McKesson Corp. (MCK) , AmerisourceBergen Corp. (ABC) and H.D. Smith Wholesale Drug Company told the House Committee on Energy and Commerce their companies did not contribute to the opioids epidemic.
The exception to those statements was Joseph Mastandrea, chairman of drug distributor Miami-Luken Inc., who told the committee that yes; his company had a hand in the crisis.
The five drug distribution companies were ordered to appear before the committee on Tuesday, May 8. Since last May the committee has been investigating the number of opioid pills that were shipped to West Virginia. The committee has charged that more than 780 million oxycodone and hydrocodone pills were shipped from 2007 to 2012. Over a decade long period, the committee said that 20.8 million pills landed in Williamson, which boasts a population of just 2,900 people.
While the hearing represented a way for the committee to go after more answers, for Cardinal, McKesson and AmerisourceBergen, it also put the companies on display at a time when they have been named in hundreds of lawsuits brought by states, counties and cities over the opioid crisis. Those suits are being consolidated in a federal court in Cleveland, Ohio.
Cardinal Executive Chairman George Barret took advantage of the high-profile public hearing to give a mea culpa. He apologized to "the people of West Virginia." He added, "With the benefit of hindsight, I wish we had moved faster and asked a different set of questions. I am deeply sorry we did not. Today, I am confident we would reach different conclusions about those two pharmacies."
McKesson CEO John Hammergren told the committee that while his company had sent 151 million doses of opioids to the state, it was just a fraction of the 2 billion does of medicine that McKesson sent to West Virginia. "Put another way, West Virginia pharmacies overall were, and continue to be, very high volume customers for prescription drugs generally."
Representative Greg Walden, D-Ore., wasn't satisfied with the answers the executives were supplying. "There is no logical explanation we can find of why a town of approximately 400 people would receive nearly 9 million opioid pills in two years."
All of the executives defended their companies as being active in the fight against opioid addiction, and each pointed out that while they did distribute the drugs, they did not manufacture or prescribe the opioids. And the companies also made it clear that the painkiller business was just a small piece of their overall enterprise.
Representative David McKinley, R-W.V., was not happy at the end of the hearing. "The fury inside me right now is bubbling over and how we're going to address this problem, and for several of you to say you had no role whatsoever in this, I find particularly offensive."
Cardinal, McKesson and AmerisourceBergen make up about 85% of the distribution flow in the United States. McKesson, at $192 billion in annual revenues, and Cardinal at $121 billion, are both in the top 20 on the Fortune 500.
The Healthcare Distribution Alliance, the trade group that represents the companies that appeared before the committee, defended its members in a statement, saying that the organization understood how tragic this drug crisis is. "But we need to be realistic and acknowledge that this epidemic was not caused by distributors who neither prescribe, manufacture, nor dispense medicines. This crisis was caused by decades of belief that opioids could be prescribed with little risk. From the federal government to the medical community - that belief was pervasive."
The committee is going through a long list of opioid-related bills it hopes to put into a package that could go before the house by the end of the month.