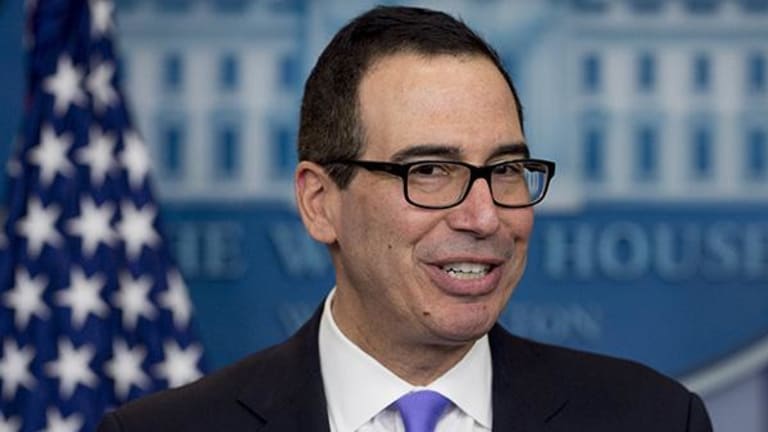 Congressional Budget Office Says Dodd-Frank Rollback Would Slash $24 Billion From Deficit
A House Republican proposal to repeal the banking crisis-era Dodd Frank Act would slash the federal budget deficit by $24 billion over a decade, according to the Congressional Budget Office.
A House Republican proposal to repeal the banking crisis-era Dodd Frank Act would slash the federal budget deficit by $24 billion over a decade, according to the Congressional Budget Office.
The nonpartisan budget agency released its estimates of the effects of the Financial CHOICE Act, a Dodd-Frank overhaul bill presented by House Financial Services Committee Chairman Jeb Hensarling (R-Texas) this week. It projects the legislation would reduce federal deficits by $24.1 billion from 2017 to 2027, mainly by eliminating a body designed to handle major financial institutions that are failing and changing the way a consumer protection watchdog is funded.
The CBO estimates that Hensarling's bill, which was approved by the House Financial Services Committee earlier this month, will reduce spending by $30.1 billion over the course of a decade and reduce revenues by $5.9 billion. The office also notes its estimates are far from certain, especially if a too-big-too-fail bank does, in fact, fail.
"Those estimates are subject to considerable uncertainty, in part because they depend on the probability in any year that a systematically important firm will fail," the CBO said in its report.
The biggest change the CHOICE Act would bring about is the elimination of the Orderly Liquidation Fund, which allows federal regulators to put troubled large, non-bank financial firms into "orderly liquidation" if they think its collapse would threaten financial stability. It would provide them an alternative to bankruptcy. The CBO estimates ending the OLF would reduce deficits by $14.5 billion.
It projects changing the way the Consumer Finance Protection Bureau, designed to protect consumers in the financial sector, would decrease the deficit by an additional $9.2 billion.
Hensarling in a statement on Friday touted the bill and CBO score: "The Financial CHOICE Act is not what Wall Street wants, but it is what Main Street and hardworking taxpayers need," he said.
Hensarling said Dodd-Frank gives big banks a "competitive advantage" and his legislation will help community banks and local firms. The CBO said the nation's eight largest banks--JPMorgan Chase (JPM) - Get JP Morgan Chase & Co. Report , Citigroup (C) - Get Citigroup Inc. Report , Bank of America (BAC) - Get Bank of America Corporation Report , Goldman Sachs (GS) - Get Goldman Sachs Group Inc. (The) Report , Morgan Stanley (MS) - Get Morgan Stanley Report , Bank of New York Mellon (BK) - Get The Bank of New York Mellon Corporation Report , State Street (STT) - Get State Street Corporation Report and Wells Fargo (WFC) - Get Wells Fargo & Company Report --would be unlikely to take advantage of provisions in the bill that would allow banks to opt out of regulations if they maintain a more-than-10% leverage ratio, meaning how much debt is used to fund assets.
The agency said that, instead, smaller institutions would seek to meet the 10% requirements to reap the benefits. It also estimates that most institutions that choose to main that leverage ratio would have assets below $10 billion.
President Trump has said he plans to "do a number" on Dodd-Frank, though it is highly unlikely the Senate could reach the 60-vote threshold necessary to repeal the legislation entirely. In April, he signed a pair of executive memoranda taking aim at the law, including one instructing the review of the orderly liquidation authority.
Treasury Secretary Steven Mnuchin has come out in support of the CHOICE Act. 
"I applaud the steady commitment and leadership that Chairman Hensarling and his colleagues have provided on these issues, and welcome the reintroduction of the CHOICE Act," he said in a statement in April. "While I continue my workto implement the President's executive order setting the core principles for financial regulation, I look forward to working with Congress to both support and strengthen our financial system and safeguard taxpayers."
Read More Trending Articles:
There's Something Bad Happening at Staples That Should Remind Everyone How Bleak Retail Is Right Now
Cisco Could Be Looking to Acquisitions to Help Solve Its Biggest Challenge
We Quickly Learned Why Ford's New Truck Named After a Killer Dinosaur Is a Beast
Action Alerts PLUS, which Cramer manages as a charitable trust, is long C and WFC.