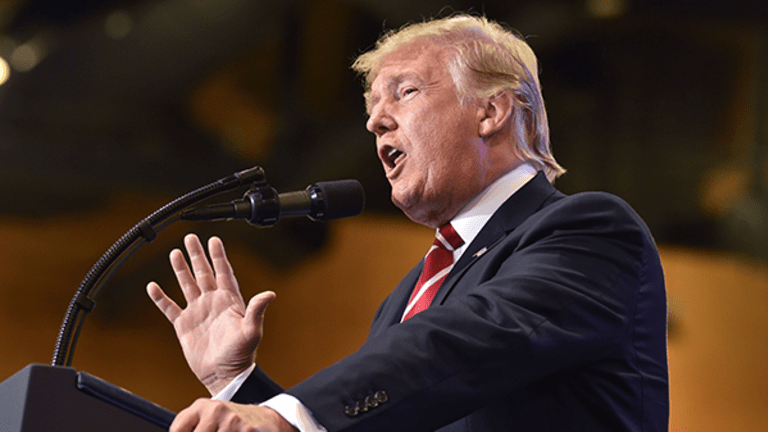 Companies Aren't Talking About Trump Anymore on Earnings
American corporations aren't talking about Donald Trump nearly as much as they used to.
American corporations aren't talking about Donald Trump as much as they used to.
In January, Boeing (BA) - Get Boeing Company Report CEO Dennis Muilenburg in the company's fourth quarter earnings call  spoke of then-President-elect Trump's focus on policies that will "grow the U.S. economy and grow our American jobs." In April, during the firm's first quarter earnings call, he noted the Trump administration's deregulatory effort as "one we've been a strong proponent for." Last month, in Boeing's second-quarter earnings call, President Trump didn't really come up.
Mentions of the president during earnings calls have declined significantly since he was elected in November, according to data from financial research platform Sentieo. The number of publicly-traded companies that mentioned Trump or his administration during their second-quarter conference calls are down 68% compared to the first quarter, and compared to the fourth quarter, they've fallen 81%.
And it's not just on earnings calls that U.S. corporations are less interested in discussing Trump, it's in regulatory filings with the Securities and Exchange Commission, too. References to Trump in annual and quarterly reports to the SEC have been halved since the fourth quarter of 2016.
Corporate America, much like the global markets, are no longer picking up what Trump's putting down in terms of presidential promises.
Much of the optimism that accompanied Trump in the immediate aftermath of his surprise November victory has largely dissipated since his inauguration. Expectations for pro-growth measures such as deregulation and tax reform have fallen, and markets have become generally impervious to Trump's moods.
Speaking at a rally in Phoenix, Arizona, on Tuesday, the president threatened a government shutdown over a border wall he has privately admitted is little more than a political ploy, attacked members of his own party and toyed with the idea of exiting one of the United States' most important trade agreements, NAFTA. Investors shrugged.
That's not to say the business world isn't paying attention to what's happening in Washington -- they've just recognized the pro-growth eggs they've put in the Trump-GOP basket might be misplaced. 
JPMorgan Chase (JPM) - Get JPMorgan Chase & Co. (JPM) Report  CEO Jamie Dimon in the company's second-quarter earnings call in July went on a now-infamous rant on the state of affairs in Washington, D.C.
"Since the Great Recession, which is now eight years old, we've been growing at 1.5 to 2% in spite of stupidity and political gridlock, because the American business sector is powerful and strong," he said, later adding, "It's almost an embarrassment being an American citizen traveling around the world and listening to the stupid s--- we have to deal with in this country."
Tax reform was cited in 41 fourth-quarter earnings calls. This most recent earnings season, per Sentieo's data, it came up just once. And it's the next and most-anticipated item on Republican lawmakers' agenda when they go back to work in September.
Not only are corporations losing faith in Trump's ability to deliver on policy, but they're also seeking to distance themselves from his orbit.
Two CEO advisory councils to Trump disbanded last week in the wake of his equivocal response to racist violence in Charlottesville, Virginia, and his failure to quickly denounce white nationalists, neo-Nazis and the KKK. that group included Muilenburg and Dimon. And JPMorgan Chase has pledged up to $2 million to the Southern Poverty Law Center and Anti-Defamation League in response to Charlottesville. 
More of What's Trending on TheStreet:
The 30 Nastiest Storms in Recent U.S. History Have Caused Mind-Blowing Damage
Editors' Pick: Originally published Aug. 23.