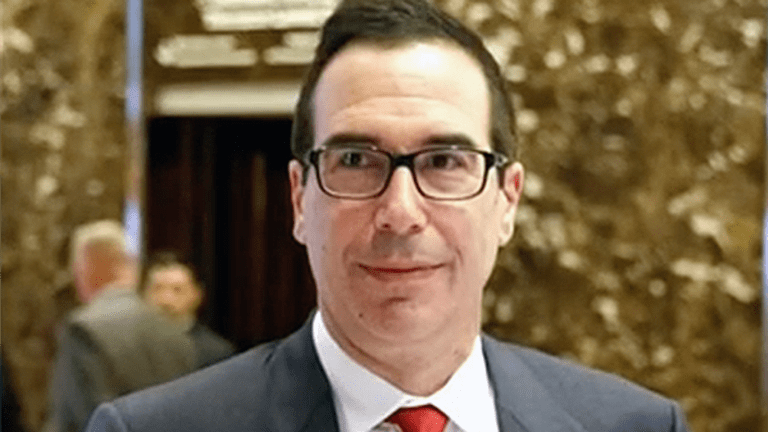 Community Banks Could Be Big Winners in Treasury Regulation Overhaul
Banks that find themselves on the cusp of certain regulatory thresholds could be big winners under the Trump Treasury Department.
Banks that find themselves on the cusp of certain regulatory thresholds could be big winners under the Trump Treasury Department.
The U.S. Treasury Department released late Monday a nearly 150-page report on overhauling financial regulations. The approximately 80 policy proposals detailed in the document make recommendations on capital and liquidity, living wills, the Volcker rule, the Consumer Financial Protection Bureau and lending, among other items. The report also addresses thresholds for stress tests and too-big-to-fail regulations that, if altered, would be a boon for certain banks.
"Treasury Report Bullish for Efforts to Help Most Banks" reads the headline of a note from Cowen analyst Jaret Seiberg released on Tuesday. "Treasury Report is Positive for Banking Industry" reads another note from Height Securities' Edwin Groshans.
"This report is far from a policy panacea, and the road ahead remains long given the sluggish pace of personnel shifts, but these recommendations should be viewed as an undeniably positive policy signal for the banks," said Compass Point analyst Isaac Boltanksy in a note.
The Financial Select Sector SPDR Fund (XLF) , SPDR KBW Bank ETF (KBE) and SPDR KBW Regional Banking ETF (KRE) were all modestly higher midday Tuesday.
Treasury recommends raising the threshold for conducting Dodd-Frank Act stress tests (DFAST) from $10 billion to $50 billion, which if enacted could help a number of small and community banks in that asset range.
E*Trade Financial Corporation (ETFC) , New York Community Bancorp Inc. (NYCB) and SVB Financial Group (SIVB) , which all find themselves at the high end of the range, would benefit from such a measure, as would United Community Banks Inc. (UCBI) , Banc of California Inc. (BANC) and Pinnacle Financial Partners Inc. (PNFP) , which are at the low end.
Boltansky lists DFAST threshold migration from $10 billion to $50 billion as one of the likeliest proposals to become reality, estimating it could happen as soon as 2018. The change is also included in the Financial Choice Act, passed by the House last week.
Capital Alpha Partners analyst Ian Katz said in a note on Tuesday that banks with assets of more than $50 billion could potentially benefit from Treasury's ideas as well, as the report suggest regulators get flexibility "to implement a threshold for mandatory stress-testing that is tailored to business model, balance sheet, and organizational complexity such that institutions with assets greater than $50 billion could be exempt from stress-testing requirements."
Treasury also recommends that the threshold for declaring a firm a systematically important financial institution (SIFI) be increased from its current $50 billion, though it does not specify to what amount. The measure is also included in the Choice Act and is among the likeliest items to make its way into legislation in the Senate, as it would help community banks -- an easy political flag to fly for both parties.
"It's been extremely difficult for community banks to comply with [Dodd-Frank] regulations, they just don't have the staff and resources to invest that the big banks had in place," said Rosemary Fanelli, managing director and regulatory affairs strategist at Duff & Phelps.
Depending on where the new SIFI designation would kick in, dozens of banks could benefit from such a change. Entities such as Zions Bancorporation (ZION) , CIT Group Inc. (CIT) and Comerica Incorporated (CMA) , which have about $60 billion to $70 billion in assets, could see relief.
Senator Elizabeth Warren (R-MA), a member of the banking committee, has warned upping the designation could be "really dangerous," but beyond the Massachusetts firebrand, there is bipartisan support for the measure. Even Barney Frank, one of the two legislators for whom Dodd-Frank is named, has admitted the $50 billion threshold is a mistake.
Boltansky lists the SIFI threshold increase as a likely change out of Washington, D.C., arriving in 2018. Katz in a recent note pointed out such a change could boost M&A in the banking sector.
To be sure, there are elements of the Treasury report, put together by Treasury Secretary Steven Mnuchin, that would boost the big banks such as Goldman Sachs Group Inc. (GS) , JPMorgan Chase & Co. (JPM) and Wells Fargo & Co. (WFC) .
"Treasury is proposing making it so that no bank could fail the CCAR [comprehensive capital analysis and review] stress tests by failing the qualitative part of the test. That would be a relief to some of the big banks," Katz said. "Treasury also wants to make the living will cycle every two years instead of annual."
And to be sure, change will be slow coming on any front. "Most of these changes would take until at least 2018 to occur," said Goldman analyst Alec Phillips in a Tuesday note. "[T]he rulemaking process is unlikely to proceed in earnest until new appointees are in place, and while the House recently passed financial regulatory legislation, the Senate appears to be on a much slower track."