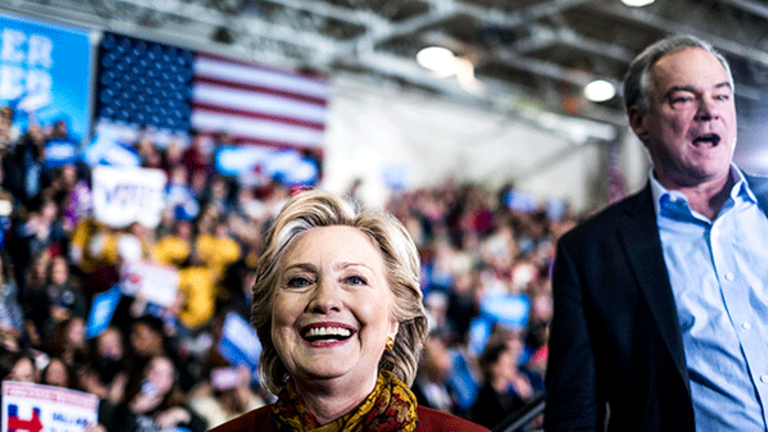 Editors' pick: Originally published Oct. 24.
Last week, by many measures, was a good one for Hillary Clinton. It was strong for stocks that might surge under her presidency, as well.
The Democratic Party presidential nominee faced off on Oct. 19 against her opponent, Donald Trump, in the final presidential debate of Election 2016. Post-debate polls ruled her the victor of the evening, thanks in part to Trump's own missteps as well as to her performance. In recent days, Clinton has turned her attention to helping Democrats get elected down ballot as well as focusing on her own race.
An ABC News tracking poll released Sunday found the former secretary of state has a 12-point lead over Trump. A RealClearPolitics average of polls has her with a 6.1-point edge in a two-way race.
TheStreet's Hillary Clinton Stock Portfolio, a set of 15 stocks identified that could do well under a Clinton presidency, climbed 3.55% from market close Friday, Oct. 14 to market close Friday, Oct. 21. The Donald Trump Stock Portfolio did slightly better, climbing 3.89%.
Netflix (NFLX) - Get Netflix, Inc. (NFLX) Report was the top performer, rallying 25.65% to $127.50. The online streaming company reported earnings last week, easily topping estimates on subscriber growth and guidance and sending the stock soaring. Netflix is a proponent and beneficiary of net neutrality, of which Clinton is a vocal supporter.
data by
U.S. Steel (X) - Get United States Steel Corporation Report was the best performer in the Trump portfolio last week. Its price surged 20.46% to $19.78. Barron'srecently argued shares of the Pittsburgh-based company could rise 50% in a year, thanks in part to anticipated actions by the U.S. go fight against unfair Chinese trade practices.
Both Clinton and Trump have pledged to take a more aggressive approach to trade in manners that would boost U.S. Steel. Clinton is likely to be more aggressive than President Barack Obama in enforcing trade laws and leveling the global playing field, which could help the steel industry, especially against producers from China.
Tyson Foods (TSN) - Get Tyson Foods, Inc. Class A Report was the worst performer in the Clinton portfolio last week. Its price fell 2.85% to $69.54 at market close Friday. The stock has struggled in recent weeks as a result of a class action lawsuit that Tyson colluded with Koch Foods and others in the broiler chicken business to reduce production.
Tyson, like most in the consumer staples sector, taps into the immigrant labor pool Clinton's rival, Trump, promises to crack down on in the White House. The former first lady would likely be more immigrant-friendly than her opponent, which would help food producers like Tyson keep costs down.
data by
Shares of Aecom (ACM) - Get AECOM Report declined 2.25% to $26.99 at market close Friday. The company was awarded a $1 billion contract last week to build an electric car manufacturing plant for Faraday Future.
A major government contractor, Aecom would benefit from Clinton's plans to boost federal infrastructure investment. The former secretary of state has pledged to increase infrastructure spending by $275 billion over five years.
data by
Here's how the entire Clinton portfolio did last week, leading with the top gainers:
Netflix 25.65%
U.S. Steel 20.46%
Smith & Wesson (SWHC) 5.06%
Renewable Energy Group (REGI) - Get Renewable Energy Group, Inc. Report 2.48%
Goldman Sachs (GS) - Get Goldman Sachs Group, Inc. (GS) Report 2.43%
HCA Holdings (HCA) - Get HCA Healthcare Inc (HCA) Report 1.77%
Aetna (AET) 1.47%
SPDR S&P 500 ETF Trust (SPY) - Get SPDR S&P 500 ETF Trust Report0.40%
American Electric Power Company  (AEP) - Get American Electric Power Company, Inc. Report 0.29%
CACI International (CACI) - Get CACI International Inc Class A Report 0.06%
SolarCity (SCTY) -0.05%
Walmart (WMT) - Get Walmart Inc. Report -0.16%
Level-3 Communications (LLL) - Get L3 Technologies Inc Report -1.49%
Aecom -2.25%
Tyson Foods -2.85%