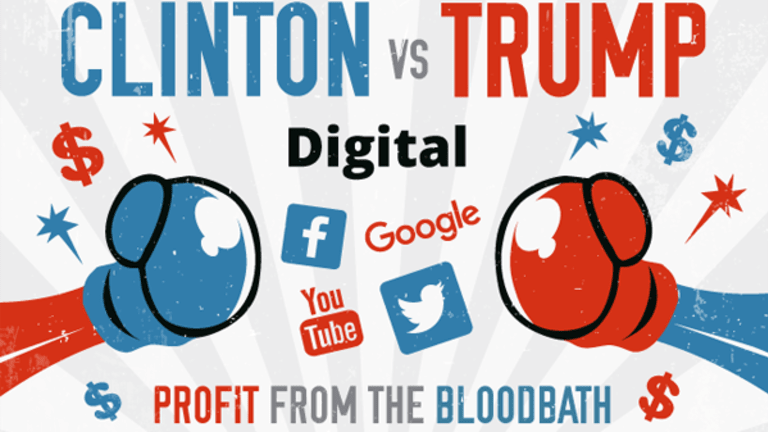 Donald Trump has proven himself to be the king of free media this election cycle, but Hillary Clinton is nipping at his heels -- especially since the Twitter (TWTR) - Get Twitter, Inc. Report community seems a lot less into him than it used to be.
The Republican nominee shot to the top of the 2016 Republican presidential field in part by dominating the news cycle and social media chatter, essentially sucking all of the air out of an otherwise very crowded room. By March, he had received more than $2 billion of free earned media while spending significantly less than his competitors on paid advertising, leading to questions of whether he could, in fact, fund his entire presidential bid or had even changed campaign strategy forever.
But as election season wears on and the field has been whittled down to two major party candidates with no-holds-barred approaches to campaigning, it looks as though Trump's media edge is beginning to diminish. Presumptive Democratic nominee Clinton is getting closer to her rival in terms of free earned media, according to data from analytics firm mediaQuant.
In the month of June, Clinton received $311.2 million in free earned media, compared to $458.8 for Trump. While she still lags behind her opponent, she fared much better than in May, when she got $275.0 million compared to his $630.7 million, and better than she has over the past year, when she got $1.7 billion -- less than half of his $3.8 billion.
Some of the convergence has come through more free media for Clinton -- she advanced across all social and media categories by about 15%-to-20% in June compared to May. However, most of the pair's leveling out is the result of a waning in the free media Trump is getting, especially when it comes to social.
Trump's most significant free media dip has come from Twitter, the arena where he has arguably been most successful in communicating his message for Election 2016. He received $27.3 million in free earned media through the social platform in June, well below the $208 million he got in May (though in April, he was at about $20 million).
"He lost a lot of the echo he was getting in the Twitter community," said Paul Senatori, chief analytics officer at mediaQuant, noting that chatter about Trump from journalists, influencers and others on the platform as well as retweets of those messages dropped significantly. "There was no weakness in [Clinton's] June numbers, Trump had a weakness in social."
The presumptive Republican nominee saw decreases in free media across other categories as well. For example, his amount of free broadcast media earned dropped to $67 million in June from $75 million in May, reaching its lowest level January. 
Trump's drop in Twitter attention isn't just bad for the candidate -- it might spell bad news for Twitter as well, which has enjoyed an increased presence in the news cycle with the businessman's usage of the platform during his candidacy. Inversely, recent developments could also inspire the Trump team to spend more on paid advertising in Twitter, something that it has done little of, according to Federal Election Commission filings, in comparison to rival Facebook (FB) - Get Facebook, Inc. Class A Report .
Twitter and Facebook are holdings in Jim Cramer's Action Alerts PLUS Charitable Trust Portfolio. See how Cramer rates the stocks here. Want to be alerted before Cramer buys or sells TWTR and FB? Learn more now.
There is reason to believe heading toward November, Trump and Clinton's free media numbers will continue to converge.
With the two major party candidates left, outlets won't have nearly as much ground to cover as when there were nearly 20. Journalists, networks and voters won't really be able to discuss Trump without also considering Hillary, or vice versa.
"Now that it's a two-horse race, there's going to be a lot of head-to-head comparison in the media, so both are going to be brought up in the same articles, the same broadcasts, the same blog posts, the same tweets," said Senatori.
He estimates that heading into the general election, they'll each receive about $500 million in free earned media each month.
To be sure, not all free media is good media. Both Clinton and Trump have received more negative coverage than positive coverage thus far this election cycle, according to a recent study by the Harvard Kennedy School's Shorenstein Center on Media, Politics and Public Policy. Researchers also noted coverage of Trump became more negative after his coronation as the presumptive GOP nominee in May -- the same month he saw a major uptick in Twitter attention.
While it is reasonable to expect the media gap to continue to narrow as November approaches, there are moments when one candidate will outshine the other -- for example, when Bernie Sanders endorsed Clinton, FBI director Jim Comey spoke out about her email case, and Trump tweeted out a six-point star.
"It's only those stories where it is a major mistake or major remark just by the candidate, it's only those cases that we're going to see media coverage that is about one of them as opposed to both of them," said David Karpf, assistant professor of media and public affairs and director of graduate studies at The George Washington University. He surmised Trump's continued, albeit lessened, lead in earned media isn't exactly a sign of a good thing for the GOP nominee. "The reason why he's still leading is because he's still making unforced errors," he said.
Trump's more subdued rhetoric in recent days could do more to even out media attention in the weeks and months to come. The businessman offered a rather uncharacteristic calm response to last week's police shootings in Dallas. "His Twitter account has not been putting things out that are setting the world on fire for several days now," said Karpf.
The question now becomes whether this more presidential, measured version of Trump will last.
Clinton's gain in free media could have Trump worried, especially considering that he hasn't demonstrated much willingness -- or budgetary ability -- to spend on paid advertising (though there are signs that may change).
In a campaign season that's likely to be an all-out bloodbath, it looks like Trump and his backers may need to open their wallets even more if he loses his free buzz edge. He might end up contributing much more to the $12 billion in anticipated political ad spend this election cycle than expected. Especially if Clinton keeps upping her Twitter game.