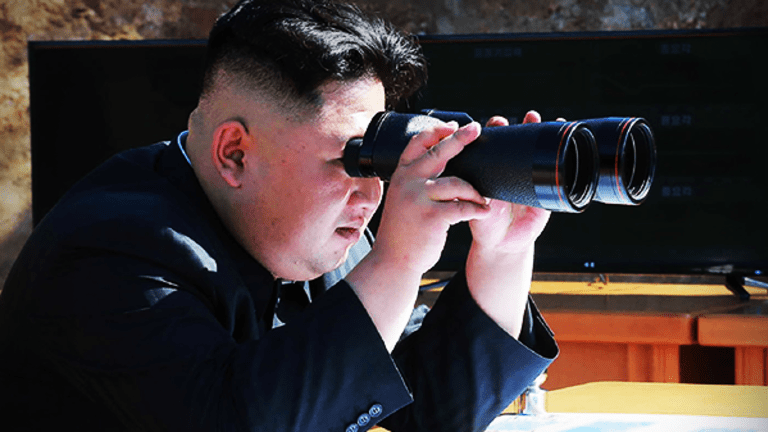 China's Banks Halt Business With North Korea Per United Nations Sanctions
China has come under fire for not doing enough to rein in the rogue nation.
China's central bank told the country's financial institutions that they are to cease all business with North Korea and obey United Nations sanctions, Reuters reported.
Chinese banks were told this week to refuse new clients from North Korea and begin winding down business with existing customers. The move comes after Beijing faced increased scrutiny for not doing enough to control the nearby unpredictable North Korea.
President Donald Trump repeatedly has called on China to exercise its influence over Pyongyang. Tensions between the U.S. and North Korea have steadily moved toward a boiling point, especially after North Korea exercised its strongest nuclear test yet on Sept. 3.
The United Nations Security Council imposed further sanctions on North Korea last week in the wake of the nuclear test. Chinese lenders were told to fully implement the U.N.'s sanctions and were warned that failure to do so would result in financial losses and tarnished reputation.
The U.N.'s most recent sanctions are the ninth set established since 2006. The most recent regulations capped fuel supplies to the state.
Trump issued an executive order Thursday, Sept. 21, to cut off the revenue he said North Korea uses to fund "the deadliest weapons known to humankind." Trump added that the executive order will better enable the U.S. Treasury to target individuals and firms that trade goods, services and technology with North Korea. 
Trump praised China for taking action against North Korea in his ongoing bid to achieve "complete denuclearization" of the country. In the new executive order, Trump called the practice of providing resources to North Korea "disgraceful."
U.S. bank stocks were largely unaffected by the news, with shares of Goldman Sachs Group  (GS) - Get Free Report , Wells Fargo & Co. (WFC) - Get Free Report , JPMorgan Chase & Co. (JPM) - Get Free Report , Citigroup Inc. (C) - Get Free Report  and Morgan Stanley (MS) - Get Free Report all trading slightly higher late Thursday afternoon.
Chinese stocks finished trading Thursday down, with the SSE Composite Index down 0.24%, the SZSE Composite Index down 0.83% and the CSI 300 Index down 0.12%.
More of What's Trending on TheStreet: