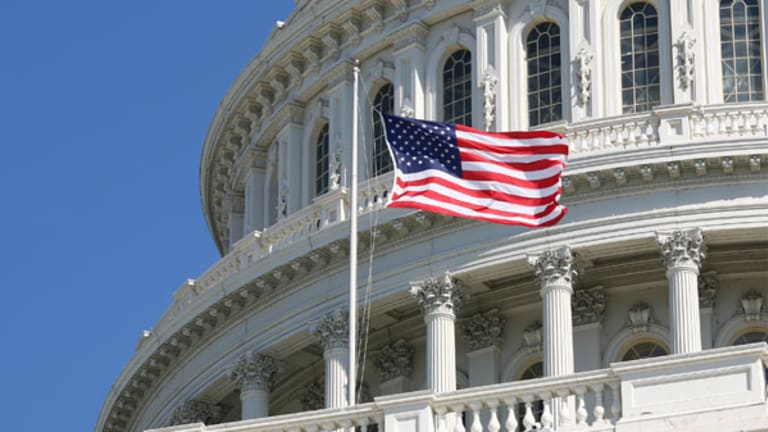 Chief Justice Roberts Is Master Judicial Strategist
Chief Justice Roberts casts the deciding vote, but gives a bizarre reason.
NEW YORK (
) -- As it turns out, the market was dead wrong.
Investors were
convinced in late March that Chief Justice John Roberts would strike down Obamacare, while some former Supreme Court clerks warned against such assumptions.
Barack Obama has a George W. Bush-appointed Chief Justice to thank for upholding his magnum opus political accomplishment
"If you're Roberts, who left himself with wiggle room, who asked hard questions on both sides ... I think Roberts is sensitive to the role of the courts and public opinion about the courts, and those
roles are enhanced to the extent the public doesn't think it's a purely partisan decision," Hank Greely, a Stanford University law professor who clerked for former Justice Potter Stewart in the late 1970s,
said in a previous interview.
Roberts initially said in the ruling that the individual mandate was not constitutional under the Commerce Clause or the Necessary and Proper Clause -- which
faked out some reporters who took the comment to mean the court killed the mandate. He then ultimately surprised many experts when he upheld the mandate based on the "penalty" being a tax.
"The people that I listened to, they leaned towards more of a strike down on this than what was offered," said Allan Flader, senior vice president of investments at RBC Wealth Management.
So why did the reliably conservative Roberts cast the deciding vote?
"Robert's sees himself, as most Chief Justices do, as the guardian of the court's institutional credibility," said Greg Magarian, a law professor at Washington University in St. Louis.
For a Chief Justice sensitive to the court's history, though, it appears that Robert's wrote a rather strange opinion.
Magarian said Robert's opinion was bizarre for a couple reasons. The first is that he took a "two-step" on the tax interpretation. The court held that the suit isn't barred under the anti-injunction act because Congress called the individual mandate payment a penalty rather than a tax. But then the court determined on its own analysis that the payment was a tax.
The second oddity, according to Magarian, is that Roberts even reached the Commerce Clause and Necessary and Proper Clause issues.
Typically, the court prefers to determine a case on the narrowest grounds possible. By that logic, Roberts would have simply upheld the mandate as a tax and finished his judgment there.
"
The individual mandate is a strange sort of law, so even if the court has established a precedent here that the Commerce Power doesn't authorize Congress to create commerce, that precedent may not have much if any practical significance for other laws," Magarian wrote in an email.
Where's this leave Roberts?
Possibly with one brilliant piece of judicial strategizing.
"If you're imagining a Chief Justice writing this as a judicial politician trying to satisfy constituencies -- you know, give the conservatives something of a bone, don't strike the thing down, write something narrow -- I think you couldn't be much more crafty than this," said Magarian. "Roberts is kind of being a master politician here."
Republican presidential nominee Mitt Romney stopped short on Thursday of disparaging the Supreme Court, saying that the ruling determined Obamacare didn't violate the U.S. Constitution.
Barack Obama played it safe by saying American lives would be more secure because of the high court's decision.
Their comments understate that Thursday's Obamacare ruling is likely the most crucial decision by the Supreme Court since Bush v. Gore in 2000, when then-Chief Justice William Rehnquist wrote the majority opinion. It appears that Roberts just had his Bush v. Gore moment.
Medicaid HMOs
soared after the ruling, largely due to an expected 16 to 20 million new Americans who would be eligible to enroll in the government program in 2014:
Amerigroup
( AGP) was at $65.47, up $3.07 or 4.9%,
Molina
(MOH) - Get Molina Healthcare, Inc. Report
at $23.16, up $1.84, or 8.6%, and
Centene
(CNC) - Get Centene Corporation Report
at $30.59, up 68 cents or 2.3%.
Diversified health care companies fell on the news as the regulatory burdens set by Obamacare -- minimum medical loss ratio, exchanges and rate reviews -- are expected to cause them trouble.
Aetna
(AET)
closed at $39.85, down $1.11, or 2.7%,
Cigna
(CI) - Get Cigna Corporation Report
was at $44.18, down $1.22, or 2.7%, and
Coventry
( CVH) at $32.46, down 77 cents, or 2.3%.
-- Written by Joe Deaux in New York.
>Contact by
.