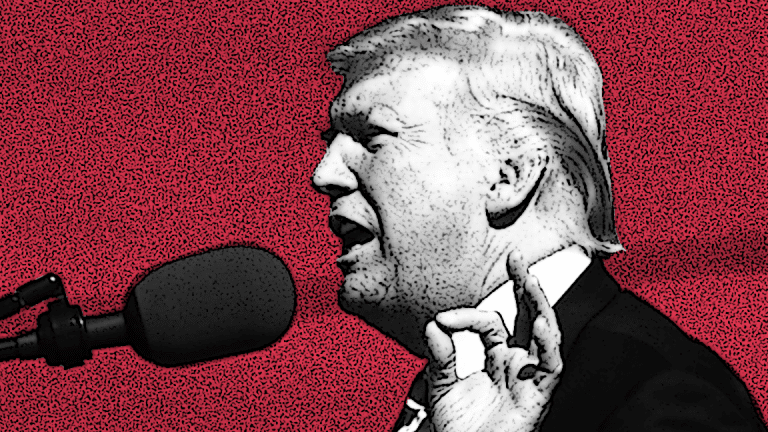 Chamber of Commerce Head Slams Trump's Threats to Quit NAFTA
The head of one of the largest business groups in the United States slammed the Trump administration's threat to quit NAFTA as a "grave and costly mistake" that would hurt millions of Americans.
The Trump administration's threat to quit NAFTA could lead to a "grave and costly mistake" that would hurt millions of Americans, the head of one of the largest business groups in the United States said.
Thomas Donohue, president and CEO of the U.S. Chamber of Commerce, in an op-ed published by The Wall Street Journal late Sunday offered a scathing review of President Donald Trump's handling of renegotiations of the North American Free Trade Agreement. He warned that withdrawing from the 1990s agreement among the United States, Mexico and Canada would slam consumers and businesses, putting hundreds of thousands of U.S. jobs at risk.
"Quitting NAFTA would be an economic, political and national-security disaster," he wrote.
The Trump White House has kept the threat of quitting NAFTA alive as renegotiations, which commenced in August, have unfolded. "The president has made clear that if they don't work, he's going to pull out," Commerce Secretary Wilbur Ross said at an event at The Washington Post in early September. "That shouldn't be a shock to anyone, and really that's the right thing. We need fixes to this deal. It has not worked the way it was intended."
Continued toying with the idea of withdrawing from the 23-year-old accord, which governs more than $1.2 trillion annual trade, constitutes $584 billion in U.S. exports and supports 14 million American jobs, has put the business community on edge.
"Undermining NAFTA would be a grave and costly mistake that would hurt the very farmers, manufacturers, workers and families this White House purports to protect," Donohue wrote.
Withdrawal from NAFTA would garner an immediate response from Mexico, he warned, such as a 15% to 20% tariff on grains from the U.S. It could then substitute billions of dollars in South American crops for American ones, and even if U.S. food remained slightly cheaper, "years' worth of harsh rhetoric has left Mexicans furious and willing to pay more to send a message," he wrote.
He notes that Canada and Mexico are "by far" the U.S.'s largest export markets. Exports to Canada totaled $320.1 billion in 2016, and exports to Mexico were $262.0 billion.
"Thanks to NAFTA, virtually all North American trade is tariff-free," Donohue wrote. "After withdrawing from the deal, tariffs on all products would snap back to an average of 3.5% for the U.S., 4.2% for Canada, and 7.5% for Mexico -- a terrible deal for all three countries."
He made a political argument as well: namely, that quitting NAFTA would hurt Trump voters most. "Heartland states that voted for President Trump would be hurt most, and angry voters would know exactly whom to blame," he wrote.
Donohue's op-ed lands as the third round of NAFTA renegotiation talks are currently underway in Ottawa, Canada. There are seven rounds planned, and progress thus far has been slow.
Trump while campaigning for the presidency often slammed NAFTA and other trade deals. He withdrew from the Trans-Pacific Partnership soon after his inauguration and in April told Reuters he was "psyched" to quit NAFTA, too, but then changed his mind.
He last tweeted about NAFTA renegotiations in August, issuing yet another threat to quit.