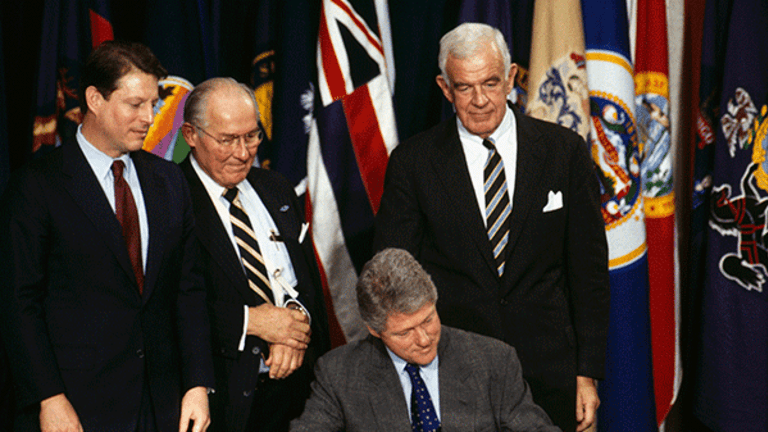 The President and CEO of the U.S. Chamber of Commerce, Thomas Donohue, believes that policymakers and business leaders can reach a basic agreement regarding the North America Free Trade Agreement by the middle of next year.
"We're not going to be fooling around with this deal in 2018," Donohue told Reuters. "[President Trump] is looking at how to get things done, and I can tell you he wants to speed this thing up."
President Trump has been critical of NAFTA and vowed to pull the U.S. out of the deal with Mexico and Canada if he could not negotiate better terms for the U.S. Reuters asked Donohue if he believed a basic agreement on a reworked NAFTA could be in place by July 2018.
"Yes. That's my opinion. That's my view. The bottom line is we need to move forward on this deal. It is critical to our economic and geopolitical well-being. Period," he responded.
(What will move markets this quarter and how should investors position themselves ahead of time? Jim Cramer sat down with four of TheStreet's top columnists recently to get their views. Click here to listen to his latest Trading Strategies roundtable with them and read their advice for stocks, bonds, forex and gold.)