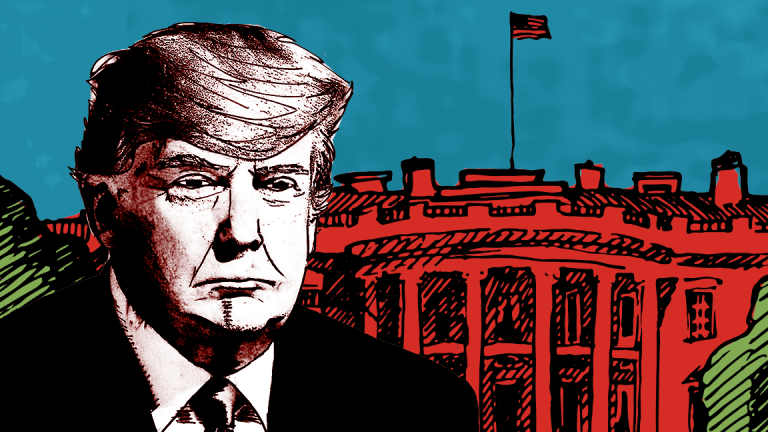 CEOs Look for Direction in Trump's State of the Union Address
The president is expected to speak about his plan for immigration reform, trade and infrastructure.
President Donald Trump will speak on Tuesday, Jan. 30, to Congress and the American people in his first official State of the Union address, where he will address his proposed immigration overhaul, his efforts on trade and his $1.5 trillion infrastructure plan.
"I think we are all looking for any indication of direction on policy and I think that's going to be critical," Reggie Walker, PwC's Chief Commercial Officer, told TheStreet.
Trump, who has a 38% approval rating, acknowledged Monday that the immigration overhaul will have to be bipartisan "because the Republicans don't really have the votes to get it done in any other way."
In mid-January, the government briefly shut down over immigration reform because Senate Democrats were seeking to tie a deal for DACA, or Deferred Action for Childhood Arrivals, to a funding deal. Three days later, however, Senate Democrats succumbed to pressure to adopt a short-term spending bill to fund the government without addressing the fate of young undocumented immigrants.
Subsequently, the White House released on Jan. 25 its framework on border security and immigration reform. The latter includes a proposal to provide a path to citizenship over a 10- to 12-year period for "DACA recipients and other DACA-eligible illegal immigrants," for a total population of approximately 1.8 million individuals.
The Trump administration's immigration reform also suggests altering "nuclear family migration by limiting family sponsorships to spouses and minor children," ending migration for extended family members, as well as eliminating the visa lottery program, which allows people from countries with very low immigration rates to the U.S. to apply for a visa.
"For many, many years they've been talking immigration and never got anything done," President Trump said Monday. "We're going to get something done, we hope."
PwC's Walker said public company CEOs will be focused on Trump's immigration policy proposals because they could have an impact on their ability to find workers with the skills they need, or what he called a "talent equation." According to PwC's study titled U.S. Business Leadership in the World in 2018, 63% of U.S. CEOs are hiring but said it is more difficult to find qualified workers. CEOs may decide to acquire talent given the current hardship to find qualified workers, Walker suggested. PwC surveyed 1,293 CEOs in 85 countries, with 104 in the U.S.
"I think that is one of the factors that will fuel M&A activity is the desire to acquire new skills and capabilities," said Walker. "Some of that will be resident with people, some will be resident within the technology that is acquired."
The president will also speak Tuesday evening about trade, specifically his efforts to lower trade barriers around the world for American exports. Trump has been tough on America's trading ties by pulling the U.S. out of the Trans-Pacific Partnership, or TPP, and implementing an import tariff; he is also in the middle of NAFTA negotiations.
"We have to have reciprocal trade," Trump said Monday. "It's not a one-way deal anymore."
America CEOs view China, the U.K. and Germany as the top international markets in 2018, according to the PwC study.
"There is uncertainty in the U.S. around some of the economic policy toward trade," said Walker. "With that uncertainty, it's hard to know which direction things are going to go."
Given Trump's ramped-up rhetoric on trade and on the possibility of nuclear war with North Korea, "there seems to be a general increase in geopolitical risk," added Walker.
The threat of terrorism and geopolitical uncertainty rose significantly over the past year, and are two of the top four concerns for CEOs in 2018. Concern about terrorism and geopolitical uncertainty rose to 50% from 21% and 35%, respectively. Cyber threats, however, were the most pressing concern for American CEOs.
While it is unclear if Trump will address cybersecurity, he is expected to address national security by urging members of Congress to fund the military and a border wall.
The president is also planning to discuss a $1.5 trillion infrastructure improvement plan, according to White House economic adviser Gary Cohn, who called the plan the "next leg of the stool in our economic agenda."
"He's going to talk about a trillion and a half dollars of investment, but more importantly he's going to talk about streamlining the approval process on infrastructure," Cohn told CNBC Tuesday. "Right now, we have an infrastructure approval process that takes seven to 10 years to build relatively simple roads. We need to streamline that to less than two years."
Some prominent U.S. CEOs, including Goldman Sachs Group Inc.'s (GS) - Get Report  Lloyd Blankfein and JPMorgan Chase & Co.'s (JPM) - Get Report  Jamie Dimon, have been keen on the idea to improve America's infrastructure.
"You might be shocked to find out, we haven't built a major airport for 20 years," Dimon told Business Insider in May 2017. "China built 75 in the past 10 years. It takes 10 years to get all the permits to build a bridge today. Ten years? What happened to the good old can-do America?"
"[Trump is] going to talk about the fact that America is open for business," Marc Short, White House director of legislative affairs, told Fox News Sunday. "And the president is also going to make an appeal to Democrats, to make an appeal to say, we need to rebuild our country and to make an appeal that to do infrastructure, we need to do it in a bipartisan way."
More of What's Trending on TheStreet: