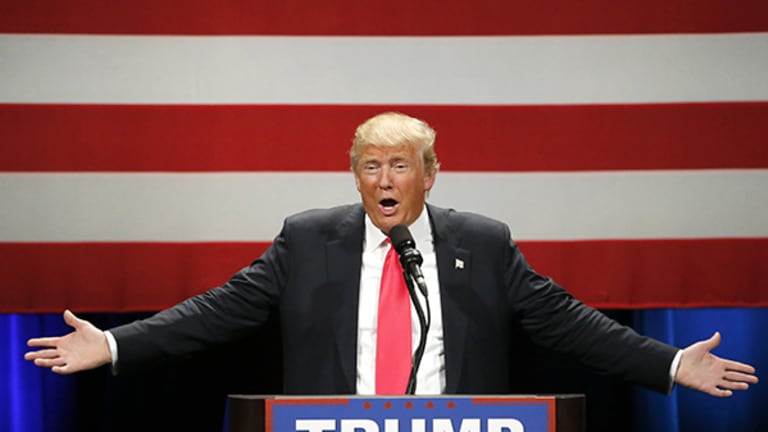 CBL & Associates Stock Plunges With Report of FBI, SEC Investigation; Possible Trump VP Pick Named
Shares of CBL & Associates Properties plunged following a report it's under investigation by the FBI and SEC. Its ties to a potential Trump VP pick are also under scrutiny.
Story has been updated with comments from Senator Corker representative Micah Johnson.
Shares of CBL & Associates Properties (CBL) - Get CBL & Associates Properties, Inc. Report plunged Wednesday in the wake of a report that the real estate investment trust is under investigation for alleged accounting fraud. Moreover, the company's ties to a potential Donald Trump vice-president pick is also in the mix.
The Wall Street Journalreported late Tuesday that both the FBI and SEC are looking into whether officials at the Chattanooga, Tenn.-based company fudged information on financial statements to banks when applying for financing arrangements. Citing people familiar with the matter, the report indicates law-enforcement officials have talked to former CBL employees who say the company inflated rental incomes and occupancy rates.
CBL shares plunged in reaction, falling 12.1% to $9.10 in late-morning trading Wednesday.
The company issued a statement denying the allegations, calling them "completely baseless" and saying that neither it nor its executives have been contacted by the FBI, SEC or any regulatory agency regarding accounting and financial practices. CBL did not immediately return request for comment.
The WSJ report also alleges that, separately, the FBI and SEC are delving into the relationship between CBL and U.S. Senator Bob Corker of Tennessee. Corker has made millions of dollars in trading the company's stock in recent years, and while investigators have found no evidence to suggest wrongdoing, they are interested in learning more about his practices and ties to CBL management.
Corker has failed to properly disclose several CBL trades (not all of which made him money) on personal finance statements he is required to file with Congress. WSJ points to one case in 2011 and 2012 when the senator appears to have made between $420,000 and $2.1 million on the stock and another transaction a couple of years before where he likely made at least $1 million.
Micah Johnson, a spokeswoman for Corker, called the charges "baseless" in a statement to the WSJ. 
WSJ isn't the only entity that has called into question Corker's well-timed CBL trades. The Campaign for Accountability, a nonpartisan organization that seeks to "expose misconduct and malfeasance in public life," has sounded alarm bells on the issue as well.
In November, the group filed a complaint with the SEC and Senate Select Committee on Ethics alleging Corker may have engaged in insider trading and made false statements in disclosure forms related to CBL, citing previous WSJ reports. It filed a second complaint in March saying that Corker may have failed to disclose at least $2 million in income from at least six hedge funds.
"The financial disclosure forms of members of Congress can be extremely revealing, and it's one of the tools that we rely on to look for irregularities or, in this case, what we believe is outright illegal conduct," said Anne Weismann, executive director of the Campaign for Accountability, in a phone interview with TheStreet. "The more we dug, the more we found out."
Johnson dismissed the group's charges in an email to TheStreet. "A politically-motivated special interest group that refuses to disclose its donors continues to make baseless charges against Senator Corker, and we know that any effort to examine his actions will result in their smear campaign being discredited," she wrote.
This latest WSJ report comes at an interesting moment, as Corker is reported to be on presumptive Republican presidential nominee Donald Trump's short-list for vice presidential picks.
The pair met in New York on Monday, prompting speculation that Corker, who is chairman of the Senate Foreign Relations Committee, might be under consideration to join Trump on the GOP ticket this fall. The senator downplayed the buzz, telling reporters outside of Trump Tower he has "no reason whatsoever" to think he is being considered for VP, The Hillreported. "This was a meeting between two people who didn't know each other except over phone calls, getting to know one another," he said.
A Trump spokesperson did not respond to request for comment on whether Corker is under consideration.