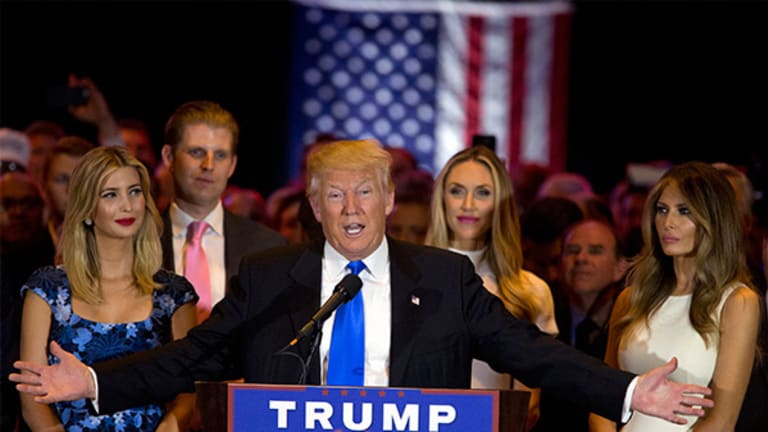 Publish date:
Election Season Could Worsen Woes of J.C. Penney, Other Retailers
Is J.C. Penney the first victim of election-year retail woes? According to one report, retail sales have tended to slow in recent election cycles.
Is J.C. Penney the first victim of election-year retail woes? According to one report, retail sales have tended to slow in recent election cycles.
Things are not looking good at J.C. Penney (JCP) - Get J. C. Penney Company, Inc. Report , and with election season in full swing, they may not get any better.
The Plano, Texas-based retailer is taking drastic cost-cutting measures in order to mitigate the impact of unexpected light mid-April sales on its bottom line, the New York Postreported Friday. An internal memo obtained by the publication revealed that J.C. Penney has encouraged store managers to "do their fair share," like slashing payrolls and freezing overtime, in the face of an "expense challenge." The company also banned product markdowns in an effort to protect profits.
The news cast doubts among investors about the retailer's ability to execute its comeback plan and looms heavily ahead of its first-quarter earnings report, set for May 13. JCP shares spiraled Friday, falling 9.57% Friday to $8.07.
J.C. Penney is not alone in its sales struggles -- a number of retailers are facing similar issues. And another factor stands to exacerbate woes: the 2016 election. According to one report, retail sales have tended to slow in recent election cycles. 
Retail sales growth has decelerated three of the past four election years compared to the previous year, according to a recent note from Deutsche Bank. Of course, in some cases there have been other forces at work -- particularly 2008 vs. 2007 and the financial crisis -- but the numbers still indicate there might be some correlation.
"The data shows that there may be at least some impact on sales growth from elections, either due to candidates' stoking consumer concerns or from the public staying at home to watch the drama unfold on TV," writes analyst Mike Baker, referring to the "CNN Effect," a theory that explains the impact of the 24-hour news cycle on the political and economic climate. "This is just one more factor to consider as we assess the potential for a rebound this year."
Given the doomsday tone employed by many of the candidates this election cycle, on top of the overzealous attention given to Donald Trump by the media, if there were ever a year to test the theory, it would be this one.
That being said, 2015 wasn't great for most retailers, and it's not exactly looking like 2016 will be much better, even without the election.
Retail sales dropped 0.1% in December, making 2015 the slowest year for gains since 2009. According to preliminary numbers from the National Retail Federation, annual retail sales grew by 3.1% in 2015, and in 2016, growth is expected to remain flat at 3.1% yet again.
U.S. retail sales slumped or remained flat in each of the first three months of this year, and big names like The Sports Authority, Pacific Sunwear and Fairway Group Holdings (FWM) have filed for bankruptcy. Sears (SHLD) announced in April it would be shuttering dozens of Sears and Kmart stores, bringing the number of store closures by U.S. retailers in 2015 and 2016 to well over 2,500.
"There is no indication that things are going to get better for physical retailers," said Sucharita Mulpuru-Kodali, retail analyst at Forrester. "It's not like it's a fabulous economy, and on top of that, you have just so much competition from internet start-ups and companies selling things for less, or brands selling direct to consumers. It's very hard to be a retailer now."
If the election cycle does slow retail sales this year, the impact will be small in comparison to what would happen to the sector if some of the protectionist policies the candidates are touting on the campaign trail were actually enacted. Vermont Senator Sanders has employed anti-trade rhetoric throughout his bid, attacking deals like NAFTA, CAFTA and the TPP that make it easier for retailers to offer a wider selection of higher quality products at lower prices. GOP frontrunner Trump has railed against trade deals as well and floated the idea of slapping a 35%, even up to 45%, tariff onto goods made in countries like China and Mexico.
"That's a whole different discussion," said Mulpuru-Kodali. "Then we'll have retail tanking because we can't get prices of goods down to a reasonable cost."
Few retailers would be safe. Online retailers like Amazon (AMZN) - Get Amazon.com, Inc. Report , which in the wake of its most recent earnings announcement seems almost untouchable, would see huge percentages of their sales evaporating as consumers stop buying or search for more affordable solutions elsewhere. Entities like Family Dollar (FDO) , Dollar General (DG) - Get Dollar General Corporation Report and Walmart (WMT) - Get Walmart Inc. Report that depend on offering the lowest prices possible to customers would be hit hard, too.
"In their race to the bottom, they're doing everything they can to cut costs, whether it's improving supply chain efficiencies or lowering costs on goods sold. They're going to take any possible avenue they can," said Lee Holman, a retail analyst at IHL Group. He said that some high-end and luxury retailers, like Tiffany's (TIF) - Get Tiffany & Co. Report , would be spared.
While it appears Sanders' chances at the White House appear small, in the wake of Indiana's primary results, Trump is marching toward the Republican nomination with a clear path ahead as the party's presumptive nominee. Retailers may want to start looking not only at what Trump 2016 would mean for sales but also at what a President Trump in 2017 and beyond might do.
According to Mulpuru-Kodali, most would still rather not think about it.
"When I talk to retailers, they've got their heads in the sand, they just don't think [Trump's protectionist proposals] are realistic, or they have huge hopes that Congress would protect them from such actions, but even just talking about increasing tariffs on imports, I think that it's crazy that people haven't even considered the math and the impact that would have on consumer demand," she said. "Everyone seems to be more obsessed with transgender rights than with the economy right now."
Of course, it's possible that retail sales will rise and fall based more on other factor like, say, the overall strength of the economy. Holmanbelieves retail may be in for a rough ride in the months to come, presidential race or not.
"Our economy is in such a state now that I think the election, I don't believe...is going to drive figures that much," he said. "The structural weaknesses of the economy right now are what's driving things."