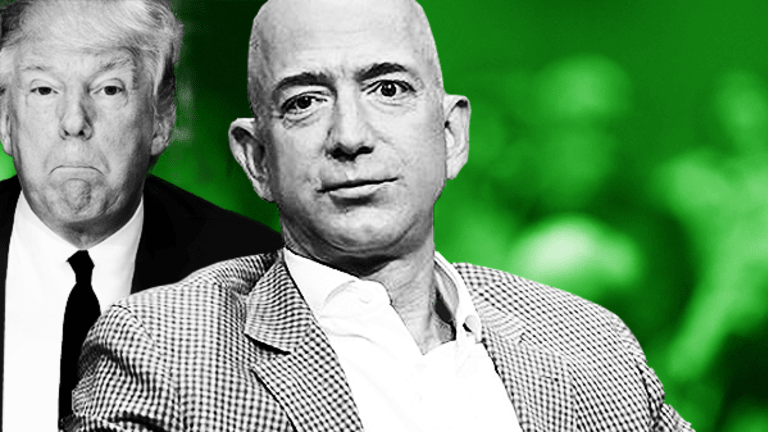 California Congressman Questions Amazon-Whole Foods Deal as Bezos Critic Trump Stays Mum
Amazon's Whole Foods deal has captured one California congressman's attention, but President Trump, who has accused Amazon of having antitrust problems in the past, has yet to weight in.
Amazon's (AMZN) - Get Amazon.com, Inc. Report $13.7 billion deal to buy Whole Foods (WFM) has captured one California congressman's attention, but President Donald Trump, who has criticized the e-commerce giant as an antitrust violator in the past, has yet to weigh in.
Representative Ro Khanna (D-Calif.), whose district encompasses part of Silicon Valley, said he is "concerned about what this deal means for suppliers and neighborhood grocery stores" in a statement to VICE News. He called the Justice Department and Federal Trade Commission to review the merger and for regulators to reorient American antitrust policy to factor in the American worker.
"The Justice Department and Federal Trade Commission must undertake a review that considers not just the merger's impact on prices, but also the impact on jobs and wages. We need to re-orient antitrust policy to factor in the harm that economic concentration causes for American workers," Khanna told VICE. "We also need to be mindful that concentrated industries stifle innovation. American markets work best when there is fair competition among many businesses -- none of which have a dominant market share."
While perhaps noble in his intention, Khanna also seems to acknowledge that there is no legal basis for blocking the Amazon-Whole Foods merger on antitrust grounds. Antitrust regulations in the United States don't consider whether people lose jobs or wages, it's just focused on consumer prices -- a fact Khanna appears to recognize.
That's not to say that the merger won't face scrutiny, including from President Donald Trump. The president has demonstrated his willingness to weigh in on M&A deals in the past, and he has a particular distaste for Amazon CEO Jeff Bezos.
Trump slammed AT&T's (T) - Get AT&T Inc. Report deal with Time Warner (TWX) on the campaign trail in October, telling supporters his administration would not approve the agreement "because it's too much concentration of power in the hands of too few." The deal is still undergoing regulatory scrutiny.
There is no love lost between Bezos and Trump, who have exchanged their fair share of public jabs, including on the matter of antitrust.
Trump in an interview with Fox News' Sean Hannity in May 2016 accused Bezos of using The Washington Post, which he bought in 2013, as a tool to influence tax policy and said he believes Amazon has a "huge antitrust problem."
"He thinks I'll go after him for antitrust," Trump said at the time. "Because he's got a huge antitrust problem because he's controlling so much, Amazon is controlling so much of what they are doing. The Washington Post, which is peanuts, he's using that for political purposes to save Amazon in terms of taxes and in terms of antitrust."
Bezos hit back at a Post-sponsored event days later.
"I'm very, very comfortable with all of Amazon's approaches and behaviors, the way we pay taxes, the political positions we take are very focused on our business and highly appropriate, and I have [said] I think a company like Amazon also deserves to be scrutinized and examined and criticized, and I have no worries about that, I have absolutely no worries," he said.
As Recode notes, Trump and Bezos have since the election tried to make nice. Bezos met with Trump at Trump Tower with other tech leaders in December and is expected to attend a similar summit at the White House on Monday.
Andrea Murino, an antitrust expert with law firm Goodwin Procter LLP in Washington, D.C., told Reuters the Amazon-Whole Foods deal doesn't represent a "traditional antitrust problem" and anticipated the deal will pass regulatory scrutiny.
"There's an efficiency there but there are big questions about what does it all mean? There are some emerging competition issues here about how Amazon is delivering your life, (even) bringing your news. I just think there will be some curiosity here," she said.
White House spokespeople did not immediately return request for comment on Trump's take on Friday's Amazon-Whole Foods deal.