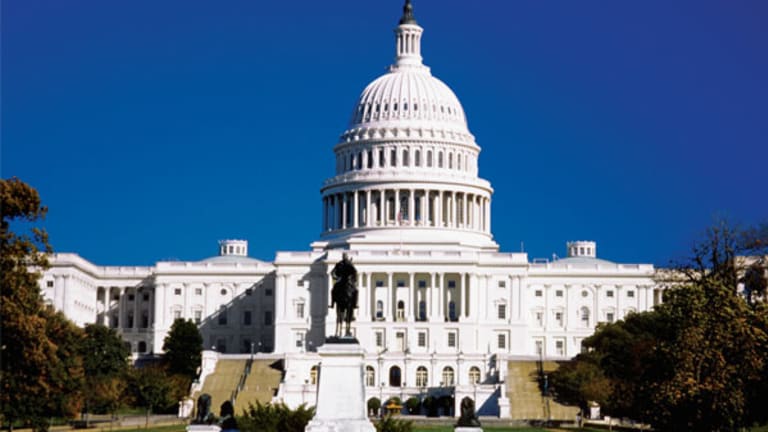 Buy a Ron Paul Wristband to End the Fed
Ron Paul offers more merchandise than any of his GOP opponents, selling items that aim to abolish the Federal Reserve.
Updated from 2:29 p.m. ET with revised Romney merchandise information
NEW YORK (
) -- Move over, Jesus. Out of our way, Lance Armstrong. Ron Paul has his own movement and it starts with ending the Fed.
The Texas congressman, best known for his criticism of the
Federal Reserve
, has a grip on merchandising and offers supporters nearly 90 options to, well, show their support for the GOP presidential hopeful.
Ron Paul knows merchandising
"Help Ron Paul end the Fed and support him for president in 2012 with our highly popular red color debossed wristband," product information on Paul's Web site says about an
"End the Fed" wristband similar to
"WWJD" and
"Livestrong" bands that stormed America in the 1990s and 2000s. "Make a statement for honest money and upholding the Constitution with this bold emblem around your wrist."
Campaign paraphernalia has been a staple of U.S. presidential elections for more than a century, and a
2008 New York Historical Society exhibit displayed campaign buttons from as far back as the 1896 race between William McKinley and William Jennings Bryan.
What separates Paul from his remaining opponents is the sheer volume of stuff that he offers.
A quick glance at Mitt Romney's
product page reveals a selection of 17 products (not including five combination packages) that include t-shirts, hoodies, bumper stickers, buttons and signs emblazoned with Romney's logo, his last name or his "Believe in America" slogan.
Unfortunately for baseball fans, the "Romney Believe in America" baseball cap
that appears in the merchandise banner isn't featured for purchase. "The hat has been
updated," Andrea Saul, a Romney spokeswoman, wrote in an email.
Not only does Paul offer a baseball cap (he has three of them), but
his merchandise ranges from
beer koozies to
cook books -- which audiences likely heard
Paul mention at the Jan. 26 Republican debate.
Paul features proactive gear, such as
18 "issue card" packs, which supporters can mail to their friends and families. These cards are small pamphlets that list Paul's stances on various issues -- workers' rights, defense, taxes, border security (there's even a
pro-life card written in Spanish) -- and have a section where recipients can sign up or donate to the campaign.
Paul takes 2008 Democratic presidential hopeful
Dennis Kucinich's idea of a pocket constitution and offers his own:
"The Ron Paul Pocket Constitution."
Rick Santorum offers a decent mix of 17 available products, which includes a
practical tote bag and an
extensive selection of stickers. We should note that for $100,
Santorum's official sweater vest is still available to people who donate $100 or more.
Newt Gingrich has 18 merchandising options to choose from -- this doesn't include
two bundle packages that
combine single items for lower prices -- and even sells a
"small pet bandana". It's unclear as to whether the small pet bandana will fit on big pets.
Paul's only merchandising competition by sheer volume is Barack Obama, whose
campaign Web site offers 133 products that show support for the incumbent president. To deflect any criticism, Obama's Web site states that all of its items are made in the United States.
Some intriguing Obama products include
aprons,
spatulas,
electoral maps and
cutting boards.
But if you want to throw a party, it might be wise to head back to Paul's product page and order
balloons in bulk (500 to be exact) for $110.
The combined value of Paul 2012 items is about $1,100. So for voters who want a return on a more than $1,000 Ron-Paul campaign investment, just ask for all his stuff.
-- Written by Joe Deaux in New York.
>Contact by
.
>Follow Joe Deaux on
. Subscribe on
.