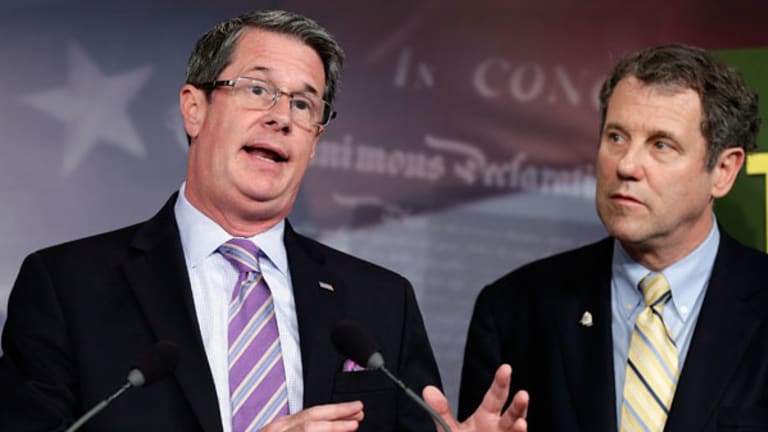 Brown-Vitter Unveil 'Too Big to Fail' Bill
Senators David Vitter (R) and Sherrod Brown (D) propose a bill to implement much higher capital requirements for banks.
NEW YORK (
) -- Sens. Sherrod Brown (D., Ohio) and David Vitter (R., La.) on Wednesday unveiled their plan to end "Too Big to Fail" bank pitfalls that helped create the 2008 global financial crisis.
Speaking to reporters from the U.S. Capitol, the senators announced a plan that would require the largest U.S. "megabanks" with total assets of over $500 billion to raise capital levels to at least 15% of total assets, with regional banks with assets ranging from $50 billion to $500 billion to have a minimum capital of 8% of total assets. The proposal is silent on banks with less than $50 billion in assets.
"The whole idea here is to restore market discipline. The Brown-Vitter bill does that, and that's what community banks have been operating under all along," said Brown. "The 15% was what we thought made the most sense looking at being stronger than Basel III or Basel II."
The
Federal Reserve
has proposed rules to implement Basel III that also focus on the quality of equity by excluding cumulative preferred shares and most trust preferred shares from Tier 1 capital. Those rules have not been finalized.
"The immediate effect of this bill will be to force American banks to shrink, reducing the lending they provide to the United States economy," Richard Bove, vice president of equity research at Rafferty Capital Markets, had written in a note earlier this month about the 15% capital requirement for the largest banks. "This will defeat the Federal Reserve's current monetary policies and create a recession of unlimited duration."
Basel III is the third version of an international banking agreement that looks to maintain a stable financial sector by implementing capital requirements banks must hold. Holding more capital, supporters have said, would soften the impact to banks and the economy in the event of another financial meltdown.
-- Written by Joe Deaux in New York.
>Contact by
.