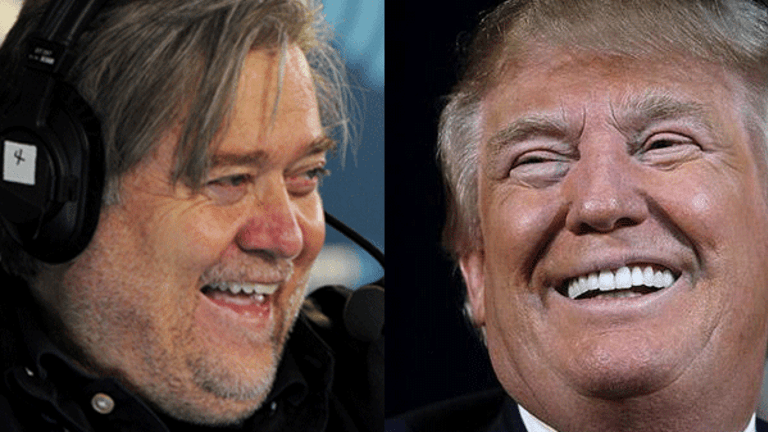 Breitbart News, Former Home to Trump Advisor Bannon, Declares War on Kellogg's
Breitbart News, the alt-right website formerly run by Steve Bannon, has declared war on cereal maker Kellogg's.
Breitbart News, the alt-right website formerly run by one of Donald Trump's top aides, Steve Bannon, has declared war on Kellogg's (K) - Get Kellogg Company Report .
The publication has called for its readers to boycott the food manufacturer in retaliation for the company's announcement that it will no longer advertise on Breitbart.com. Breitbart launched a #DumpKelloggs campaign and online petition and released news stories criticizing the brand. Kellogg's made the decision to pull ads from the website after being alerted by its customers that they were appearing there.
"We regularly work with our media buying partners to ensure our ads do not appear on sites that aren't aligned with our values as set forth in our advertising guidelines," said Kellogg Co. spokesman Kris Charles in a statement.
Breitbart News editor-in-chief Alexander Marlow called Kellogg's decision "a disgraceful act of cowardice" in an article posted on the website. "If you serve Kellogg's products to your family, you are serving up bigotry at your breakfast table," he said.
"Pulling its advertisement from Breitbart News is a decidedly cynical and un-American act. The only sensible response is to join together and boycott Kellogg's products in protect," said Breitbart president and CEO, Larry Solov.
The publication also provided a list of several Kellogg's brands, including Eggo, Froot Loops and Corn Pops.
Shares of Kellogg's fell 1.44% to $70.69 on Thursday.
Kellogg's is hardly the first company to pull advertising from Breitbart. Allstate, Modcloth, Nest, EarthLink and SoFi have blacklisted the website, according to Digiday. So have Novo Nordisk, Warby Parker and the San Diego Zoo, according to USA Today.
Alphabet's (GOOGL) - Get Alphabet Inc. Class A Report Google ad network appears on the site, meaning essentially any business that advertises through Google could appear. A Google spokeswoman said the company does not comment on specific sites but that advertisers have "lots of ways to control where their ads run."
"Advertisers blacklisting certain websites from their exchange advertising buys is nothing new," said Ian Schafer, CEO of New York City ad agency Deep Focus.
It is unclear why Kellogg's, specifically, has incurred Breitbart's wrath.
It is rare for one company to lash out at another, but Breitbart is known for its willingness to go to the extreme, said Brayden King, professor of management and organizations at Northwestern University's Kellogg School of Management, no relation to the cereal company.
"Breitbart is an actor that doesn't operate according to normal rules," he said.
Breitbart has become a flashpoint for controversy in recent months for featuring racist, sexist and anti-Semitic content. Bannon, who left the company to become CEO of Trump's presidential campaign and will now serve as his chief strategist and senior counselor in the White House, is a controversial figure as well. Once dubbed "the most dangerous political operative in America," he has been accused of having white supremacist views.
"I'm not a white nationalist. I'm a nationalist. I'm an economic nationalist," he said in a recent interview with the Hollywood Reporter.
Trump has defended Bannon, despite calls for him to distance himself from him, telling the New York Times that if he thought Bannon were racist or alt-right, "I wouldn't even think about hiring him."
In the same interview, Trump said that Breitbart is "different" but ultimately "just a publication" that has "become quite successful."
Target (TGT) - Get Target Corporation Reportbecame the focus of a boycott push by the American Family Association over its transgender bathroom policy earlier this year. Starbucks (SBUX) - Get Starbucks Corporation Report was targeted over its plain red holiday cups last year. Neither saw a major dent in sales.
Generally, boycotts tend not to be extremely damaging to corporations as consumers tend not to stick with them, said King. But this could be different.
"This political season has proven that we should expect the unexpected when it comes to Trump and his supporters," he said. "Trump supporters are extremely motivated right now in their behaviors, and extremely motivated consumers might just defy the odds and follow through with the boycotts, and that would have an effect on Kellogg's sales."
According to Breitbart, its boycott petition got 150,000 signatures in its first day.
Even if the boycott does not affect Kellogg's bottom line, being caught in Breitbart's crosshairs isn't good.
"Where it gets interesting and arguably unprecedented is that someone with deep close business and personal ties to Breitbart is advising the president-elect," said Schafer -- a president-elect who has been unafraid pinpoint specific companies and spent part of the day Thursday traveling to Indianapolis to celebrate his success in striking a deal to keep 1,000 jobs provided by United Technologies' (UTX) - Get n.a. Report Carrier in Indiana.
"Given the events that have transpired over the last year or even the last several weeks, you can't rule out anything punitive happening," said Schafer. "There's a lot of grey area."