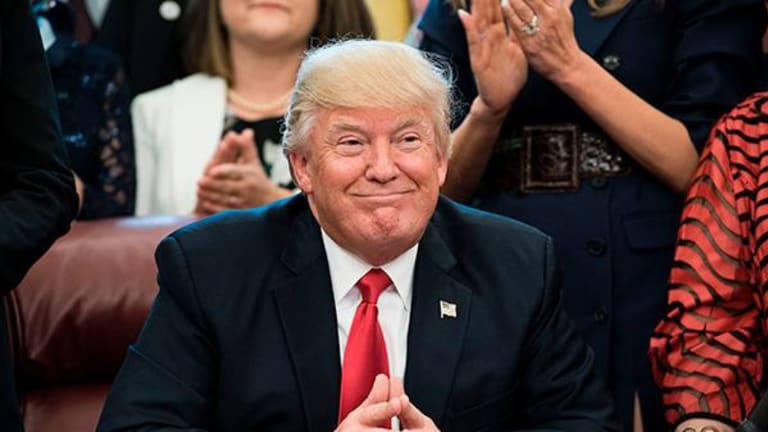 Boeing, Blackstone Announce Multibillion-Dollar Deals in Saudi Arabia During Trump Visit
President Trump's visit to Saudi Arabia has heralded billions of dollars of deal announcements.
President Trump's visit to Saudi Arabia has heralded billions of dollars of deal announcements, including from those with White House ties.
Private equity giant Blackstone (BX) on Saturday announced that Saudi Arabia would invest $20 billion in a new $40 billion infrastructure fund for projects mainly in the United States. On Sunday, Boeing (BA) said it had signed several defense and commercial deals with Saudi Arabia. Trump was referenced in both deal announcements.
Blackstone, whose CEO Stephen Schwarzman is a close adviser to Trump and heads the president's business council, said Saturday's announcement is the culmination of "a year's discussions" between it and the Public Investment Fund of Saudi Arabia.
"There is broad agreement that the United States urgently needs to invest in its rapidly aging infrastructure," said Blackston president Hamilton James in a statement, thanking Saudi Arabia for its "vote of confidence" in Blackstone and the United States.
"This potential investment reflects our positive views around the ambitious infrastructure initiatives being undertaken in the United States as announced by President Trump," said H.E. Yasir Al Rumayyan, managing director of the Saudi Arabia fund, in a statement.
Boeing said that President Trump, Secretary of State Rex Tillerson and Saudi Arabian leaders took part in a signing ceremony that included Boeing products and services.
"These announcements reaffirm our commitment to the economic growth, prosperity and national security of both Saudi Arabia and the United States, helping to create or sustain thousands of jobs in our two countries," said Boeing CEO Dennis Muilenburg in a statement.
Muilenburg has met with Trump on several occasions since the president's election. He reportedly listened in on a phone call Trump had with the CEO of rival Lockheed Martin (LMT) . He also reportedly convinced the president to support the Export-Import Bank.
Billions of dollars in deals between U.S. and Saudi companies have been announced since Trump arrived in Riyadh on Saturday, marking his first stop on his first trip abroad since his inauguration.
General Electric (GE) , Exxon (XOM) and Honeywell (HON) are among those to have announced or re-announced agreements. The Wall Street Journal estimates Saudi Arabia and the U.S are expected to agree to business deals and potential investments worth $300 billion over the course of Trump's visit. The White House reached a more than $100 billion arms deal with the Saudis ahead of the trip.
"Tremendous investments in the United States," Trump said on Saturday, the first day of his two-day trip to Saudi Arabia, where on Sunday he delivered a speech on Islam. "Hundreds of billions of dollars of investments into the United States and jobs, jobs, jobs."
The president heads to Tel Aviv next.
Action Alerts PLUS, which Cramer manages as a charitable trust, is long GE.