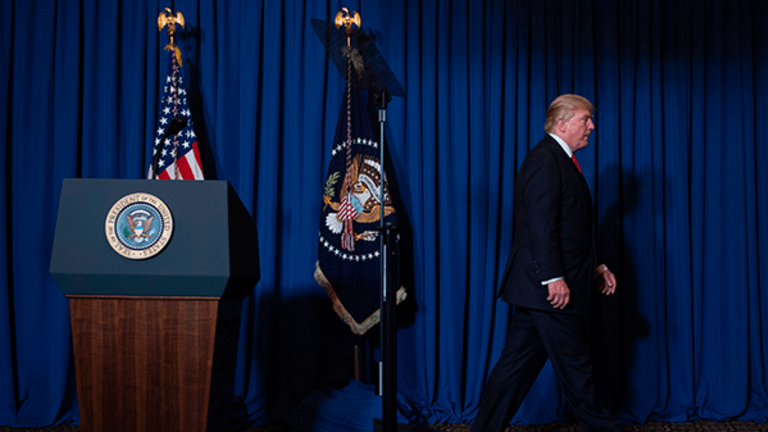 Boeing a Potential Big Winner in Trump's Export-Import Bank Nominations
President Trump just made a pair of appointments that could mean billions of dollars for companies like Boeing and General Electric.
President Trump just made a pair of appointments that could mean billions of dollars for companies like Boeing (BA) - Get Boeing Company Report and General Electric (GE) - Get General Electric Company Report .
The White House on Friday announced plans to make two appointments to the Export-Import Bank, the government credit agency that backs U.S. exporters. The announcement marks a major step toward rendering fully-operational an agency that has been functioning at limited capacity for nearly two years and signals a potential for billions of dollars to be unleashed in the months and years to come.
Trump nominated former Congressmen Scott Garrett (R-NJ) and Spencer Bachus (R-AL) to serve as president and member of the board of directors, respectively, for a four-year term at the Ex-Im Bank. Both positions require Senate confirmation.
If Trump's nominations are confirmed, it would mark a return to normalcy at the Ex-Im Bank, which hasn't been fully operational for quite some time. Congressional Republicans refused to reauthorize the bank in July 2015. When a bipartisan agreement was reached to revive it later that year, its five-member board lacked a quorum, restricting it from granting loans of more than $10 million.
The big winner, should all go as planned, would almost certainly be Boeing, which has been the Ex-Im Bank's biggest beneficiary far and away. In 2014, the last year the agency was operating at full capacity, Ex-Im authorized $10.8 billion in long-term loan guarantees, $7.4 billion of which went to Boeing. Of the $20.5 billion in total authorizations across all Ex-Im programs that year, 40%, or $8.1 billion, went to Boeing.
"The existence of a fully-operational Ex-Im Bank helps Boeing get purchase orders from foreign airlines that they may not have gotten otherwise, and that ultimately has a downstream effect that's helpful to Boeing's suppliers as well, and, by virtue of that, domestic jobs in the U.S.," said Peter Cohn, senior analyst at Washington, D.C.-based Height Securities LLC.
Boeing CEO Dennis Muilenburg reportedly helped convince Trump to back the Ex-Im Bank in the first place. The president criticized the agency on the campaign trail, in 2015 telling Bloomberg it was "featherbedding" politicians and companies. Last week, he changed his position, telling the Wall Street Journal he believes it's important.
Boeing isn't the only company likely to applaud the Ex-Im Bank's revival. General Electric (GE) - Get General Electric Company Report , Caterpillar (CAT) - Get Caterpillar Inc. Report and Applied Materials (AMAT) - Get Applied Materials, Inc. Report , among numerous others, have benefited from it as well.
Garrett, who served in the House from 2003 to 2015, has been a fierce critic of the Ex-Im Bank in the past, joining other hardline conservatives in characterizing it as "corporate welfare." His nomination fits a pattern in the Trump administration of appointing individuals to lead agencies who haven't exactly been fans of them in the past -- e.g., Scott Pruitt at the EPA.
"The idea there is to say to critics of that agency that we have a reformist approach now at some of those agencies, including the Ex-Im Bank, which has been a real boogeyman for the right wing of the Republican Party for a long time," Cohn said.
Isaac Boltansky, policy analyst at Compass Point Research & Trading, in a note on Monday said the odds of Garrett winning Senate confirmation are "slightly below 50/50" at the moment. When in Congress, Garrett voted against reauthorizing the agency twice and said it "embodies the corruption of the free enterprise system."
"From a practical perspective, a lengthy nomination battle could further elongate the absence of a quorum on the Ex-Im Bank's board, which constrains its ability to approve transactions over $10 million in value," Boltansky said.
Boeing and others likely have their fingers crossed Garrett and Bachus will get through.