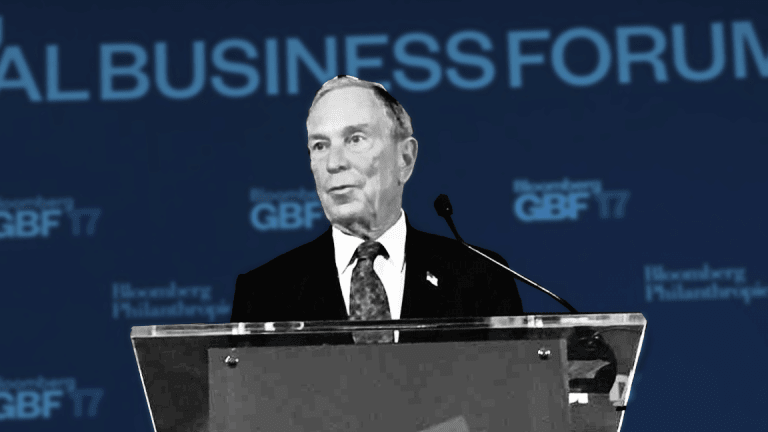 Bloomberg Claps Back at Trump at Inaugural Business Forum
President Donald Trump began his day on Wednesday at Trump Tower in Midtown Manhattan. A few blocks away, Bill Clinton handed the baton of his global business forum to Michael Bloomberg.
President Donald Trump began his day on Wednesday at Trump Tower in Midtown Manhattan. A few blocks away, Bill Clinton handed the baton of his global business forum to Michael Bloomberg. The former spoke of "expanding the definition of us," the latter warned of leaders who "dumb down dialogue." Neither explicitly named Trump.
The former New York City mayor hosted the Bloomberg Global Business Forum at the Plaza Hotel in New York on Wednesday. The event is a sort of rebranded revival of the former president's Clinton Global Initiative, an annual gathering of business and government leaders from around the globe. While the pair, who fiercely campaigned against the president in the 2016 election, refrained from naming him directly, their implicit criticism of him was apparent.
They spoke of the dangers of climate change, the importance of inclusivity and the dangers of divisive rhetoric.
"The most important thing is whether you believe that social strength, economic performance and political power flow from division or multiplication, from subtraction or addition," Clinton said in his opening remarks, warning on the "severe limits on the ability of rising separatist tribalism to solve the problems" of the modern world.
Bloomberg, in a panel later in the morning with Apple (AAPL) - Get Free Report CEO Tim Cook, expressed concerns about the dialogue of "fake news."
"If you dumb down the dialogue, it has consequences. It dumbs down everybody's dialogue, we expect less," he said.
Bloomberg lamented leaders who bring down tone and posed the question of how to recover. "It's not clear," he said.
"We follow the leader whether we like it or not, and just our beliefs and the way we behave is set by what we see on television, what we read in the paper," Bloomberg continued. "Words have consequences. It's not immediate, but they are real."
The business forum comes amid geopolitical turmoil in the United States and abroad.
An earthquake killed hundreds in Mexico on Tuesday, and hurricanes rage in the Atlantic Ocean. The Trump administration is employing increasingly alarming rhetoric against North Korea and Iran, and Congressional Republicans are on the cusp of pushing through a healthcare bill few in the American public want.
"We can and must every day expand the definition of us, shrink the definition of them," Clinton said. "And we shouldn't have to have an earthquake or a hurricane to know that that is what we're about."
Climate change and the Paris Climate Accord were main areas of focus of the event. President Trump this summer announced plans to withdraw the United States from the landmark agreement unless it is renegotiated on what he considers to be more "pro" American terms.
French President Emmanuel Macron spoke at length about the issue and about the importance of global cooperation on it and other pressing matters. His comments run contra President Trump's "America first" focus and repeated emphasis of national sovereignty in his speech at the United Nations on Tuesday.
"We have a lot of global challenges: climate change, migrations, terrorism -- and for that, we need multilateralism," Macron said.
Bloomberg announced a new platform, Invest4Climate, designed to "derisk" investment in climate-friendly infrastructure and projects globally alongside World Bank president Jim Kim and United Nationals Framework Convention on Climate Change executive secretary Patricia Espinosa during the forum.
"We hope to have real deals on the table where unlikely investors have invested in climate change-related projects," Kim said.
Alibaba (BABA) - Get Free Report founder and executive chairman Jack Ma pushed back against the president's effort to bring back jobs through manufacturing, though, like the others, he never mentioned Trump.
"A lot of people [are] talking about manufacturing. I think manufacturing will never bring a lot of jobs," he said. "Service industry is going to be the main driver for job creations. So talking about manufacturing, we should not be talking 'Made in China,' 'Made in America,' it's going to be 'Made in Internet.'"
Cook issued a blistering critique of the Trump administration's decision to rescind DACA, calling it "the biggest issue of our time currently." He also provided insights into his reasoning on his outspokenness. "Silence is the ultimate consent," he said.
The Clinton Global Initiative sought to bring business and political leaders together to make firm commitments on a variety of matters, financial and otherwise. The Bloomberg forum's aims, at its outset, appear less concrete.
"It's a convening where people get to know each other," Bloomberg said at a mid-afternoon press conference. "Later on, deals will be made."
When asked about the fact that a number of the matters being discussed -- climate, global trade -- are hot-button issues for the Trump administration, Bloomberg, who spoke on behalf of Hillary Clinton at the 2016 Democratic National Convention, demurred.
"I can't speak for the current administration," he said. "It's new and its policies keep changing. People laugh about it, but it just takes a while."
More of What's Trending on TheStreet: