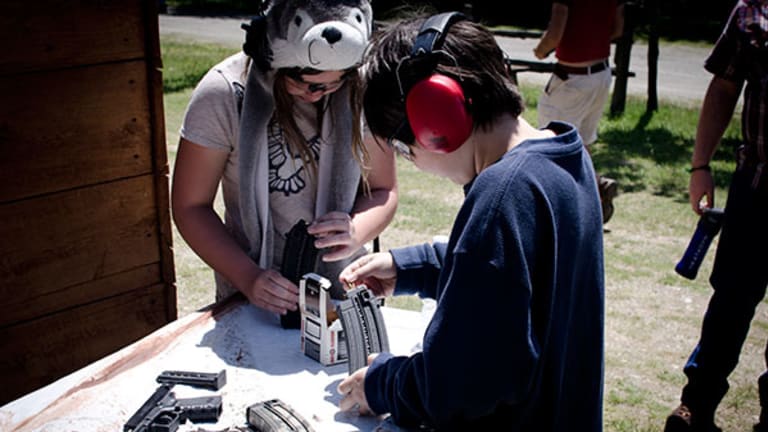 Bitcoins, Guns and Gold: Life Among the Libertarians
I didn't expect a real estate pitch when I arrived on a cool summer afternoon at a libertarian festival in New Hampshire.
LANCASTER, N.H. (TheStreet) -- I didn't expect a real estate pitch when I arrived on a cool afternoon last summer at a libertarian festival in New Hampshire.
A beaming woman greeted me with an outstretched hand and a green wristband labeled "PorcFest" as I stepped onto the Roger's Campground in Lancaster, N.H., nestled at the foot of the White Mountains.
"Are you looking to move to New Hampshire?" the woman asked me as I forked over my $75 entrance fee and application.
I blinked.
"Uhh, no, I hadn't considered it," I said.
As she tied on the wristband that permitted me to roam the property, the woman delivered a brief sales pitch about the beauty of the area and the lack of state income taxes. She motioned to a table that displayed a bunch of flyers, one of which said "Porcupine Real Estate" at the top.
Around me, men and women swept by in T-shirts that read "Like-Minded Individual," "Live Free or Die," "Stop Statism" and, unfittingly, "D.A.R.E. To Keep Kids Off Drugs." The tees complemented a popular style at the event of khaki shorts paired with sneakers and tall white tube socks.
While former Rep. Ron Paul's (R., Texas) political career has ended, libertarian-minded voters are focusing on the 2014 midterm election season to gain more influence in New Hampshire, where all 400 seats in the state's lower house are up for grabs. The group, which calls itself Free Staters, controls a few seats already; however, their views remain on the fringe.
>>Read More: The NFL Doesn't Discriminate Against Money
"You know, a bunch of these guys are moving to Nevada to allegedly protect this rancher," veteran New Hampshire Republican political consultant Fergus Cullen told me, referring to the standoff between Cliven Bundy and the federal government.
I shuffled over to the flyer table and picked up an eight-and-a-half-by-eleven paper that showed photos of the "most popular locations for Free Staters," including Manchester, Concord and Grafton -- a remote town with a population slightly more than 1,000.
"You weren't kidding about moving here," I said to the woman who greeted me.
Smiling, the woman nodded and said: "Welcome to PorcFest."
The Porcupine Freedom Festival, which regulars call PorcFest, is the chief gathering for Free State Project's big idea trying to attract some 20,000 people to move to New Hampshire to "create a society in which the maximum role of government is the protection of life, liberty and property," the event's Web site says.
An easier way to understand it is that a bunch of libertarians think they can convince a bunch of other libertarians to move to New Hampshire so they can stuff the ballot boxes and claim a majority in the state legislature.
As one speaker told a crowd at PorcFest's main pavilion: "Five percent can turn an election." This speaker didn't note that Free State Project's stated goal would equate to just 1.5% of New Hampshire's current population, according to data estimated by the U.S. Census Bureau.
The festival wasn't as I expected. Stories I heard before departing for PorcFest included men and women roaming around a police-less campground armed with handguns and rifles, food that wasn't approved by the FDA, gold and silver used as currencies of choice and camping in the wild.
>>Read More: 'Buffett Indicator' Says the Stock Market Is Way Overvalued
What I discovered was a family-friendly weeklong event that included numerous like-minded individuals, who didn't all happen to be armed with guns. The campground had no shortage of semi- and fully-automatic rifles, many of which attendees could shoot at a nearby firing range. Most of the food came from grocery stores instead of backyard farms, and options were barely healthy: bacon weave, hamburgers and various other meals loaded with cheese. Gold and silver were available, but more folks used Bitcoin in lieu of dollars. (Despite how many libertarians cheered the idea of Bitcoin, U.S. dollars were the most used form of currency.) The camping location sat in the shadow of the White Mountains and possibly was one of the most beautiful outdoor settings I've witnessed for an event site.
I met a lot of people during my weekend there. There was the guy who sold handmade silver coins while packing a rifle and holding a megaphone that said "PEACEFUL EVOLUTION." Nice guy. In from Indiana was a family with two young kids, and parents discussing their support of anti-vaccination -- part of it, they said, was their distrust of the government's involvement in medicine.
I met a President John Tyler (who opposed a central bank) impersonator who earns a living imitating historical figures. The man told me that he performed for free at PorcFest because he supports the cause and "people are willing to listen to you when you look weird." I sat around a picnic table of middle-aged graying men named Rick, Pete and James (they wore polo shirts tucked into shorts with sneakers and white tube socks) who carried guns on their hips and slept in RVs. I also caught up with former New Mexico Governor and former Republican presidential candidate Gary Johnson, who said running again is a possibility.
Most of them preached similar ideologies: the Federal Reserve threatens our money system and eventually will create a financial crisis worse than the Great Depression (though, middle-aged Rick told me he doesn't necessarily believe that); President Obama desires to gut gun rights despite his comments not to; Austrian economics is the superior economic theory; governments shouldn't have eliminated the gold standard; etc.
I don't want to suggest that everyone I encountered was closed-minded and unwilling to let someone disagree with them. They certainly were a closed-minded bunch, but they engaged in friendly discussion without rudely cutting me off. For example, James Parker, a PorcFest attendee from Weare, N.H., was criticizing the entire U.S. public school system, but I suggested that it may be state-based. Parker agreed, saying he went to a public school in New Jersey and received "similar skills" to a good friend who went to Catholic school. But he remained skeptical of government involvement in education.
"Agree to disagree" may best explain my conversations at PorcFest, or an entry in the PorcFest program: "How to Talk to Republicans and Democrats: This session will provide strategies on having productive, persuasive conversations with Republicans and Democrats, many of whom have no idea they're really libertarian!" (My emphasis added.)
The event was organized. Coordinators established multiple tents to present continuous festival sessions that ran for an entire week from 8 a.m. through midnight. Topics ranged from "Bitcoin, Bullion and Bullets: The Anarchist's Toolbox for the Coming Collapse" to "The Chicago vs. Austrian School Debate," which featured a man with a New York University Ph.D in economics debating against David Friedman, son of Milton Friedman. (You can watch the entire conversation online.)
>>Read More: This Stock Market Is Not for Amateurs
I asked Friedman, who I later found eating a light snack in one of the food and drink tents, what he thought about the experience and the debate. He said PorcFest was full of a bunch of "crazy libertarians" who were "very friendly." Friedman summed up his debate as a pleasant opportunity to have the discussion, but said all they wanted to talk about was the Austrian School of economics.
Friedman finished off his snack and shuffled away, leaving me face-to-face with a Bitcoin ATM. It was a sleek, white-color box with a color screen that asked me to scan the QR code of my Bitcoin account and then insert cash to be converted and deposited into my digital account. A person overseeing machine helped me download the app Blockchain (since restricted on the Apple App Store), create an account and turn my Andrew Jackson into a fraction of a fraction of a bitcoin.
I met a number of Bitcoin enthusiasts, which may have been the most interesting group I encountered. Sitting in a tent smoking a hookah and drinking Old Fashioned's, Daniel Mross -- who with his brother last week at the Tribecca Film Festival released a Bitcoin documentary -- spent more than a couple hours explaining all the questions I had about the cryptocurrency.
At the time, the business world was becoming more and more familiar with Bitcoin as it crested past $100 per coin. Earlier during the day I met Mross, a Bitcoin panel delivered a presentation that focused on the subvert-your-government attitude of the digital currency.
Erik Voorhees, a man who runs a company that allows people to transfer Bitcoin via email or text, led the panel discussion. Voorhees is a well-known figure in the Bitcoin community. The mild-mannered entrepreneur was wearing a crisp pink shirt and blue jeans as he opened the talk.
>>Read More: Moore Equals Less in Global Warming Denial
"We usually are going around to industry conferences in which we have to sort of downplay the subversive nature of Bitcoin, and we have to talk about how it reduces fees and how you can move money around much more nicely than PayPal and how if you want to comply with the regulations you can do so and, you know, you can be a good little citizen with Bitcoin," Voorhees said. "But here at PorcFest, we thought it would be fun to explore the other side of things." Voorhees said the panel was reviewing Bitcoin from an academic perspective.
It likely wasn't the best one-hour introductory crash course as topics hopped from starting up Agorist businesses -- like the now-shuttered Silk Road -- to sending Bitcoin donations to help Edward Snowden to using Tor to enable anonymous digital currency transactions. Fortunately, Mross spent on me the obligatory few hours needed to explain Bitcoin and answered all my questions.
While the Bitcoin crowd fit in with the Libertarians, I wouldn't say they were indistinguishable. Libertarians at PorcFest loved ideas like freedom, the Constitution and anonymity. Bitcoin people loved Bitcoin.
Covering the gold market beat for TheStreet triggered my interest in the use of gold and silver in exchange for goods and services. But as I sat listening to Mross (sporting a scruffy dark beard, a t-shirt and pants) school me on the mining of cryptocurrencies ("It's like some alternate universe of the gold sector!" I thought to myself), I became thirsty. So I offered the man serving drinks some of the gold I'd acquired. He wouldn't accept it -- there was something about the brand of gold I offered that he didn't trust. Much to my disappointment, few people accepted gold or silver as a form of payment.
I'm still uncertain if my PorcFest currency experience forebodes Bitcoin replacing gold as a currency, or if it's simply a fad.

Not everything was about economics and Bitcoin. At one point, a dance party broke out midday in one of the tents. The schedule billed it as: "Buzz's Big Gay Dance Party: The Duchess Returns! The biggest, gayest, and danciest party ever! Sponsored by Flaming Freedom. Adults only."
This was one of the best attended events of the weekend.
Most conversations that weekend turned political, even when it started off as a harmless hello.
Walking through the maze of tents during the day I spotted a tall woman wearing a bright pink dress with a rifle on her back. Her name is Eileen Landies, who is the chair of the New Hampshire Liberty Alliance, which calls itself a non-partisan, all-volunteer, grassroots lobbying organization.
Landies told me that she and her colleagues keep tabs on bills going through the state legislature to determine if they support a "pro-liberty direction." Instead of arguing whether that makes a group non-partisan, I wondered why a liberty-minded organization worked with the government to affect change.
They're trying to reduce the taxes, fees and regulations on state citizens and businesses, Landies said.
But what did a libertarian lobbying group have to gain at PorcFest, where most people already agreed with them, and where it didn't appear there were many politicians with whom to consort.
"It's low hanging fruit," Landies said. "The individuals that come here already have that same resonant value of the [New Hampshire Liberty Alliance] and we're looking to recruit either for running for state office [or] to work as volunteers to lobby at the statehouse with us."
Recruiting that likely is necessary as it gets tougher for Landies and her coalition to gain allies.
Many Free Staters are open about their views, but some have run for state political office by being secretive, GOP consultant Cullen told me. This was a familiar tactic among Ron Paul supporters during caucuses for the 2012 Republican primary: essentially, a delegate would say he or she would support another candidate in order to be selected, but then ended up voting for Paul after being chosen.
It's not a tactic that gains many friends in politics.
"Once someone has been outed as a Free Stater, they are being blocked out in a bipartisan way," Cullen said.
One of my final encounters at PorcFest was with Free State Project President Carla Gericke.
Gericke, who was a cheery woman with short black hair, dark red lipstick, wore a black dress and silver-coin hanging earrings, told me that growing up in South Africa under Apartheid shaped much of what she now believes.
Gericke said she was working as in-house counsel for Scient when the dotcom bubble popped, after which she eventually moved on to the Free State Project.
Recalling my encounter when I first arrived, I asked Gericke if it would be fair of me to say that PorcFest seemed like a real-estate pitch.
"That's kind of what we're doing," Gericke said. "We definitely have a marketing pitch."
I asked her if all the people involved hate government.
"I don't think hate the government is the right way to look at it," Gericke said. She said that she hates that the government used her tax dollars to kill people in the Iraq and Afghanistan wars. She said she thinks that most Free Staters think the government shouldn't "have much role" in people's lives.
But Gericke answered all my questions. She's aware that when many people hear about Free Staters that they think they're somewhat crazy, and she knows that trying to get 20,000 people to move to New Hampshire isn't an easy task. Gericke simply told me that good ideas are bullet proof and good ideas spread.
When I asked Douglas French, a man from Nevada who worked there in the real estate business until the housing crisis ("it's really hard to identify the bubble when you're inside the bubble," French said about his role in it), why all these people gathered to be around like-minded individuals who rarely challenge their good ideas, he laughed.
"They get a little shot in the arm, and the shot in the arm is that you're not alone and all your neighbors and friends and family that say you're crazy and are fitting you for a tinfoil hat, there's other people that feel the way you do," French said.
-- Written by Joe Deaux in New York.
>Contact by Email.