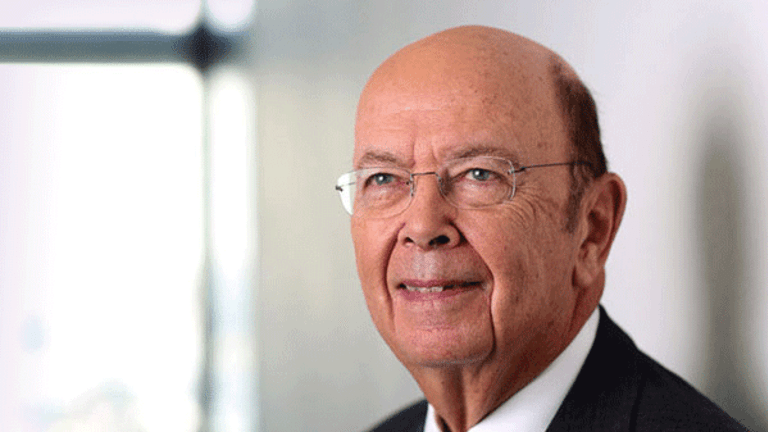 Billionaire Investor Wilbur Ross Confirmed as U.S. Commerce Secretary
The U.S. Senate confirmed Wilbur Ross as Commerce Secretary on Monday. The billionaire investor will now be tasked with overseeing a sprawling department and negotiating President Trump's agenda on trade.
The U.S. Senate confirmed Wilbur Ross as the 39th Secretary of Commerce on Monday in a 72-27 vote. The billionaire investor will now take on the task of overseeing a sprawling department and negotiating President Trump's agenda on trade.
Ross' confirmation vote comes more than a month after his confirmation hearing before the Senate Commerce Committee. Senate Majority Whip John Cornyn (R-Texas) speaking from the Senate floor on Monday afternoon criticized his colleagues for the sluggish pace of cabinet confirmations.
"It's been a slow walk," he said. "I'm grateful to Mr. Ross for wanting to serve the country this way, and I think President Trump has chosen wisely as Commerce Secretary."
Ross, a 79-year-old billionaire who built his fortune in private equity, will now take the helm of an expansive 12-bureau Commerce Department that includes the International Trade Administration, the Census Bureau and the U.S. Patent and Trademark Office and accounts for more than one-third of public federal data.
He will take a leading role in negotiating trade relations with countries like Mexico and China alongside Peter Navarro, director of the National Trade Council, and Robert Lighthizer, Trump's U.S. Trade Representative nominee.
"He's interested in updating NAFTA...rather than throwing out the baby with the bathwater. I think that's a positive approach," Cornyn said on Monday.
The U.S. and Mexican governments have engaged, at times, in a heated back-and-forth in setting the stage for trade negotiations.
Mexican President Enrique Pena Nieto cancelled a trip to Washington, D.C., in January after Trump continued to insist Mexico pay for his border wall. Despite a phone call between the two presidents, continuing conversations among top advisers and a visit from Secretary of State Rex Tillerson and Homeland Security Secretary John Kelly to Mexico, all does not appear to be conflict-free. Mexican Economy Minister Ildefonso Guajardo told Bloomberg on Monday that the country will cut off NAFTA talks if the U.S. imposes tariffs.
"The moment that they say, 'We're going to put a 20% tariff on cars,' I get up from the table," he said. "Bye-bye."
Press Secretary Sean Spicer in January floated the idea of imposing a 20% tariff on Mexican imports in January, though the White House later rolled back the assertion, saying the measure is just one of a "buffet of options" on the table.
Ross will also step into negotiations with China. At his confirmation hearing, he said he would seek to "level the playing field" with the country.
Ross has sought to cast himself as a business-savvy figure focused on fair trade.
"I've made my livelihood for over five decades dealing in international commerce," he said in prepared remarks at his Senate committee hearing. "I am very well aware of the issues many companies face and I'm sensitive to both the issues abroad and the issues here at home."
He assured senators he is "pro-sensible trade" and "not trade that is detrimental to the American worker and to the domestic manufacturing base."
Ross built a name for himself in investing in distressed companies, first at Rothschild and then at his own firm, WL Ross & Co., which he sold to Invesco (INV) in 2006 for $375 million. Forbes estimates his net worth to be $2.5 billion.
As Commerce Secretary, he will now be tasked with divesting dozens of business assets and investments funds, but not all. He will retain millions of dollars of interests in a handful of offshore entities.
Sen. Chris Murphy (D-Conn.) speaking in opposition to Ross' confirmation on the Senate floor on Monday, criticized Trump for appointing a number of ultra-wealthy individuals to his cabinet -- people like Steve Mnuchin, Rex Tillerson and Betsy DeVos.
"Billionaires do not actually have a monopoly on wisdom in the country," he said. "But it doesn't seem that's what our new president thinks."
Sen. Joe Manchin (D-W.V.) was among the Democrats who voted against Ross. Manchin has voted to support a number of Trump cabinet appointments and was the only Democrat to back the president's Treasury Secretary choice. However, Manchin said in a statement he was opposed to Ross, in part because a company Ross previously controlled, International Coal Group, had made an acquisition of a West Virginia mine operation, Sago Mine, which faced safety violations in 2005 while under ICG's control before an explosion ultimately cost the lives of 12 miners. "He was the owner of the Sago Mine when we lost 12 brave men," said Manchin.
In addition, Manchin also raised concerns with a Ross company acquisition of Weirton Steel, which later experienced layoffs. "Following my extensive vetting, meeting with him, watching his nomination and reaching out to West Virginians who have worked with him directly, I cannot in good conscience look the families of the fallen Sago miners or the Weirton Steel workers who lost their jobs in the eye knowing I voted to give Wilbur Ross a promotion," Manchin said.
Nevertheless, as Commerce Secretary Ross will not be responsible for overseeing mining regulations. That will fall under the purview of the Mine Safety and Health Administration.
-- Ronald Orol contributed to this report