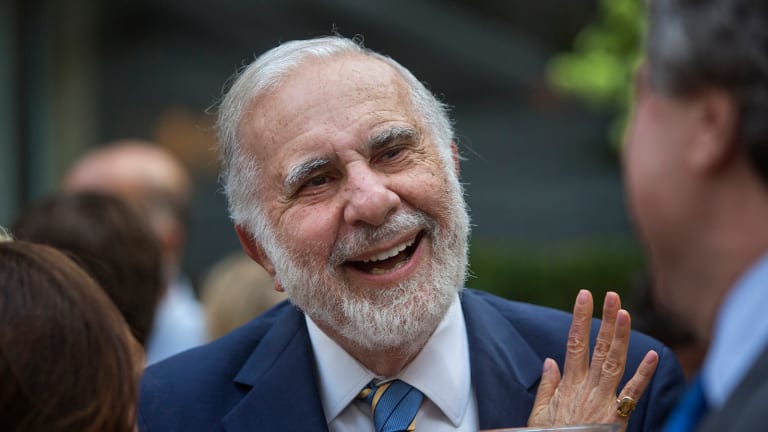 Billionaire Carl Icahn Reaffirms Support for Donald Trump
Carl Icahn is still firmly on the Trump train.
Carl Icahn is still firmly on the Trump train.
The billionaire activist investor and Icahn Enterprises (IEP) chairman took to Twitter on Tuesday to express his support for Donald Trump. He complemented the Republican presidential nominee on his performance during his economic speech delivered at the Detroit Economic Club on Monday.
"Believe Trump gave a great speech," he wrote.
Icahn also commended Trump for holding his own while his address was interrupted by hecklers and protesters multiple times.
In an appearance on CNBC later in the day, Icahn said he thinks Trump is "right on" about the economy. "If he sticks to what he did yesterday, I believe he will win," he said, referring to Trump's Detroit speech.
Icahn also voiced his support for Trump in a post on his website. 
Trump raised eyebrows last week when he unveiled a list of 13 members of his economic advisory council that excluded Icahn, whose name he has invoked on numerous occasions on the campaign trail. Last year, the GOP nominee went as far as to suggest his fellow billionaire would be his selection for Treasury Secretary -- an idea Icahn eventually appeared to warm to.
According to Reuters, Icahn's omission from Trump's economic "dream team" was Icahn's decision. He declined an invitation to join the council because he is considering funding a super PAC focused on regulatory reform. He already started one super PAC this year, putting $150 million towards corporate tax reform and, specifically, tax inversions.
"FEC (Federal Election Commission) rules would limit that activity if Mr. Icahn were to become directly involved in the campaign by joining the council," Jesse Lynn, general council to Icahn, told Reuters.
The list of those who did accept Trump's invitation to join his all-male economic council includes hedge funders John Paulson and Wilbur Ross, billionaire banker Andrew Beal, Continental Resources (CLR) head Harold Hamm, and Trump national finance chairman and former Goldman Sachs (GS) financier Steve Mnuchin (and five other guys named Steve).
Many in the billionaire class have been outspoken in their opposition of Trump, including Berkshire Hathaway head Warren Buffett, Dallas Mavericks owner Mark Cuban and Facebook founder Mark Zuckerberg. But Icahn has been a fan for quite some time.
The pair have known one another in the business world for years, including through the soon-to-be-closed Trump Taj Mahal in Atlantic City, which Icahn now owns.
Last year, Icahn put out a video titled "Danger Ahead," issuing a warning over what's ahead for the U.S. economy and advocating for Trump as the best person to fix America's problems from the Oval Office. He also joined Trump in April at a New York victory celebration.
Gauging by Tuesday's tweets, the pair's bromance continues.